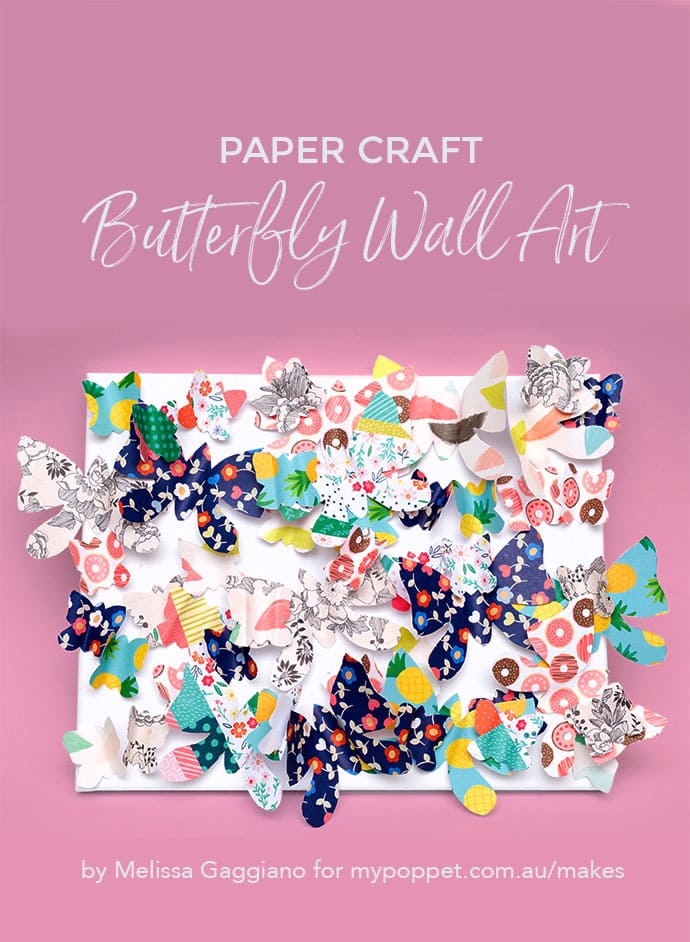 No need for boring blank walls, this whimsical Butterfly Wall Art piece is so cheerful. These colourful fluttering butterflies make a perfect feature for a child's bedroom, nursery decor, or the crafter's studio.
Inspired by a previous Paper Butterfly Lantern craft project, the butterfly theme re-emerges from the crafter's chrysalis.
This is a great decorative art canvas project for using up leftover scrapbook papers. Choose colourful printed papers to match the style of your decor. Floral, geometric or plain paper designs are all suitable.
Make your own Colourful Butterfly Art Canvas
You will need:
Canvas (stretched or a flat board. Size is up to you)
6 x Scrapbook papers (varied designs)
Pencil
Scissors
Craft Cutting Mat
Art knife
Hot glue gun
Printer and printer paper
Note: No butterflies were harmed during the making of this project.
How to:
1. Print template at 100% and cut out the two butterfly pieces.
2. With a pencil and the two butterfly templates, trace onto just one of the scrapbook pieces of paper. Trace as many butterflies as you wish. Depending on the size of your canvas you may need a small pile of paper butterflies, or a lot. I recommend tracing the butterfly outlines close together so that paper is not wasted.
3. Cut out all those butterflies. Brace yourself, this is going to take a while, so include some tea breaks. Or maybe you can bribe a family member to help with the cutting. To speed up the process, stack the scrapbook paper with the traced piece visible at the top. Cut through the layers along the traced lines, either with scissors or a cutting board and art knife.
4. Switch on the hot glue gun and allow five minutes to warm up. While this is happening, maybe have another tea break. Have a think about how you want the butterfly layout on the canvas.
5. Take the paper butterfly and gently curve along the central line, around a pencil. This will make the butterfly appear more three dimensional.
6. Run a line of hot glue along the center back of the paper butterfly. Then quickly press the butterfly to your canvas to adhere.
7. Repeat steps 5 and 6 for the remainder paper butterflies.
8. Voila! And there we are! You have a gorgeous Butterfly Wall Art canvas ready to be placed on the wall.