Make a beautiful Butterfly Lantern to decorate your room or workspace with just the humblest of craft materials – paper! It's a fun project that both kids and adults will enjoy making.
Used floral or patterned scrapbook paper to personalise the design to match your home decor.
Have you ever visited a butterfly house? It's a delightful experience full of fleeting moments of joy. The purest of those is when a butterfly chooses to land on a child's head.
It's tempting to want to take a photo, but in the few seconds you fluff around with the camera, the butterfly has moved onward. The moment has passed. Some things, I suppose are only meant to be captured as memories.
Today I have for you a paper lantern project that celebrates the beauty of butterflies. Unless you have lepidopterophobia (the fear of butterflies), I think you will agree, this butterfly craft is something very pretty to make.
Pair it with an LED candle and you have a lovely gift for Mother's Day or a Teacher's Gift. It would also look very pretty as part of a table centerpiece at your next party or special dinner.
Just remember no real candles – fire and paper don't play nice.
You may also like to make this Paper Butterfly Garland
How to Make a Butterfly Paper Lantern
You will need:
4 pieces of A4 paper (four different colours of your choice)
Foil scrap
Pencil
Paper scissors
Sticky tape
Glue
Art knife
Art cutting board
Ruler
Small torch, LED lights or LED candle
Note:
To give this paper butterfly lantern a little more decorative sparkle, you could try making the butterfly pieces with ornamental paper. Or, perhaps use glitter glue on the lantern walls and butterflies.
How to:
1/ Print template at 100% on three different pieces of colour paper, and cut out the paper butterfly pieces.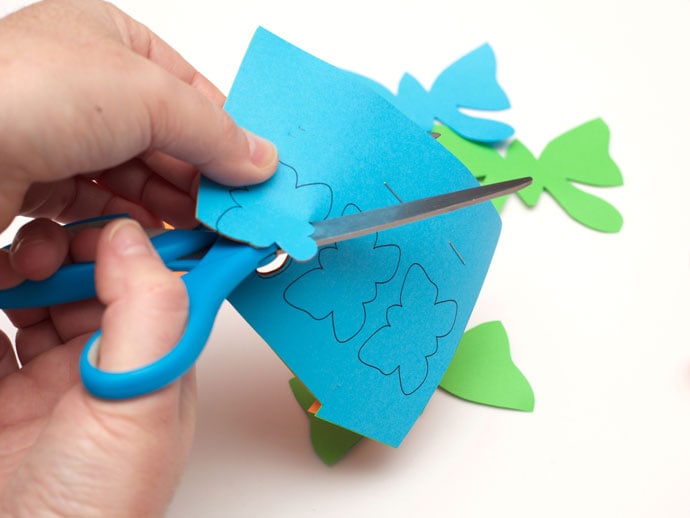 2/ To start with, decide which A4 sheet is going to be the lantern base. Take this piece of paper and fold it inward, at a measure of 7.5cm, then repeat twice.
3/ Open out this sheet, and then fold the top and bottom edge 1.5cm inward.
4/ Place the folded sheet on the cutting board. Using an art knife, cut out half-butterfly outlines randomly throughout the sheet. See the template reference marker for the half-butterfly. Fold the half-butterfly cuttings, outward.
5/ Refold the A4 sheet along the three fold lines created in step 2. Tape the ends of this paper together, creating a lantern base.
6/ Take the foil scrap and fold it down into a 7.5cm square flat sheet. Tape this square foil piece to the top of the paper lantern base.
7/ Fold he butterfly wings that you cut out in step 1, and glue the body sections to the sides of the paper lantern, in random spots.
8/ Place the butterfly lantern over a battery operated light. Voila! You have yourself a gorgeous paper butterfly lantern that casts pretty shadows around the room.