You don't even have to know how to knit to make these attractive French Knitted coasters. Made with self-striping cotton yarn, these nautical style knotted coasters are super handy and look great too!
French Knitting (or Dolly Knitting) is usually is usually the first foray into knitting that most of us have had as kids. Do you remember making long lengths of long knitted cords and then thinking "What do I do with these now?".
It's a question I get asked all the time, so being a crafty sort of gal I thought I'd take on the challenge and create something useful – Behold the French Knitted Knotty Coaster, inspired by nautical knots and all things ropey.
I'd totally forgotten about French Knitting and was re-inspired to try it again after receiving a wonderful goodie bag from my friends at Spotlight during a conference that they kindly supported in Sydney.
The gift bag was filled with all sorts of yarn and patterns, but the item that I was keen to play with was an Automatic French Knitting Machine. Imagine just turning a handle and magically knitted cord appears!
The bag also contained a lovely range of variegated cotton yarns. I love the idea of variegated yarn, but because I'm a bit of a control freak, I don't like how the colours can pool when knitted into a garment.
I set myself a challenge to create something fun with this lovely cotton yarn, and French knitting was the perfect way to show off the yarn's pretty colour range.
Update: The yarn I used is now discontinued – This self stripping cotton yarn by Katia may deliver a similar effect.
You may also enjoy these DIY coaster projects:
Let's make some French Knitted Knotted Coasters!
Making coasters is a very practical way to use up long lengths of knitted cord.
I've made my cord with 4ply (fingering) weight cotton yarn and a handy cord knitting machine, which produces great lengths of cord in no time at all.
But if you don't have a cord knitting machine available, you can make the cord manually by either using an old fashioned wooden dolly knitter or knitting the cord on knitting needles using the i-cord method. I've expanded on both these techniques below.
Cotton yarn works best to make these knitted coasters, as it's absorbent and will soak up stray drips, as well as providing good insulation for hot mugs on surfaces.
You can also use cotton and synthetic blended yarn, or even bamboo yarn with great results.
Care instructions – If your knitted coasters get dirty, they can be gently hand washed with gentle detergent, squeeze excess moisture out with a towel and then dry flat.
French Knitted Coaster Instructions
You will need:

Makes 4 coasters – 8cm (3″) square approx
How to:
To make knitted cord with an Automatic French Knitting Machine (i-cord knitter)
You will need 1.8m of knitted cord for each coaster. Pre-made cord or rope can be substituted if desired.
One ball of yarn made 4 coasters with a little left over.
Using Automatic Knitter – Follow instructions enclosed for threading, wind handle steadily in a clockwise direction and keep going till you have required amount of cord.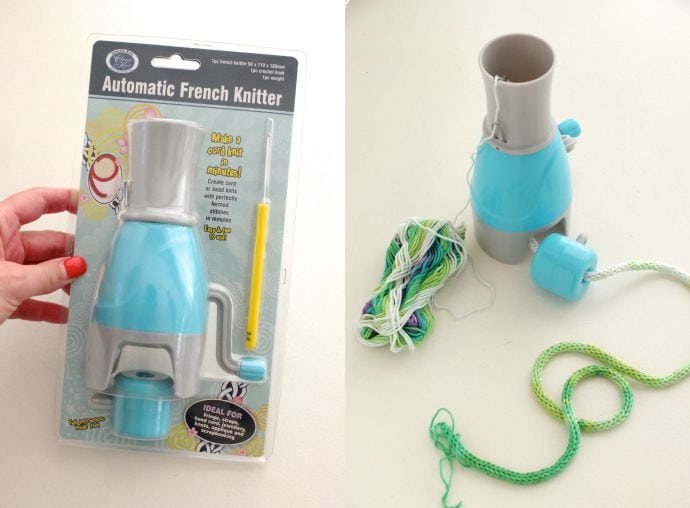 Tips for using Automatic French Knitter:
1. Tension yarn as is feeds in with left hand.
2. Allow weight to hang and rotate freely to ensure cord is pulled through steadily.
3. Keep moving weight up as cord grows.
4. Turn handle at a regular pace clockwise, do not turn backwards or you will drop the stitches.
5. Keep working yarn and cord separate or they will get very tangled.
6. If you drop a stitch use the crochet hook supplied to pick it up and place back on the knitting hooks.
7. Use it on the edge of a table to keep cord hanging freely and unimpeded.
Knitting cord manually – If you don't have an automatic french knitter you can knit the cord manually but it will take quite a while longer. There are a couple of options:
1. Old fashioned French Knitter or Knitting Dolly made from wood with 4 pegs on top. The idea is the same but you must manually make each stitch. See how to french knit here.
2. You can use knitting needles to knit iCord. I have made a video here but cast on 4 stitches instead of 3 – How to knit iCord
Once you have 1.8m of cord (about 70″) which makes one coaster you can cast off as follows.
1. Insert crochet hook through all loops and yarn over (hook) tail end of yarn.
2. Pull yarn through all loops.
3. Pull yarn to tighten. Trim yarn tail to about 2″.
Knotting the cord
The coasters are based on a Carrick Bend Mat Knot which looks complicated but is quite simple once you get the hang of it.
I've used a fantastic animated knot tying website for instructions.
See Animated Instructions for Carrick Bend Mat for the first stage of knot tying.
When you finish the instructions on the video the knot will look like the mat on the left.
I've added another loop all the way around to make the knot larger.
To do this just follow the path of the cord around the whole way one more time.
Tighten to fill in any gaps. Your knot should look like the mat on the right.
Finishing the knotted coaster
Turn mat over, if you have long tails of cord, trim back and secure ends with glue so they don't unravel.
Trace finished knot shape onto the felt with a pencil.
Trim felt about 0.5cm (1/4″) smaller than the finished knot and glue securely to back.
Be a bit generous with the glue as it will give the coasters rigidity but don't use too much or it will seep through the cord and look unattractive.
Add a few small dabs of glue to any areas of the knot that are a bit flimsy to strengthen the shape.
Weigh down with heavy book to flatten coasters and allow glue to set.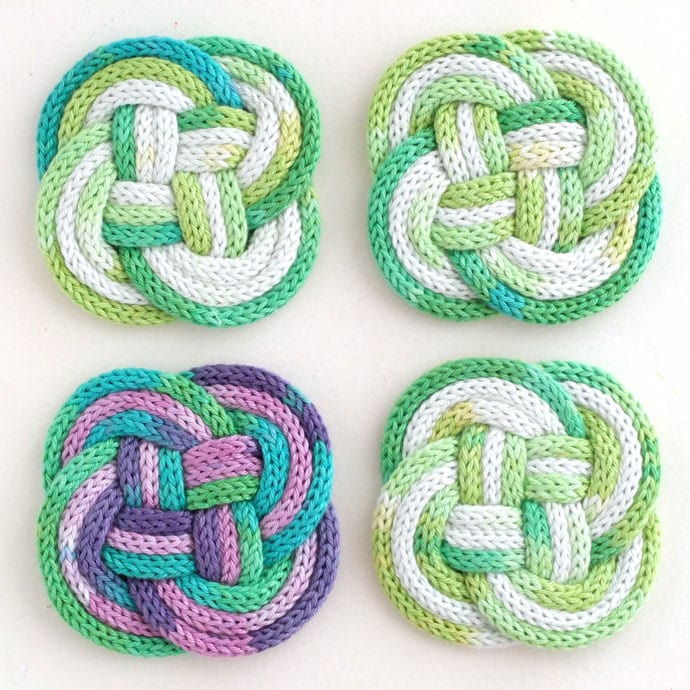 All done!
They make a perfect housewarming gift that can be customized to any decor. I like how the variegated yarn gives the cord a dip dyed effect, but these would look awesome in solid colours too.
Time for drinks! It was too early for cocktails so I settled for some refreshing cucumber and lemon infused water instead.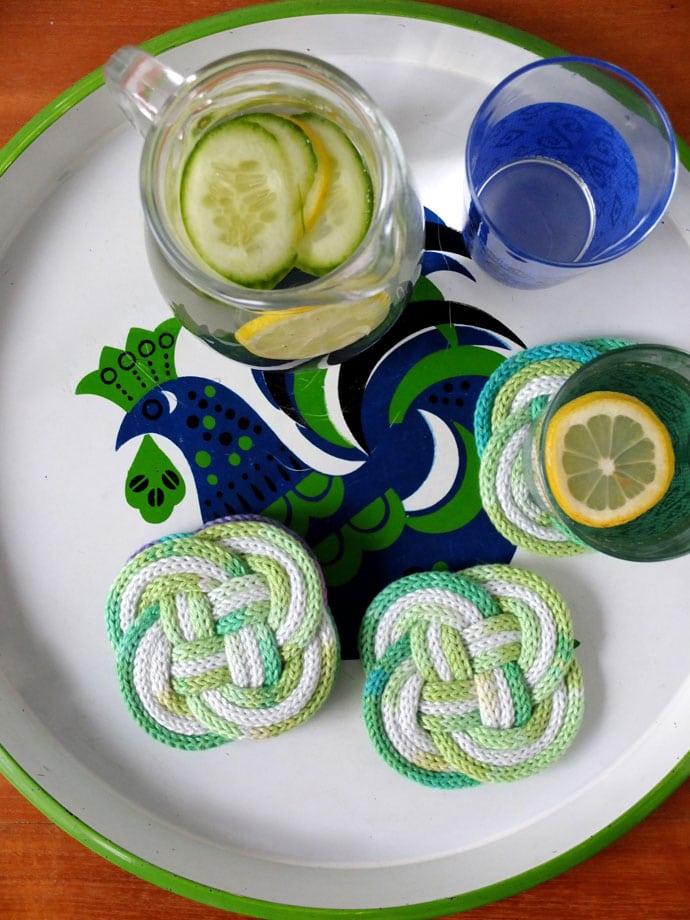 Time to get that French Knitter out and start making some knitted coasters.
Did you ever do French Knitting as a child? What did you do with all your knitted cord?