It's been a while since I've made something exciting for my pen pals, so this week I got creative with some paper plates and transformed them into colourful Fruity Envelopes.
This easy paper plate craft is a fun way to keep the kids entertained with just basic craft supplies.
You probably already have all the supplies required to make these Fruit Paper Plate Envelopes at home, so next time you need to send a letter or small gift, pop it inside a slice of watermelon or an orange wedge.
Get the kids excited about writing a letter to their friends or family. Younger kids can draw pictures to include in their envelope. In this digital age it's always fun to receive a letter or parcel in the mail.
I always try and make my pen pal's mail deliveries a little bit more fun, like the times I sent a giant hamburger postcard, an ice-cream cone and a Christmas stocking. Fun mail keeps it interesting for the posties too.
Inspiration for this project: a cute watermelon envelope pictured in Ebony Bizys' book Hello Tokyo.
You will need: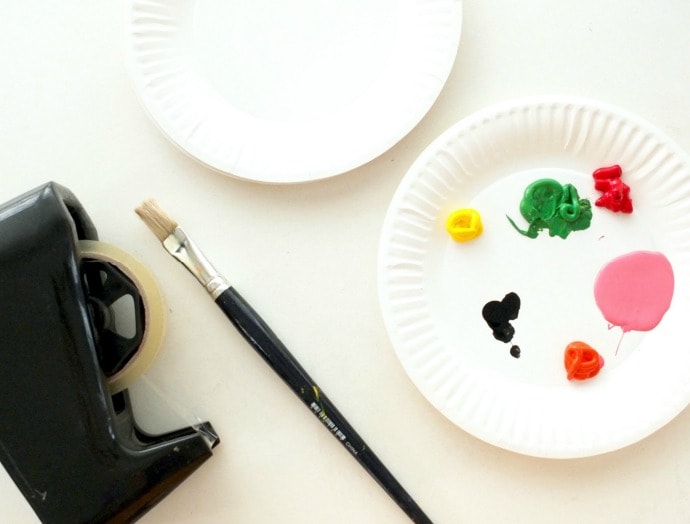 Paper plates – the flimsier the better
Acrylic or water colour paint
Paint brushes
Cello tape to seal the envelope
Stamp
Address label
Paper to protect work surface
How to make Paper Plate Envelopes:
1. On the BOTTOM of the plate, paint your fruit design. I've done a watermelon, lemon and orange, but you can get creative and make a kiwi, or even a dragon fruit!
2. Set aside and leave to dry.
3. Once dry, fold plate in half.
4. Fill with a gift, treats, a letter or whatever you want to post.
5. Seal edges firmly with strong tape.
6. Add your address label and stamp.
In Australia these fruity envelopes classify as a 'large letter' so depending on weight, start at $2 to post nationally.
How cute do they look? I want to send all my mail in fruit.
Here is a sneak peek at how I filmed my video, hooray for washi tape, is there anything it can't do? My next big investment is a dedicated phone tripod mount.
Want to make more unconventional envelopes? Take a look at these ideas