If you are looking to entertain the kids with some creative activities leading up to Easter, you've come to the right place. Today we have a guest post from instagrammer @cintaandco, who enjoys creating and sharing colourful craft activities that engage and educate.
I am so excited to be collaborating on a blog post for My poppet MAKES. Thank you Cintia for including me. My family and friends call me Cinta – short for Jacinta, and my kids are my Co. – you will often see their little hands hard at work in the photos that I post.
I would like to share some of our Easter projects with you. They are SO easy, educational and most importantly, lots of fun!
RAINBOW RABBITS
We gave our eggs some rainbow rabbit ears and whiskers recently. Miss 4 had a great time – "I can't believe you're letting me draw on real eggs Mama!" We also took this opportunity to talk about feelings and drew all different emotions on the eggs faces. A fun Easter activity that will hopefully get your littlies thinking about others and their feelings.
EASTER EGG MATCH
This is a game Miss 4 and I put together last Easter and just rediscovered in our craft cupboard. We printed out some egg shapes, coloured them in with crayons and then snapped our plastic eggs together to match the pattern.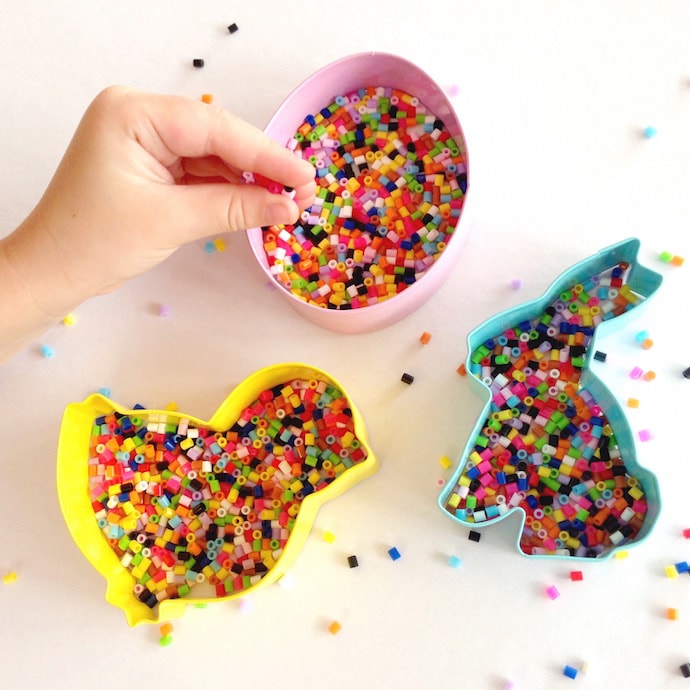 EASTER SUN CATCHERS
I bought these teeny-tiny perler beads a while back, and had been really unsure of how to use them (they are too small for our perler bead frames). Today, we poured some into these cookie cutters and heated them in the oven to make bright and cheery sun catchers for our windows.
BUNNY TAIL MATCH
We have been playing this Easter pom pom matching game a lot lately. We simply traced and painted bunny shapes before adding a cute fluffy tail!
WASHI TAPE EGGS
We made these easy Easter decorations recently. Using an egg shape cookie cutter, we traced the outline of the Easter eggs on cardboard (we actually used an empty postage box – it's great when you can recycle), and cut along the outline. We then used washi tape to cover the card and trimmed along the edges with our safety scissors.
EASTER BUNNY COLOUR MATCH
We used our fine motor skills to trace these bunny ears and paint them with the matching paint colours. A fun and simple afternoon activity.
Happy Easter and good luck crafting and engaging with your little ones!
ABOUT THE AUTHOR
Jacinta is an Australian based Scientist and Mama of three, hoping to inspire creative kids and fun mums, families and educators. She posts simple and easy projects on her Instagram page @cintaandco.