Carving your own stamps is super fun and not as difficult as you may think. Supplies are relatively inexpensive and it's a great way to personalize gift cards, wrapping paper and scrapbook projects. Start off with a simple design like this mushroom to build up your skills and confidence, then have fun illustrating your own designs. The kids will love creating their own unique stamps, just make sure you do the carving.
You will need:
Ezy Carve Printing block or Eraser
Lino carving tools (V shape and U shape)
Craft blade or scalpel
Protective cutting mat or thick piece of cardboard to protect your table
Pen or Pencil
Stamp pad for printing
I purchased my supplies here
How to:
– Draw your design directly onto the block or eraser. Remember it will print as a mirror image.
– Using a craft blade cut out the section that will become your stamp, leave about 1/2cm around the design.
– With the V shape tool, carefully start carving away the part of the block you don't want to print. Always point the tool away from your hands.
-Keep carving until you have clearly defined your design. Remember you can always take away more material but you can't put it back.
-To make the circular dots I used the U shaped tool to outline the circular shape, then used the blade to carefully remove the excess material.
-Time to try out your stamp.
– The top image was my original design, but I wasn't happy with the stalk so I carved away some extra material to create an outline. Be careful not to make lines too thin as the rubber material may crumble.
– That's all there is to it. Time to have some stamping good fun.
And here's a little humor to brighten your day. You're welcome…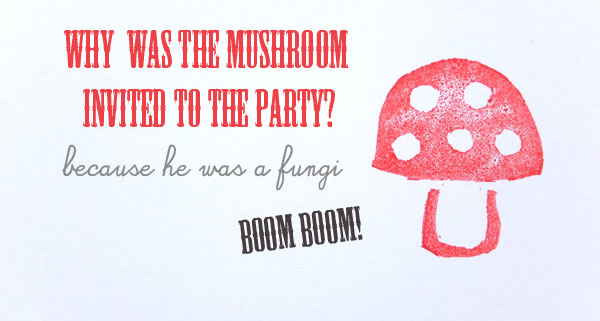 www.mypoppet.com.au