If you've fallen for the growing indoor plant trend, here is a fun little project that will add even more greenery to your home – How to make a Kokedama Hanging Plant. "What's a Kokedama?" you ask. Good question. Kokedama literally translates to 'moss ball' in Japanese, it's an alternative way to grow indoor or outdoor plants without a pot.
They are very easy to make with only a few basic supplies, and make fantastic gifts for friends or family. Choose brightly coloured string for a modern vibe, or go for twine if you are after a more natural look. Personalise the Kokedama by adding a little ceramic or metal tag with a special message.
You will need:
Bush moss
Plastic craft cord in assorted colours or strong cotton twine
Small pot plant with a compact root system
Scissors
How to Make a Kokedama:
Gather your supplies. Bush moss can be purchased at florists or garden centers. Choose any plant in a small pot with a compact root system, succulents do well if you intend on hanging your Kokedama in a sunny spot. Cut plastic cord into 6 x 1m lengths.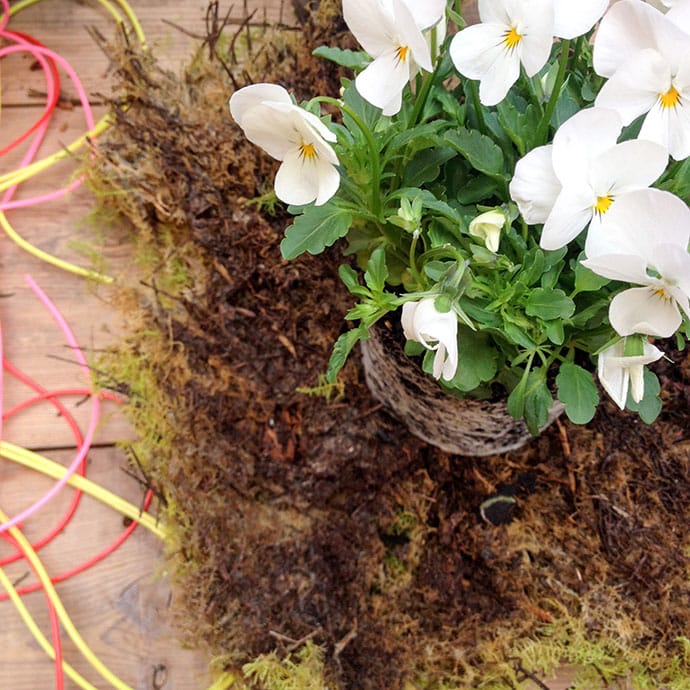 Lay the moss flat with green side down. Remove plant from container and place centrally in moss.
Firmly wrap moss around plant roots and secure with one strand of cord. Tie off.
Keep wrapping with cords in a random fashion and tie securely. Squish the moss to create a rounded shape.
Trim any long ends and tie on a cord as a hanger.
All done!
To maintain, sit in a tub of water for a few minutes once a week and squeeze out excess moisture.
I forgot to water this one last summer and we lost this floral plant, but I've since replaced it with a succulent and it's doing really well without much attention at all.
Looking for more interesting planting ideas? You may enjoy this post
https://mypoppet.com.au/living/2016/04/11-clever-succulent-planting-ideas-no-pots-required/