My friends at American Yarns have set me a challenge this month, create a project with one of their best selling products, Bernat Blanket yarn. Of course I could have made a blanket, but instead I harnessed the absorbent power of this chenille yarn's microfibre material to make a spa style hair wrap, perfect for using after showering instead of a bulky cotton towel.
I love waltzing around in a turban, (so glam), and now that winter has set in, this hair wrap is ideally suited to keeping my head warm after my Aqua Aerobics* classes. I hate going outside with wet hair in the cold weather, but it's a pain to dry with the crappy hairdryers at the gym, so my turban is the perfect solution for keeping the chill off till I can dry my hair properly at home. More stylish than a towel, and won't get soggy like a woollen beanie.
It's also great for using over a plastic shower cap with your conditioning treatments, or to keep dry hair away from your face when putting on makeup or a skin treatment mask. When it gets dirty, just throw it in the wash.
You could also make a smaller child size version for your kids to wear after swimming.
* Yes, I'm the youngest member of the Aqua Aerobics class but with my trusty turban I totally look the part. Next I may graduate to one of those cute vintage swimming floral swim caps – I'm embracing my 'old lady chic'.
About the yarn:
Bernat Blanket is a super chunky chenille style yarn with a soft velvety feel. It's made from a polyester microfibre which makes it quite light, yet warm at the same time. It's chunkiness means it knits up quickly on large needles which makes it ideal for making blankets and throws, hence the name. Because it's polyester you can throw finished items in the washing machine and they dry in a flash.
The 300g ball is huge which makes it pretty economical to use for large projects, and comes in lots of really nice colours, including brights and variegated shades.
Read my review of Bernat Blanket yarn at the end of this post.
How to make a Knitted Hair Towel Wrap
You will need:
Side Note: I must have been living under a rock or something, because until now I've never seen yarn needles like these ones by Susan Bates before. It was love at first sight – these are the best! I'm going to try them for my basket making projects too, the big eye will be ideal for threading raffia and other plant fibres. At $7.95 for a set of 5, they are a great tool to have in your project bag.
How to:
Finished Measurements: 28cm deep, 52cm long
Yarn: Bernat Blanket yarn, about 85g (56m) which is about 1/4 of the 300g ball – colour: Light Teal
Knitting Needle Size: 10mm
Abbreviations
K = knit
st = stitch
YO = yarn over (increase)
CO = cast on
Knitting Pattern:
This knitting pattern is a modified version of the Wide Triangle Scarf by Knitmonster
Cast on 3 stitches.
All rows: K1, YO, knit to last st, YO, K1
Repeat for 33 rows or until depth from CO point to knitted edge measures 28cm (11″)
(If you have a large head, very long, or thick hair, knit a few extra rows to make the wrap larger. For a child size, knit less rows.)
Cast off loosely leaving a long yarn tail of about 50cm
Finishing Instructions:
1/ Fold on the central line matching up the top edges (with the YO holes).
2/ Use the long left from casting off to weave between the YO holes and sew up the top edge.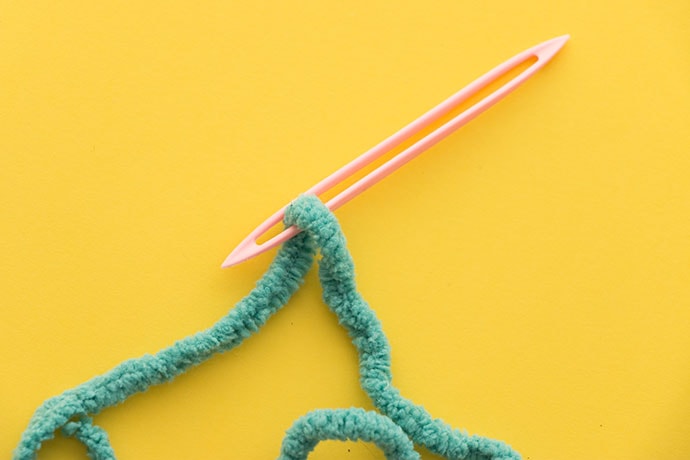 Tip: The largest size Susan Bates finishing needle was perfect for this task as the super chunky Bernat Blanket yarn passed though the large eye easily. The hole in the middle opens up slightly to fit the yarn, then closes back in place which stops the yarn from slipping out.
3/ Turn inside out to hide the seam if desired.
4/ Measure where you'd like the button to go by trying on the wrap to determine the best position. Sew on button to the back of the wrap, where the fold is.
Tip: No button hole is required as the holes in the knitting stitches are large enough for the button to slip through.
How to use an After Shower Hair Wrap Turban
It's super easy to wrap up your hair in this knitted turban, use it straight after a shower to dry your hair more efficiently, or use it on dry hair to keep your hair out of the way when applying makeup or a mask. It's so much lighter to wear than a regular towel and it dries much quicker too.
Just tuck your hair in, twist and button to secure.
If you have long hair, the first 2 steps should be done while leaning forward. You can also reverse the style and pop the wrap over your head like a hoodie, twist at the back and button in front. Try both methods and choose which you prefer best.
Bernat Blanket Yarn – The Verdict
Lot's of knitters and crocheters absolutely love this yarn, in fact, American Yarns tells me it's one of their best sellers . It has thousands of finished projects listed on Ravelry, so it has a huge fan base, but in all truthfulness the thought of working with this yarn just didn't appeal to me.
Initially I was going to make a super chunky knitted throw, but after knitting a few samples I just didn't like how the yarn felt while I was knitting, it gripped onto the plastic needles I was using and also itself, which made each stitch a chore. I think this problem was exacerbated by my 'continental' knitting style which relies on the yarn slipping past itself to achieve proper tension. I couldn't imagine finishing a whole blanket so onto plan B.
Next I tried some crochet, but again I didn't enjoy the way the finished fabric looked, not enough stitch definition for me, especially with the recommended hook size.
What a dilemma!
I'm not one to throw in the towel easily, so after a little break to get over my set backs I was determined to have a positive crafting experience with Bernat Blanket. I decided to focus on it's positive qualities. Sure, the fluffy microfibre material makes it grippy to knit with, but it's also has fantastic absorbent properties, and is perfect for picking up moisture (and dust). I like to make practical projects, so the hair wrap seemed like the perfect use.
I'm pretty pleased at how this turban it turned out, and yes, I'd make it again.
I have more than half a ball left over, so I'll be making some microfibre dusting mittens with the remainder – yell out if you want the pattern for those down the track.
Cinti's Tips for using Bernat Blanket
Of course my own personal experience with this yarn doesn't reflect everyone's experience, but if you, like me, need some tips to help your Bernat Blanket project work up smoothly, here's my advice:
Use metal needles, the yarn will slide over them more easily. Wood, bamboo or plastic gets very grippy.
Use a larger needle or hook size than the recommended 8mm on the label, I found a looser tension was easier to work with – keep in mind larger needles may affect finish project size (so best to swatch first).
Make smaller projects. If you find working with this yarn a bit challenging, make smaller projects that only take an evening or two to complete.
Knit with an English throwing style. Throwers will find this yarn much easier to work with.
Several forums suggest crochet is easier with this yarn as there is only one live stitch in play.
You can purchase the yarns and accessories featured from www.americanyarns.com.au
If you have any questions about my thoughts on this yarn or about the pattern, just leave a comment and I'll get to it as soon as I can.
Have you used Bernat Blanket before? What did you make?