Tidying up the other day I unearthed a cute origami book that I bought in Japan called 'Origami of Delicious Food'. It's in Japanese but has enough pictures to be able to work out the designs. One of the 'delicious foods' was a pumpkin, and I thought it would be fun to make a few and turn them into a garland just in time for Halloween.
Emma is Halloween crazy at the moment so she has used it to decorate her room.
This garland would work well for other autumnal celebrations like Thanksgiving (for all you Northern American folk).
The origami steps are a bit tricky so rather than take photos of the steps I made a video which hopefully will be easier to follow. Of course if you don't have time for all that folding, you could always cut out pumpkin shapes for your garland.
You will need:
Origami Papers in orange tones (as many as you want for your garland)
Green paper for stems
Twine
Sticky tape
Scissors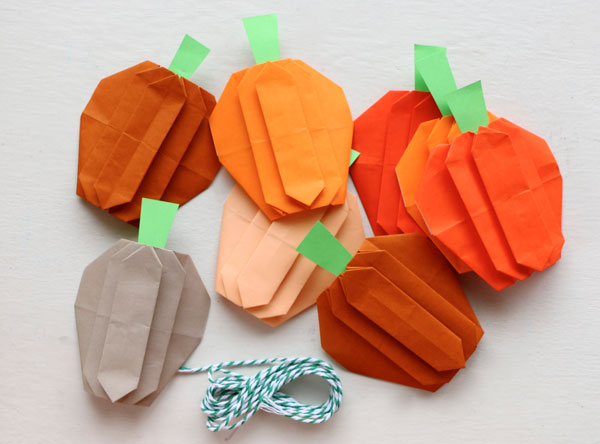 One piece of origami paper makes one pumpkin body. The larger the paper the larger the pumpkin. If you don't have origami paper you can cut any decorative paper into a square shape.
How to:
1. Time to get folding, watch the video (above) and make as many pumpkins as you like.
2. Tape in the stems
3. Tape the twine to the pumpkins
All done!
My favourite is this grey pumpkin, because it reminds me of a Queensland Blue pumpkin which is the type we commonly have in Australia.
My little scary skeleton is a fan.
PS. If you enjoyed the video you may like to subscribe to my Youtube channel I'm trying to add more video content whenever I get the chance.