About a year and a half ago I set myself the challenge of learning to knit. With a little persistence an a lot of help from youtube, I can proudly call myself a knitter. To develop my skills I've been trying to take on projects that push me to learn new stitches and techniques, so when Skeino offered me the opportunity to review their new Startup Shawl Kit, I jumped at the chance.
Skeino's Startup Shawl Kit is designed for beginner knitters who want to step up their skills, with a fairly simple combination of repeated Knit, Purl and Yarn over rows, you end up with a textured design that really looks complicated, but isn't at all once you get the hang of it.
My thoughts:
The Yarn

The yarn was beautiful and a real pleasure to knit with. Super squishy Superwash Merino (which means it's machine washable) has been hand dyed in lovely vibrant colours. I chose the Otello colourway. The yarn is 'worsted weight' which felt about the equivalent of our 8ply yarns here in Australia.
The kit came with 3 skeins. The variegated colourway is fairly forgiving so it's good at hiding mistakes. I've got a couple in there but you don't even notice them.
The Pattern
The Startup Shawl Pattern is available HERE for free or on the Skeino Ravelry page so I won't duplicate it here. If you are absolutely new to knitting you may find it a little confusing to get your head around at first as it's written more like a formula than a traditional row by row pattern that you may be familiar with. I actually had a few goes at it and realised there were a couple of errors in the version that came printed in my kit. I emailed the designer at Skeino and they have since corrected the pattern. (Go me, seems I have pattern testing potential!)
Once you get going the design is repeated every 10 rows.
Stitches
Stitched you need to know are:
Cast on
Knit (K)
Purl (P)
Knit 2 together (K2tog)
Yarn over (YO)
K-YO-K which was a new one to me so I looked it up on youtube. It's the stitch that gives you the increases down the center of the shawl. All into the same stitch you K then YO then K again.
Bind off (BO)
and Slip (S) which I didn't use but replaced with a K because I didn't want to crochet the edge.
All in all fairly simple stitches.
You will need:

3 skeins of the kit yarn wound into balls
6mm (#10) circular needles
Pattern
(Don't bother with a stitch marker, it's more trouble than it's worth)
How to:

It's a top down pattern so you only need to cast on 3 stitches, yay!
Row 1-6 builds your initial foundation (note I've omitted the slip stitches), you need to start getting familiar at recognizing the central increase K-YO-K stitch as this is the part that I found the trickiest.
The next 10 rows are your pattern repeats.
I created my own quick reference code to help me identify which rows had increases (the asterisk) and which were K or P. Then a little piece of washi tape acted as my little prepositionable marker to help me keep track of where in the pattern I was up to.
Here you can see 3 full repeats of the pattern.
As I mentioned before it took me a while to easily recognise the location of the central increase K-KO-K stitch, especially after row 9 with all it's Yo's. The key was looking for the middle stitch that I'm pointing to in the picture. I didn't use a marker because you need to move it along every time you increase and it got annoying.
Keep going till you run out of yarn, but leave enough to bind off of course. Weave in ends and you are done!
You can block if you want to but I didn't because I like the squishy texture.
The finished Startup Shawl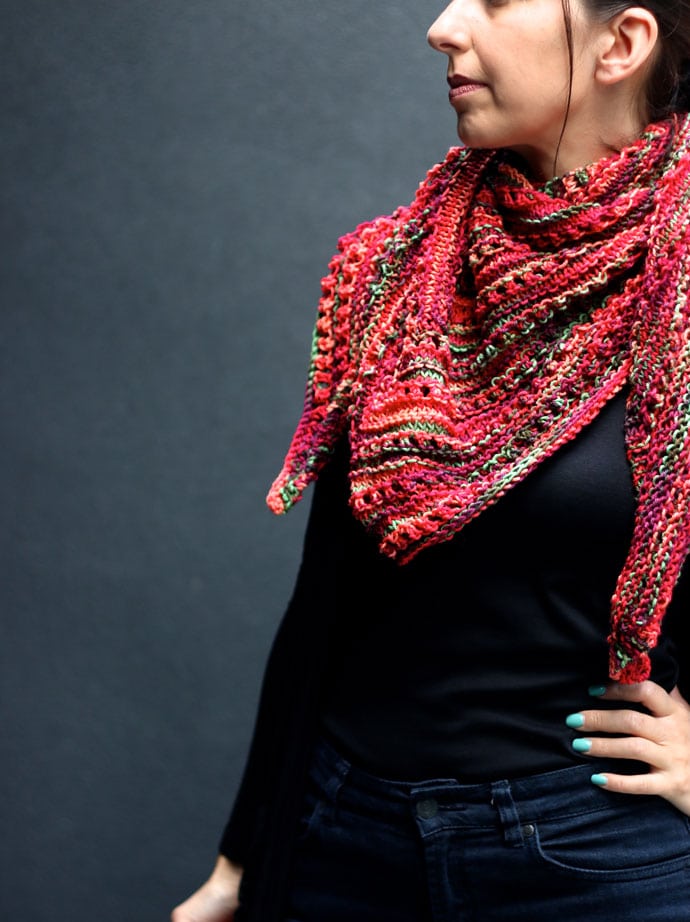 As I was knitting, I wasn't sure if I would like the final result because both the yarn variegation and the knitted pattern are pretty busy, but as you can see from the photos it works and looks quite striking actually, especially worn with black.
I loved how these photos turned out, they really show off the texture of the pattern design and the vibrancy of the yarn.
Final verdict:
Skeino yarn is AMAZING, it's soft and feels like cotton but has a real springiness to it that helps it retain it's shape. I haven't washed it yet so can't comment on it's washability. I'd love to use it again (and when the Aussie dollar is not so dismal I'll certainly be adding some to my yarn stash.)
Skeino ship from the US so you lucky readers stateside can shop online and get deliveries pronto.
The pattern nomenclature was not ideal but as you can see it was doable and is a good way to challenge yourself if you are a beginner wanting to 'step up' your skills.
You can buy the Startup Shawl Kit here.
This was an unpaid review, I received the yarn kit for my consideration and all opinions are my own.