Finally the tutorial you've all been waiting for! I've been working on this coiled and crochet rug slowly for months and months; now that it's finished I want to show you how to make your own.
It's a terrific way of using up lots of scrap fabric that is too worn out or stained for sewing projects, I've used old sheets, fabric remnants, and old clothing. All the materials are recycled including the twine I used to crochet with, I actually picked it up at a thrift store for a few dollars and it was absolutely perfect for this project.
The only crochet skills required are single crochet stitch which is fairly basic, I'll link to a tutorial which explains it fully below.
If you'd like to make your eco friendly fully recycled rug rug for virtually no dollars, read on!
You will need:
Strong twine, thin cordage or very strong rug yarn. (I was lucky enough to pick up a large cone of nylon rug yarn at the thrift store)
Lots of unwanted fabric
Crochet hook (about 4mm, but will depend on the thickness of your yarn)
Scissors
Sewing machine (optional)
Lots of spare time
Rug underlay to prevent the rug slipping once it's finished
How to:
Preparing your fabric strips
Depending on the type of fabric you have on hand, you will need to prepare your fabric accordingly. The idea is to cut long/continuous 2″ wide strips and then roll them into a ball ready for rug making.
If you are using large pieces of fabric like sheets or tablecloths the best way to cut to give a continuous strip is as per the diagram below.

You can just nick the fabric and tear but make sure not to rip all the way through.
If you have shorter strips made of fabric remnants or clothing, sewing them together into a long strip makes the process easier later on. Cut the ends at a 45 deg angle and sew together.
Once you have several large balls of fabric you are ready to start crocheting.
How to crochet the rug
I haven't created a step by step tutorial to show you how to single crochet around a fabric strip because it's exactly the same as the technique I used and explained in my Coil + Crochet Rainbow Basket Tutorial.
Follow steps 1-4 here and just keep on going until your rug is as big as you'd like.
Tips:
Twist the fabric strip to form a rope like cord to crochet around.
Work on a flat surface, especially as the rug gets larger to ensure the rug sits flat.
If the edges start to cup up it indicates that you need to add some more stitches, throw a few increases in there (2 stitches in one.
If the edges start to ripple you have added too many increases, pull in the inner fabric core gently to tighten up the ripples.
Don't stress if you have cupping or ripples, you can always unravel the last few rows to fix it, you will get good at judging how flat the rug is sitting as it progresses.
When you get to the end of a fabric strip ball you can either sew the end to a new ball, or just overlap the fabric, twist and crochet over the overlapped layers.
Keep going until you are happy with the size. I stopped when I ran out of twine.
To finish, just cut the end of the fabric diagonally so it tapers off, then keep going with single crochet until you are well past fabric end. Weave in any loose yarn ends.
For safety if you are going to be using the rug on a hard floor I'd suggest adding a non slip rug underlay to stop it moving when walked on. It will also help flatten out any lumps and bumps.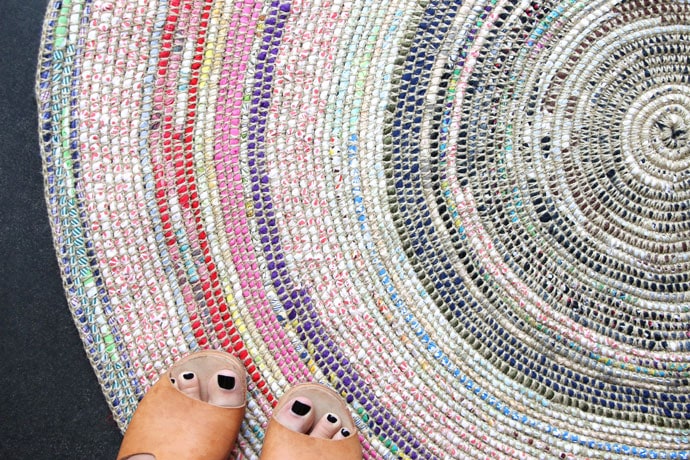 If you have any questions (I may have missed something), just leave me a comment and I'll try to get back to you as soon as I can.
You may also like:
Have fun scrapbusting!