Little baskets are so handy for corralling small miscellanea that seem to end up all over the house, you can never have too many. I've created some lovely rainbow hued ones with a simple coil basket making technique, but instead of weaving I've used crochet which makes the process go a lot faster.
There baskets were actually an experiment in using variegated gradient yarn. I received a few samples of 4ply cotton from my friends at Spotlight and loved the way it looked on the ball. I love the idea of variegated yarn but am often dissatisfied with how it pools when knitted or crocheted, so it was time to experiment.
These Crochet Coil Baskets show of the rainbow gradient perfectly, I've sized them to make the best use of the yarn's pattern but if you have yarn with a less prominent gradient/variegation, you can adjust the size of your basket accordingly.
Because I've used t-shirt yarn as the core, they are nice and floppy but if you want a firmer basket consider using thin rope. You can even make them fit around an old jar and hey presto, a new vase!
You will need:
T-shirt yarn or thick cord for the core
Gradient rainbow yarn cotton yarn – I've used 4ply Mornington Yarn from Spotlight which I received in a goodie bag a few weeks ago.
3.5mm crochet hook
Scissors
Finished size: 9cm diam x 9cm tall
How to:
Crochet stitch used = single crochet (Sc)
How to do a single crochet stitch over a cord
Single crochet over a cord is much the same as tapestry crochet, the idea is to form your stitch around the cord and encase it. The stitch mechanics remain the same. I've taken some step by step photos and made an animation to help you if you are not familiar with the single crochet stitch.
How to make the basket – Base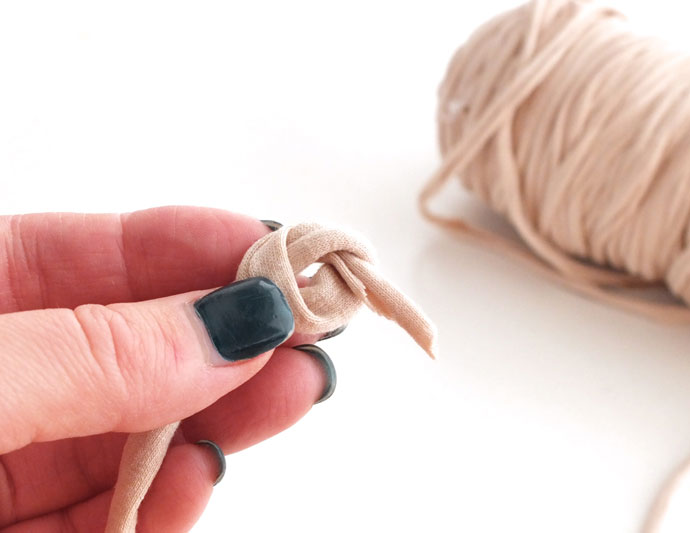 1. Wrap the t-shirt yarn (or cord) into a small ring.
2. Sc closely together as many stitches as you can fit around the ring. If you have a small tail hanging out that's ok.
3. Sc all the way around until you are back at the start (that was round 1). You will now work in a spiral with the hook going into the corresponding stitch below (from previous rounds).
For round 2, Sc 2 stitches into every stitch from the round before.
4. Carry on in a spiral with and occasional increase (2 stitches in one), checking that the work lies flat after every round. If it starts to cup, you need to add more increases. There is no strict formula for this as the tops of the stitches elongate over the cord allowing for it to sit flat.
Crochet to the desired base size, mine was 9cm.
How to make the basket – Sides
5. When it's time to build up the sides, re-position the cord so it sits up (as opposed to flat), continue Sc with no increases.
How to make the basket – Base
" width="690″ height="469″>
6. You should notice the edges start to curve up once the first round of the sides is finished. If it's sill sitting flat give the cord a gentle pull to gather the stitches in.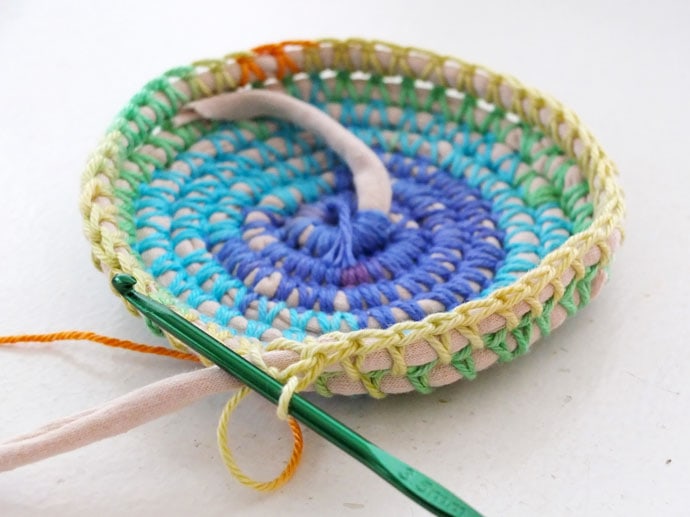 7. Flip your work over so the right side will now face out as you continue to crochet.
8. Work your sides up…
…and up…
…and up.
9. When you are happy with the basket height (mine was 9cm) taper your t-shirt yarn or cord.
10. Sc until the end of the cord is fully covered, it should taper off gradually.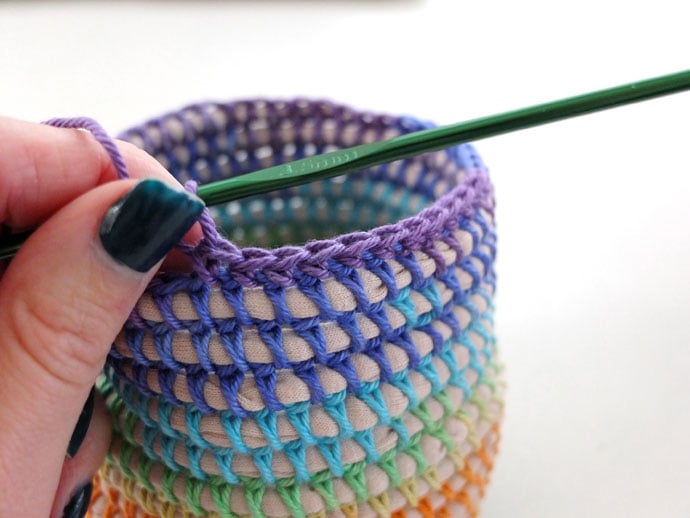 11. To finish off, crochet a final row of Sc then break off yarn and weave in ends.
All done! Don't they look smashing? I love how the colour gradually changes up the sides of the basket.
They are the perfect size for storing all sorts of little bits and pieces in. Use them to store craft supplies, stationery, jewellery, makeup, toiletries, small toys…the list is endless. They would also make a great gift for a friend filled with treats, like a mini hamper.
Now you know how to crochet over a cord, you can adapt the same techniques to a bigger project. I'm making a rug and I'll share it here very soon.