I love crocheting with t-shirt yarn, it works up so quickly and creates a very robust fabric which is perfect for decor items that need to stand up to wear, like storage baskets and rugs.
I have accumulated quite a stash of t-shirt yarn, and because it's bulky storage is always tricky.
The perfect solution to my yarn storage dilemma was to make a basket out of t-shirt yarn, (so very meta).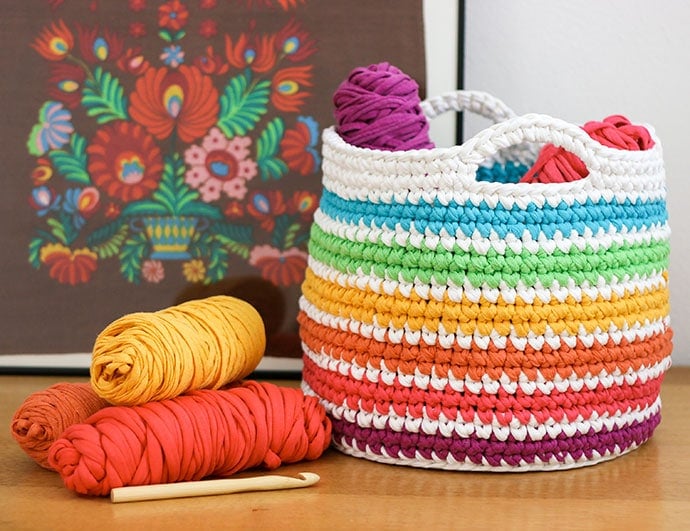 This basket is the perfect size, big enough to fit a ton of stuff like toys, knitting or shoes, but flexible enough to pack flat when not in use. My favourite part, just grab the handles and it can double as a bag to take your craft projects with you on the go.
I made this over a couple of evenings as an experiment and didn't even think to photograph the steps, but I thought you may like the pattern so you can make one yourself.
I'm planning on making a few videos with some of the basic techniques required so if you want to know anything in particular, please leave it in the comments so I can cover it specifically (when I get around to filming).
I love a rainbow but feel free to use whatever colours you prefer, I just had these colours on hand so I thought, why not?!
Rainbow Storage Basket Crochet Pattern
Finished size: H 26cm (10.5″), D 32cm (12.5″)
Notes on materials: I've used both t-shirt yarn and XL ribbon yarn for this project. XL Ribbon yarn is lighter so I doubled it up and it was the perfect weight. If you are using XL Ribbon you will need to double the yardage amount. T-shirt yarn, due to it's recycled nature has varying textures and stretch so some colours/yarns are stiffer to work with than others.
This project uses quite a lot of yarn so you may want to consider making your own from old garments.
Yardage on skeins/cones varies depending on suppliers so I've only estimated the amount required.
I've made a list of suggested supplies at the bottom of this post.
You will need:
1 large cone white T-shirt yarn (about 600g)
T-shirt yarn (or equivalent) in purple, pink, orange, yellow, green and blue (about 100g each) or 1 large cone of contrasting colour of choice.
12mm bamboo crochet hook
scrap of yarn for stitch marker
scissors
large tapestry needle for weaving in ends
Crochet Pattern:
Stitches used & Abbreviations – US terminology used
Magic loop
ch chain stitch
sc Single crochet (US) = double crochet (UK)
ss Slip Stitch
st(s) Stitch(s)
Pattern Notes:
This pattern is worked in the round (spiral), use a stitch marker or scrap of yarn to mark beginning of each row. White yarn will be carried up the inside of the basket from each working row, coloured yarn changes are in the style of tapestry crochet where the coloured yarn tail is crocheted over (by the white) for a few stitches before the colour starts and ends to secure. If you are working the stripes in one colour, do not break off, carry the yarn up the inside of the basket.
Because the basket is worked in a spiral the stripes will have a jog (where the colour jumps) in the start of each row, use an alternate jog free technique if this isn't pleasing to you.
Rows 1-11 in white (do not break off after row 11)
R1 – Make a Magic loop and sc 10 stitches into it (10st)
R2 – 2 sc into every st (20st)
R3 – (sc in next st, 2 sc in next st) around (30st)
R4 – (sc in next 2 sts, 2 sc in next st) around (40st)
R5 – sc into every st
R6 – (sc in next 3 sts, 2 sc in next st) around (50st)
R7 – sc into every st
R8 – (sc in next 4 sts, 2 sc in next st) around (60st)
R9 – sc into every st
R10 – (sc in next 5 sts, 2 sc in next st) around (70st)
R11 – sc into the back loop of every stitch (start weaving in next colour about 6 st before end of round)
Rows 12-29 are all the same – sc into every stitch in the following colour pattern
2x purple, 1x white, 2 x pink, 1x white, 2x orange, 1x white, 2x yellow, 1x white, 2x green, 1x white, 2x blue, 1x white
continue in white
Row 30 – sc 14, ch 10 (skip 8 st), sc 27, ch 10 (skip 8 st), sc 13.
Row 31 – sc into every stitch, 10 sc over each chain section, sc to marker, ss and weave in ends.
It's not too difficult once you get going. I can't wait to see what you make.
If you want a smaller basket, stop at any round from 1-11 and start building up your sides as tall as you need.
I bet you won't stop at one, I'm itching to make a heap more in lots of colour combos and with some homemade t-shirt yarn too.
Where do I buy t-shirt yarn?
I get asked this question A LOT, here are a few places I've found online.
Mrs Yarn Studio* (Europe)
TShirt Yarn Boutique* (USA)
also
www.hookandhop.com (Australia)
* indicates affiliate link