After making a handy crochet basket from t-shirt yarn last week I was itching to experiment with some homemade t-shirt yarn and made a Crochet Rag Rug from some old clothes that I had laying around.
I took the opportunity to make a video of whole the process and included some instructions for changing yarn colours and how to do a Single Crochet (sc) Stitch. If you are a leftie I haven't forgotten you, I made a video with left-handed crochet instructions – watch it here.
This mat isn't going to win any beauty pageants, but if you are new to crochet, this little project is a great one to start with as the homemade yarn gives it a rustic look that hides any mistakes or dodgy stitches.
Use it as a doormat or bathmat and just throw it in the washing machine when it gets dirty.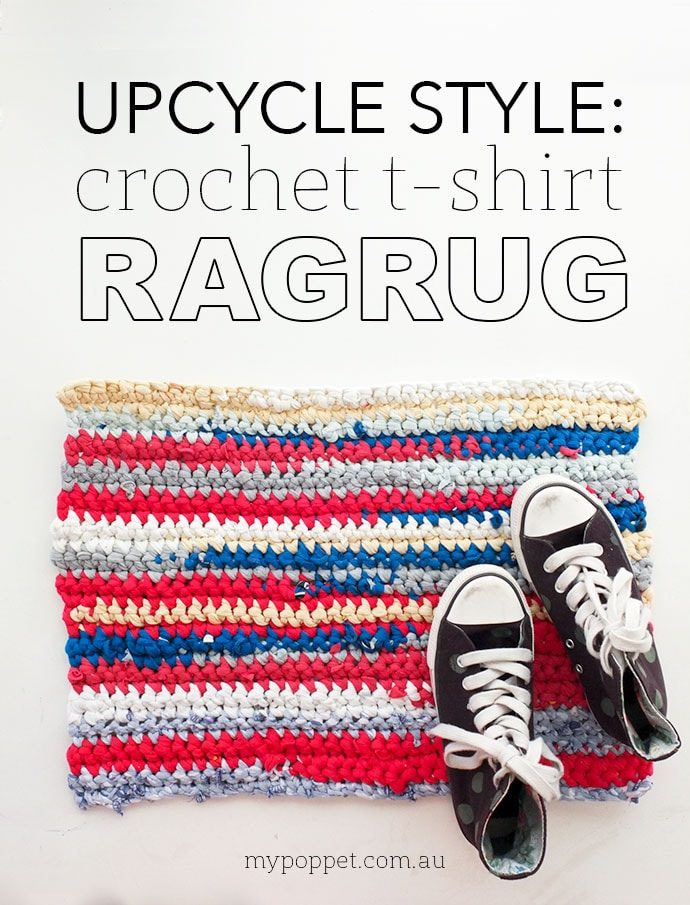 You will need:
3-4 old t-shirts or leggings
sharp scissors
12mm crochet hook
How to:
The video gives you a good overview but I thought you may find written instructions useful
Cut garment into 2cm wide strips. Cutting in a spiral fashion around the garment will give you continuous strips. I've made a video showing the most efficient way to cut t-shirts for braided rug making, you can use the same technique but just cut the strips narrower. WATCH THE T-SHIRT CUTTING VIDEO HERE.
Wind your yarn into balls. The amount of yarn you will need for the rug will depend on the size of the garment.
Refer to video for instructions:
How to Single crochet (sc) stitch (US) – 1:32
How to change colour yarn knot free – 1:54
Rag Rug Crochet Pattern
Finished size: Approx 50cm x 37cm
Chain 40 stitches
R1: Miss first chain and sc into second stitch. Sc into every stitch (39 stitches).
R2-30: Chain 1, turn, skip 1 and sc all.
Crochet 30 rows, or however many you like. You can just keep going and make a hall runner if you have enough t-shirts.
Slip last stitch and weave in ends.
Yell out if you have any questions, I hope you enjoy the video tutorial.