Seems I'm hooked on making rag rugs! I can't help it, they are just such a great way of upcycling unwanted textiles and clothing.
I'm currently working on two large rag rug projects using old t-shirts, they've been so successful that I've run out of old t-shirts! (You can read about my big braided t-shirt rug experiment here). I'll have to wait till a family member or friend has a clean out so I can get started on those again.
The one thing I do have lots of is worn out jeans and chinos!
Mr Man wears though jeans and trousers like crazy. The wear is mostly between the legs and I do patch and mend where I can, but sometimes they are beyond repair and head straight to the rag pile.
Because the worn out area is mainly in the bum, the fabric on legs of Mr Man's jeans is usually in great condition.
I like to save old jeans because denim is such a strong and versatile fabric. Mainly I cut it up to use in other sewing projects like adding knee patches to jeans, or making coin purses out of pockets.
But the unwanted trouser and jeans pile was getting pretty large so I thought a big upcycled denim project was in order.
I've had so many requests for a rectangular coil and crochet rug on this circular rag rug post that it inspired me to create this very eco-friendly rag rug using old jeans and leftover cotton yarn.
This little rag rug is pretty sturdy and makes the perfect bedside mat or even a colourful indoor door mat. You can use this technique to make a rag rug in any size you like.
Of course the bigger your rug the more jeans you'll need. Just to give you an idea, this little mat is made from 2 pairs of large loose fit men's jeans. If you are using ladies or skinny jeans you may need more pairs.
Don't cut up wearable jeans. The whole idea of upcycling is to use up materials or garments that would normally go into landfill. If you have jeans that are in good wearable condition, consider donating. I only cut up old clothing if it's too far gone for charity donations.
Often charities get lots of unwearable items donated to them that they then have to dispose of at great cost. If you don't have any old jeans piling up in your wardrobe, maybe you can have a chat with the local thrift shop and take some un-sellable holey, damaged or stained jeans off their hands for a few dollars. WIN-WIN!
I've used lots of left over cotton yarn scraps in a range of colours for this project. Cotton yarn is idea because quite sturdy and doesn't stretch like wool or acrylic yarn can. Thinner yarn can be doubled up.
If you don't have scrap yarn, I'd estimate that you'll need 2-3 50g balls (but that's just a guess).
Don't like the rainbow look? Opt for the same coloured yarn all over.
Crocheting over a fabric core is one of my favourite techniques. I've used it to make a bigger round scrap fabric rug and some small rainbow baskets.
In the past I've used thinner fabric which has worked fine, but the sturdy denim is a real game-changer and I can't wait to make some bigger baskets with this crochet technique. Luckily I've got a big pile of old jeans to work with!
Read on for detailed instructions.
You may also enjoy these rug and mat DIY projects:
Don't throw out your old clothes, make rag rugs from them instead! Here are some great tutorials to help you upcycle old fabric, t-shirts, sheets and other clothing into rugs and mats.
How to make a Rag Rug from Old Jeans
You will need:
2-3 pairs of old denim jeans
sharp fabric scissors
crochet hook 5mm (slightly bigger or smaller is fine) – I like this crochet hook by Tulip with a rubbery handle
cotton yarn assorted colours – whatever leftovers you have, 5-8ply (sport to DK) held double or 10ply (worsted) held single
How to:
Finished Size: 44x68cm (17.5″x26″) but you can make any size you like.
Prepare Denim Strips
1. Cut both legs off jeans as high as you can. Save pockets for this cute project – Upcycled Pocket Pouch.
2. Cut away seams then cut leg panels into long strips about 4cm (1.5″) wide. You should be able to get 3-5 strips from each panel depending on the size of your jeans.
Time to Crochet!
Only one stitch is required for this project – Single Crochet (US), abbreviated to Sc. It's equivalent to UK/AUS Double Crochet.
Remember Single Crochet (US) = Double Crochet (UK)
If you are not familiar with how to Sc over a cord please refer to this blog post which has detailed instructions – How to Single Crochet over a Cord.
3. Holding two strands of yarn together make a slip knot to get started.
4. Fold over and/or twist your denim strip to make it more solid and 'rope-like'. It will act as a core that you will crochet over. I may refer to this denim strip as the denim core or cord, the terms are interchangeable.
Foundation Row
5. About 5cm/2″ from the end of the strip, Sc 2 stitches around the denim cord.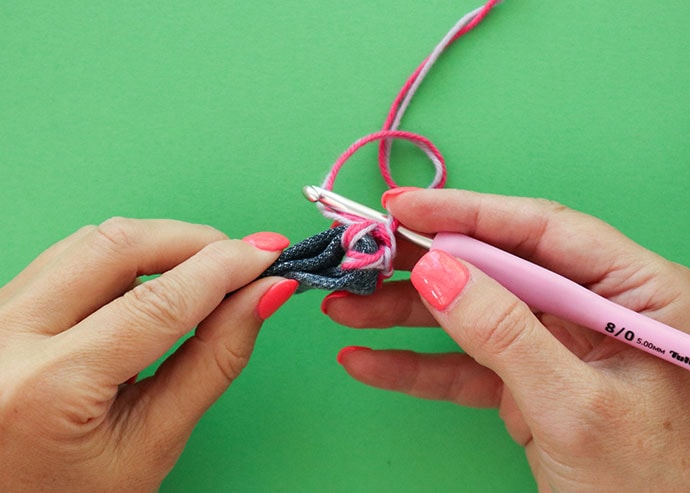 6. Fold the denim tail over.
7. Continue to Sc (firmly) over the tail and along the rest of the denim cord. Continue doing this until you have reached your desired rug width, mine was 44cm then add 2 extra stitches. The overall stitch count is irrelevant.
Subsequent Rows
8. To work the second row, fold the denim cord over on itself, skip the last 2 sc stitches and then continue to sc to the end of the row.
9. Once you reach the end of second row, add 2 sc stitches (which shall from now on be referred to as turning stitches).
10. Fold the cord over on itself, skip the turning stitches and proceed as per previous row.
11. Continue this way until your rag rug is the desired length changing the cotton yarn as you go. Just knot the ends together when a colour runs out and keep going. Crochet over the yarn tails to keep it neat.
Joining Denim Strips
12. To join the denim strips together just overlap the ends and roll them over each other, then crochet over them to secure.
13. Try to work over this are a little tighter than normal to keep the overlapped ends secure.
14. It's also a good ideas to alternate the areas in the rows where you've joined the ends so the joined 'thicker' areas are spread throughout the rug. You can see in the picture above where the joins are as the denim core is a bit lumpier. If you want to avoid the lumps, just taper off the ends of the denim strips slightly to reduce the bulk of the fabric.
Finishing Off
15. Once your rug is the desired size, here's how to finish off the last row. Stop crocheting about 7cm/3″ from the end and fold denim strip over on itself, tucking any raw ends inside (you may need to cut the strip). The crochet to the edge firmly over the doubled over area. When you reach the last stitch sc once or twice onto the row below. Break yarn and tie off firmly. Weave in any remaining yarn ends.
All done!
Congratulations! You've just turned a couple of old pairs of jeans that were headed to the bin, into a brand new fantastically useful rag rug!
This upcycled scrap fabric rug is super satisfying to make and so practical. It's reversible so you can just flip it over if it gets too grimy. Rolls up easily for storage too.
I love how the colours gradually change and overlap through the rug as one yarn runs out and the other picks up.
The colours of the cotton yarn really pop against the denim. What a great way to cheer up any dark corner of your home.
If you have any questions, feel free to leave a comment and I'll get back to you as soon as practicable.
Feeling inspired to make a Rag Rug?
Once you've mastered the rectangular rag rug, use this same technique to make a circular rug as well – Coil + Crochet Scrap Fabric Rug
LOVE IT? PIN IT!