I've been clearing out our wardrobes, and have accumulated rather a large pile of old t-shirts and holey leggings that are fit for the scrap heap. Rather than throw out old textiles, I'm always looking to interesting ways to upcyle them into something useful – It's time to make a rag rug!
There are so many different ways to make rag rugs and I'm always experimenting with new ideas and techniques.
In the past I've braided, sewn and crocheted scrap fabric together to make rugs and mats in assorted shapes and sizes.
Old clothing that is too worn out to donate is the perfect material for making rag rugs. Once you cut it up into strips, you don't notice any holes or staining in the fabric. I've made a video showing you the best way to cut up t-shirts to make rag rugs.
Most recently I've started on a brand new rug project, my largest and most ambitious to-date. It's a no-sew braided rug from a mix of t-shirt and woven fabrics. Going well so far but it's early days yet.
The upcycled rag rug tutorials on My Poppet are some of the most popular posts, so I thought I'd round them all up here, plus include a few new rag rug making techniques from around the web that I'm keen to try.
If you are looking for rag rug making ideas, look no further. Here are 7 ways to make a rag rug that can be used with both jersey or woven fabric.
7 Ways to Make Rag Rugs
1. Crochet a Rag Rug from Old T-shirts

An easy project that works up very quickly. You'll only need one or two old t-shirts, some scissors to cut up your yarn with and a large crochet hook. Only basic crochet skills are required to make this handy mat.
Ideal as a bathmat or doormat that can go in the washing machine when it gets a bit dirty.
GET THE CROCHET T-SHIRT RAG RUG INSTRUCTIONS HERE
2. Make a Woven Rag Rug
Woven rugs require a loom, but A Piece of Rainbow has shown how to make a simple one with instructions for making this colourful rag rug. The size of the rug is limited only by the size of the loom.
Get the Woven Rag Rug instructions here on A Piece of Rainbow
3. Make a Braided T-shirt Rug – Sewing Required
One of my first rag rug projects and still the most popular. This is a modern take on the traditional braided rag rug. T-shirt fabric strips are braided then sewn together on a sewing machine. It can be a bit tricky to sew very large rugs are they get a bit unwieldy as the rug grows, but it's worth the effort.
No sewing machine? You can also hand stitch the braids together if you have lots of time on your hands.
GET THE BRAIDED T-SHIRT RUG INSTRUCTIONS HERE
4. Crochet a Coiled Scrap Fabric Rag Rug
Adapted from a basket making technique, this coiled and crocheted circular rug is perfect for using up woven fabric scraps. I've made this one from old sheets, assorted fabric scraps, and some strong twine.
GET THE COILED AND CROCHET RUG INSTRUCTIONS HERE
5. Weave a No-Sew Braided Rag Rug
Currently a work in progress, this NO-SEW braided rug is destined for my lounge room floor. It's the first time I've tried this technique, which is hard to find tutorials for. I sort of worked it out on my own with help from this tutorial.
You can find a video here that explains how to braid and weave the strands together. Once I'm confident with the technique I'll write a full post with my tips and tricks.
I also discovered a really good book on Amazon that has some very interesting No-sew braided rug project ideas and instructions. See below.
6. Sew a Fabric Twine Spiral Mat
A fun and colourful mat made from scrap fabric twine. Sewn together with a zig zag stitch on the sewing machine, it's a quick and easy way to recycle very thin fabric scraps. Make one large circle or join together smaller circles like I've done here.
GET THE FABRIC TWINE SPIRAL MAT INSTRUCTIONS HERE
7. Stitch a Toothbrush Rag Rug
Also known as a Swedish Braid or Amish Knot Rug, this rag rug is stitched together with a little peg that can be made from wood or an old toothbrush – hence the name.
This rag rug looks very colourful made from a bright array of old t-shirts. I'm keen to try this technique. You can purchase the pattern and instructions here.
Some handy instructions for making your own rag rug 'needle' from an old toothbrush here.
You can also purchase wooden Toothbrush rug making tools here.
Are you inspired to clear out that pile of old and worn out t-shirts taking up space in your wardrobe? Now you've got 7 great project ideas for making practical and attractive rag rugs for your home.
Have fun Upcycling!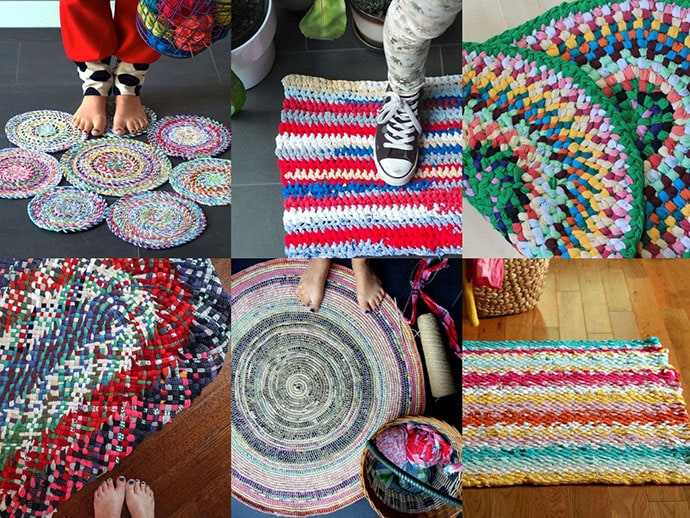 SAVE FOR LATER – PIN IT!