Here it is, by popular demand… How to make rope from scrap fabric. It's an idea that came to me whilst I was in the process of tidying up my sewing space, I tend to keep all my fabric scraps 'just in case' and all those really long thin pieces were tangling together and making a big mess.
After doing a bit of online research on rope making, I found this video showing how to hand twist rope from tree bark, so I've used the same technique with fabric scraps and it works a treat.
I've made a video tutorial to go with the instructions.
You will need:
Lots of scrap fabric strips in assorted lengths (max 1″ wide)
Scissors
Something to wind your twine on to – I've used Vintage wooden spools similar to these* but a piece of cardboard will do too.
Time and lots of it!
How to make Scrap Fabric Twine:
Gather all your fabric, you may need to cut some of it into strips, tearing is fine.
Tie 2 strips together with a small knot to get started.
Tip: It's easier to use one long strip and one short strip to avoid tangles.
Start twisting
Step 1: twist strip away from you
Step 2: pull that twisted strip over towards you
Repeat
Tip: The tighter you twist, the firmer your twine will be.
To Join strips
Joining is easy, just leave a tail of about 1″ and wrap the new strip around it.
Keep twisting as usual.
The join will remain quite strong.
Tip: Make sure both your strips don't finish at the same time or your join may be weakened.
I've made a video that clearly shows you how to twist the twine and join the strips.
It's super addictive and sort of meditative, I made meters and meters of it. My hands did cramp up a bit, so make sure your take little breaks because the twisting action can also be a bit hard on the wrists.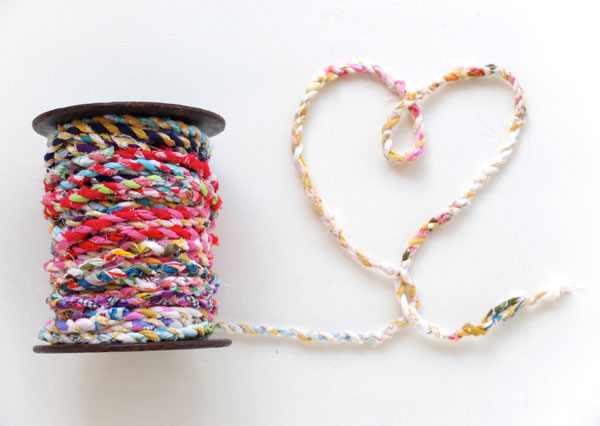 Using fabric strips in contrasting colours really shows off the twists and sort of makes it look a little bit like baker's twine. I'm sure you could find a million uses for it, I've made a project that I'll share with you soon. I think it would look great tied around brown paper wrapped parcels.
Check out what else I've made with Recycled Scrap Fabric Twine: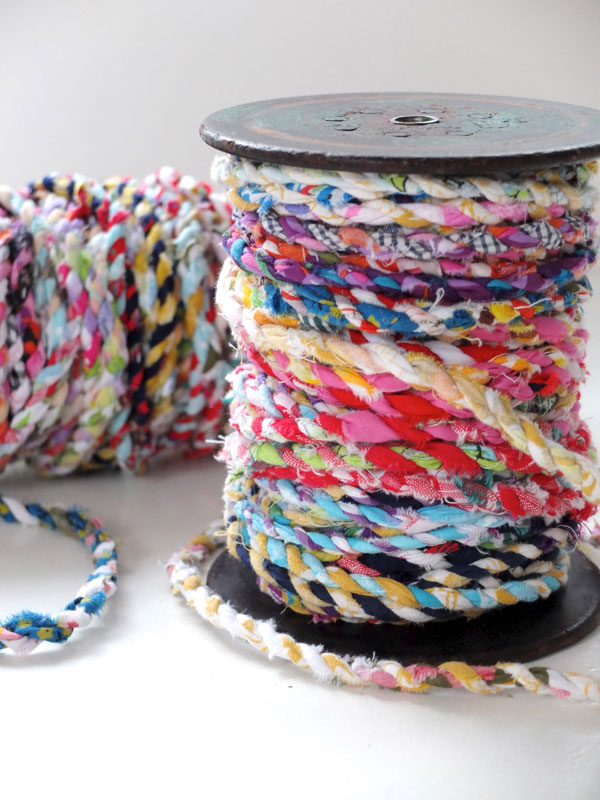 What will you do with your handmade scrap fabric twine?
JOIN THE MAILING LIST FOR THE BEST OF THE BLOG, EXCLUSIVE NEWS, GIVEAWAYS & THE LUCKY DRAW PROJECT
* indicates Etsy affiliate link