Here it is, by popular demand… How to make rope from scrap fabric. It's an idea that came to me whilst I was in the process of tidying up my sewing space.
I tend to keep all my fabric scraps 'just in case' and all those really long thin pieces were tangling together and making a big mess.
After doing a bit of online research on rope making, I found this video showing how to hand twist rope from tree bark, so I've used the same technique with fabric scraps to make fabric string, and it works a treat.
I've made a video tutorial showing you how to make twine rope, to go with the instructions.
Using up scrap material is my favourite thing to do and this method can easily be adapted to make paper twine or yarn rope. Once you learn this basic method for how to make twine, you can really use any materials you have at hand.
You will need:
Lots of scrap fabric strips in assorted lengths (max 1″ wide). The best twine material is a light weight woven cotton, or poly-cotton blend fabric. Jersey and stretch fabric can be used but doesn't work as well.
Something to wind your fabric twine on to – I've used Vintage wooden spools similar to these but a piece of cardboard will do too.
Time and lots of it!
How to make Scrap Fabric Twine:
Gather all your fabric, you may need to cut some of it into strips, tearing is fine.
Tie 2 strips together with a small knot to get started.
Tip: It's easier to use one long strip and one short strip to avoid tangles.
Start twisting
Step 1: twist strip away from you
Step 2: pull that twisted strip over towards you
Repeat
Tip: The tighter you twist, the firmer your twine will be.
How to join fabric strips
Joining is easy, just leave a tail of about 1″ and wrap the new strip around it.
Keep twisting as usual.
The join will remain quite strong.
Tip: Make sure both your fabric strips don't finish at the same time or your join may be weakened.
I've made a video that clearly shows you how to make fabric string, and it explains how to twist the twine and join the fabric strips.
It's super addictive and sort of meditative, I made meters and meters of it. My hands did cramp up a bit, so make sure your take little breaks because the twisting action can also be a bit hard on the wrists.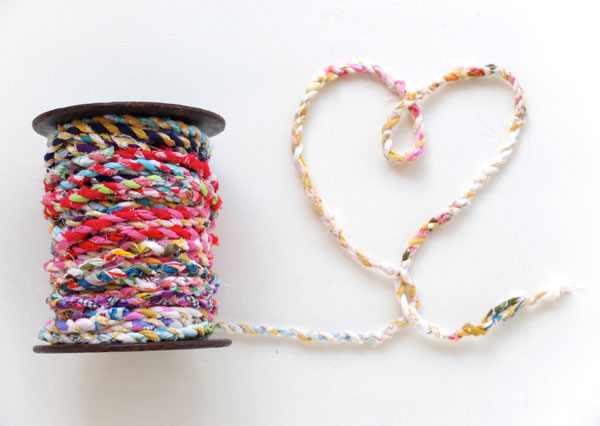 Using fabric strips in contrasting colours really shows off the twists and sort of makes it look a little bit like baker's twine. I'm sure you could find a million uses for it, I've made a project that I'll share with you soon. I think it would look great tied around brown paper wrapped parcels.
Here are some more fabric twine projects. Check out what else I've made with Recycled Scrap Fabric Twine: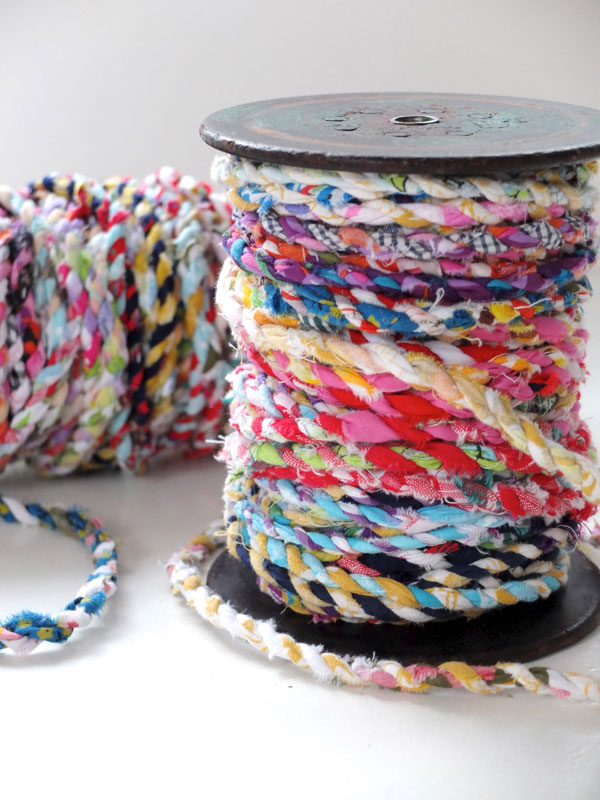 What will you do with your handmade scrap fabric twine?
JOIN THE MAILING LIST FOR THE BEST OF THE BLOG, EXCLUSIVE NEWS, GIVEAWAYS & THE LUCKY DRAW PROJECT