I like my envelopes to be sturdy, sometimes paper doesn't cut it when you want to include something that needs a little extra protection. Also plain white envelopes are BORING, why be blah when it's so easy to make something really special that won't cost you a cent.
Magazine covers are abundant, why not recycle them into eye catching, sturdy envelopes that won't get lost in the mail.
This envelope was made from a Marimekko catalog cover, but you can use any front or back cover with a colourful design. Sewing instead of gluing is an easy mess free alternative especially if you are short on time.

You will need:
Magazine cover
Scissors
Sewing machine
Self adhesive address label
Adhesive tape or a cute sticker
How to:
-Cut out the front or back cover from a magazine. Try to be neat and keep the edge nice and straight.


-Crease about two fifths of the distance from the bottom and then again at around one fifth from the top, cut the corners off the top flap.


– Fold up and sew sides with a long straight stitch
Paper Sewing Tips:
Set your stitch length to maximum to avoid cutting through paper.
Paper will blunt your needles so use old ones that are too blunt for fabric.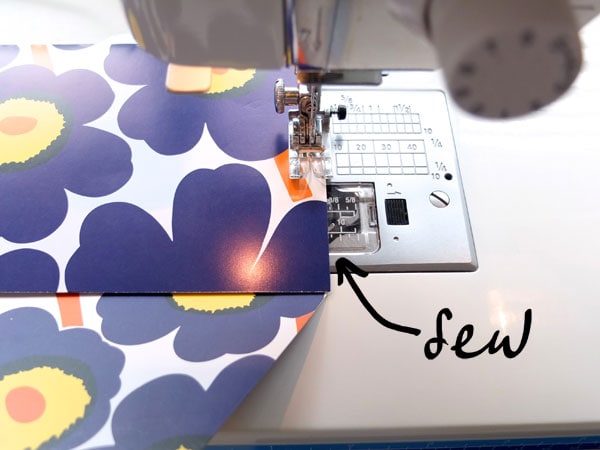 – Label and address. Seal the back up with adhesive tape or a cute sticker.


Now it's ready to post to your faraway friends.


You'll never buy another envelope again!
Here is another DIY envelope tutorial you may enjoy.