You may find this surprising, weaving is one of the few crafts I haven't really tried my hand at yet. Sure, I did some at school and know most of the theory due to my interest in textiles, but physically making a weave just hasn't happened…until now.
I was invited to a workshop hosted by the awesome team at Etsy in their Melbourne headquarters, and taught by the very well known weaver Maryanne Moodie. It was a fantastic opportunity to give tapestry weaving a go and I thought I'd share it with you.
Maryanne provided us all with kits that contained a loom, warp thread, assorted yarn and roving, a tapestry needle and scissors, as well as a handy go-to guide with step-by-step instructions – everything you need to get started on a weave.
I really enjoy attending workshops. I get to learn new things and meet new friends too, it's a win-win. Maryanne was very charismatic and approachable, and with a background primary school teaching, she has plenty of patience too, which is important if you are teaching crafting newbies.
I did learn a few tips and tricks, most importantly how to get the tension in my weft (the horizontal yarn) correct so it doesn't pull in on the sides. We also were shown how to make Rya knots and loops to add texture to the weave.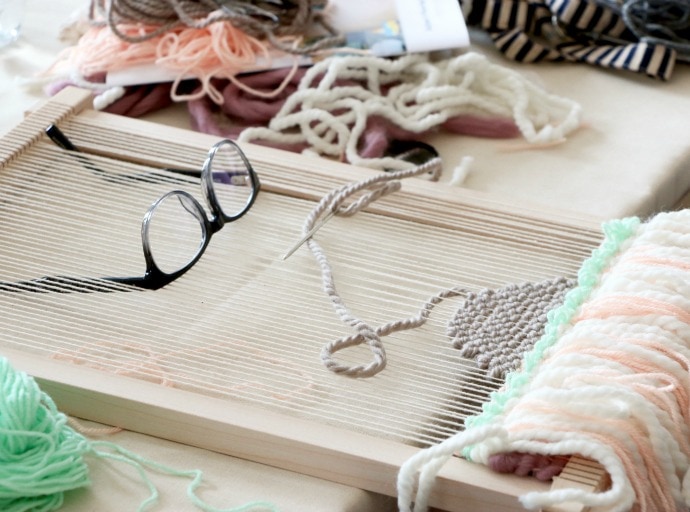 My weave is in the very early stages, I'm hoping to work on it in collaboration with Emma and make it a joint project. It's a craft that is very accessible to all skill levels and excellent for developing fine motor skills.
Maryanne runs regular workshops in her NYC studio, and whilst in Australia is running a few classes in Melbourne and Sydney. You can buy kits, tools, yarn and instructional guides from her Etsy Store -Maryanne Moodie.
Now just need to find time for a new craft – wish me luck!
If you really love tapestry weaving you may also enjoy this post – Australian Tapestry Workshop Open House
This post contains Etsy affiliate links. I was invited to attend this workshop by Etsy with no obligation of overage, all thoughts and opinions are my own.