Looking for some quick and easy Halloween costume ideas that won't break the budget? I'm here to save the day! Putting together fun costumes for fancy dress parties, dress-ups, imaginative play and Halloween events doesn't have to be expensive, or even involve any DIY, you probably have lots of useful stuff at home already.
With Halloween coming up I thought it would be fun to play dress ups with Emma and see how many Halloween kids costume ideas we could put together with just the items we had at home and already in her wardrobe.
Costumes aren't just fun at Halloween time, dressing up is a great way to encourage imaginative play all year round. Dressing up is a fun way for kids to explore different parts of their personality and interests, challenge gender roles and foster their imaginative process. When kids dress up they can be anything, and aren't limited by the 'rules' of the real world.
We put these costumes together with some of the items from Emma's costume box (mostly picked up for a few dollars at the thrift store), but most were just her everyday clothing with a little twist.
Add a couple of my accessories, little make-up, and we managed to put together four fun costumes that Emma loved, with not a single cent spent.
I've listed what we've used for each costume so you can easily put one together too.
Carmen Miranda
This has got to be my favourite costume of the lot, I mean who doesn't love a fruity turban! I was inspired by this pretty fruit print dress that I picked up at a clearance store a while ago for only $10, with a few accessories and a little creative use of soft toys, we had ourselves a Mini Carmen Miranda.
This dress up is perfect for encouraging musical play.
You will need:
Colourful dress – any bright floral or printed dress will do, even a t-shirt and twirly skirt will suffice.
Chunky Necklace – these large beads were borrowed from my wardrobe. Carmen was known for wearing lots of chunky pearls so raid the thrift stores for costume jewellery if you don't have anything suitable.
Head Scarf – a colourful large scarf would work as a turban.
Fruit – Not real fruit! I've raided Emma's toy box and used some soft Ikea toy fruit. I've pinned it onto the scarf with safety pins to secure it.
Maracas – from the music box, because everything is more fun with maracas!
Old Skool 80's B-Boy
Emma is obsessed with being a DJ, in fact she dressed as a DJ for her 5th birthday, so this one was totally her idea. I gave the outfit an 'old skool' twist with an 80's B-Boy look.
This dress up is perfect to start a conversation about the cultural impact of music and how people identify with subcultures by making a statement with the clothing they choose to wear.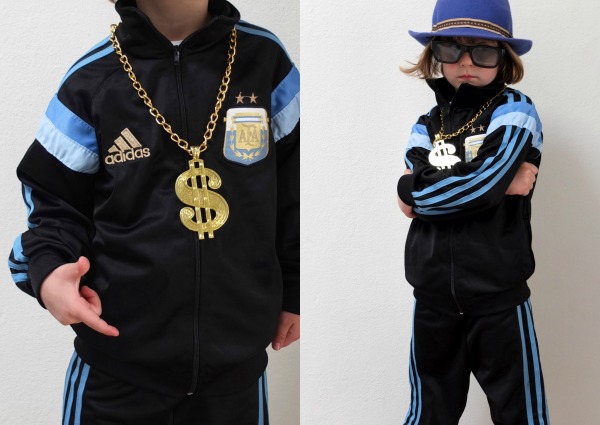 You will need:
Track suit – Adidas is the B-Boy label of choice, but any sports attire will do. Mum brought Emma this one back from Argentina, it's a soccer team kit.
Fedora Hat or Cap – this is one of my winter hats, but a baseball cap would also work.
Dark Framed Glasses – these are 3D cinema glasses, you could pop out the lens in you want to wear for extended periods.
Bling – Gold chains, the bigger the better! We had this from Emma's birthday party costume, it cost me about $5 from a party supply store.
Doc McStuffins
Fans of Doc Mcstuffins, will be delighted to discover that it's easy to put together some items that may already be in their wardrobe to look just like Dottie. As Emma's favourite colours in clothing seem to be pink and purple (surprise, surprise), it was just a matter of playing mix and match to put something fairly accurate together.
This dress up is perfect for encouraging strong professional female role models and getting girls interested in science and medicine.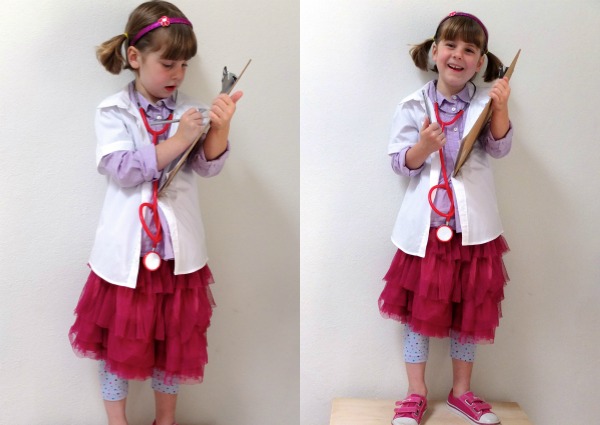 You will need:
Doctors White Coat – we've just used a white school shirt
Pink skirt – every girl has a pink skirt in their wardrobe
Lilac t-shirt and leggings – Doc Mcstuffins wears a striped shirt and spotty leggings but whatever you have on hand should suffice.
Pink Headband with flower – we were lucky to have this as Emma received it as a party favour, but you could easily glue a flower onto a pink headband or ribbon.
Stethoscope – from Emma's doctors kit. I've written a tutorial showing you how to put your own Doctor Play Set together
Vampire
Every Halloween Emma goes as a Vampire or similar variation, she loves looking scary. In the past she has worn the bat wings I've made her, but the other day I found this black satin Dracula cape at the thrift store for $7 and she begged me to buy it.
This dress up is perfect for letting kids be scared or 'scary' in a safe environment they can control.
You will need:
Black Cape – a big black piece of fabric could work just as well or why not make some Bat wings with this easy tutorial.
Dark clothing – it doesn't have to be fancy.
Scary Make-Up – I've just used some eyeliner for the eyes and teeth and lipstick for the dripping blood (yuck!) A little bit of talcum powder has made Emma's face slightly paler.
Well that was fun. Which costume idea is your favourite?
LOVE IT? PIN IT!
This post originally published Oct 2014 and has been edited and updated.