Try these Free Tunisian Crochet Patterns especially for beginners. All of these crochet patterns are super easy as they are a simple variation on a rectangle or a square.
Are you a crocheter that wants to try something a little bit different? Well my friend, I have the perfect new craft for you – Tunisian Crochet.
Tunisian Crochet has some technique similarities to both regular crochet and knitting, but is actually quite different to both. Instead of working on just one stitch at a time, like regular crochet, all the stitches in a row are held on an extended hook (or a cabled hook) similar to knitting stitches. Each row is worked in two passes to create a textured cloth that has a woven effect.
I enjoy Tunisian Crochet because even the basic stitches worked in alternating colours creates cool blended patterns.
I've been itching to start a new Tunisian Crochet project after finishing this crochet blanket from the book Tunisian Crochet Workshop. It's a great book which I highly recommend if you are starting out, and it's my go-to reference for all things Tunisian Crochet.
When you are learning Tunisian Crochet, working on patterns with increases, decreases, and shaping can get pretty confusing. But don't fret pet! I've rounded up some awesome quick and easy Free Tunisian Crochet Patterns that are perfect for beginners.
All of these free Tunisian crochet patterns are based on squares or rectangles, worked flat, so there is no tricky shaping or working in-the-round required. There are even a couple of narrow patterns in there which can be crocheted with a regular crochet hook if you are just starting out and don't have a Tunisian Crochet Hook yet.
The level of technique explanation varies greatly from pattern to pattern, but there are great tutorials on Youtube and I'll be posting a video soon that explains the basic techniques.
9 Free Tunisian Crochet Patterns for Beginners
1. Tunisian Crochet Washcloth
If you are a newbie to Tunisian Crochet, start with this easy washcloth pattern. One of the most popular free crochet patterns on My Poppet, with clear step-by-step instructions for the basic Tunisian crochet stitch as well as how to make a starting row and casting off.
Get the free pattern here – Tunisian Crochet Washcloths
2. Tunisian Cuff Bracelet
A very easy crochet pattern that can be worked up in an evening with just some yarn scraps. Because it's quite narrow you can attempt to make this on a regular (smooth) crochet hook and get a taste for how Tunisian Crochet stitches work.
Get the free pattern by Cann Crochet here – Tunisian Cuff Bracelet
3. Tunisian Crochet Belt
Just like the cuff pattern, this belt may be able to work up on a regular crochet hook. The example shown above is embellished with a cross stitch design, but I think it would look cute just plain, or worked in a variegated yarn.
Get the free crochet pattern by Red Heart here – Tunisian Crochet Belt
4. Harry Potter House Scarf
Can't knit? Don't worry, you can get the same knitted stitch effect with Tunisian Crochet. Here it's been used to great effect to create a Harry Potter Gryffindor Scarf. Of course if you aren't a Harry Potter fan, change out the colours to what ever takes your fancy. The pattern instructions are quite basic but this post has links to a few good resources that should help you on your way.
Get the free pattern by Carmen Bee here – Harry Potter House Scarf
5. Quick Tunisian Crochet Cowl
This cowl looks complicated but it's really just one long rectangle (like a scarf) with the ends joined together. The secret to its beauty is using yarn with long colour changes to give a gradual ombre effect. So pretty with minimal effort.
Get the free pattern by Olives & Okra here (archived version)- Quick Crochet Cowl
6. Tunisian Crochet Neckwarmer

Another cosy neckwarmer, this time in chunky yarn that will work up in no time at all. You'll need a chunky hook for this project, it's not specified in the post but I'd recommend a 10mm.
Get the free pattern by Tracing Threads here (archived version) – Tunisian Crochet Neck Warmer
7. Tunisian Crochet Hats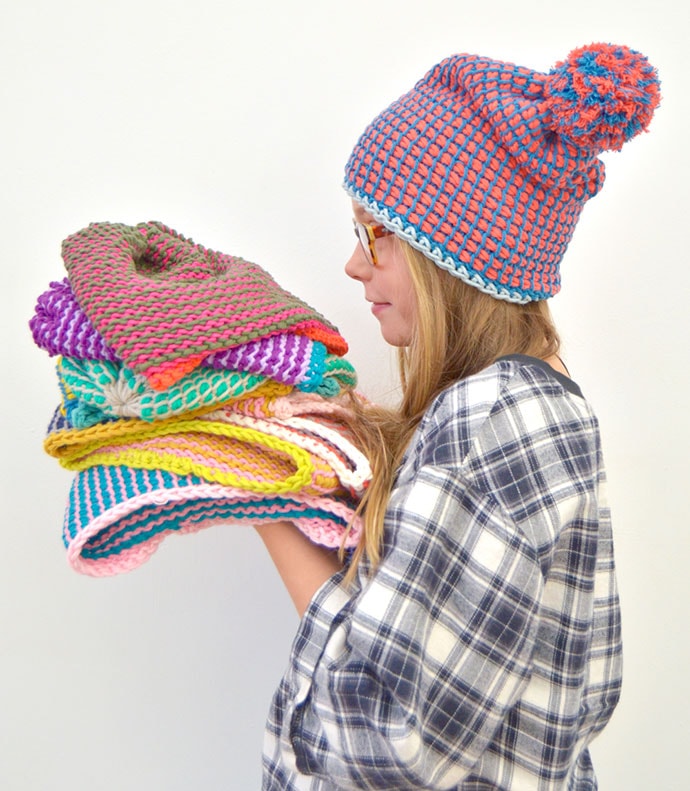 These hats are super cute with the added bonus of pom poms! I love a good pom pom. The 2 colour effect that alternating rows of Tunisian Crochet creates has been used very effectively in this pattern.
Included is a video explaining the stitch set up, it's in German though, but clear enough that you can follow along without the verbal instructions. The pattern written instructions are also in German, so I'd recommend running them through Google Translate for clarification.
Get the free pattern by By Claire here – Tunisian Crochet Hats
8. Tunisian Blanket Sweater Pattern
This big oversized blanket cardigan combines both Tunisian Crochet and regular crochet. With some clever folding and seaming Phanessa creates a really pretty garment perfect for layering in Autumn or Winter.
Slightly more advanced stitches are used to create a lacy design, but does include a video explaining how to make the stitches and diagrams for assembly. This blog has several free Tunisian crochet patterns to try.
Get the free pattern by Designs by Phanessa – Tunisian Blanket Sweater Pattern
9. Tunisian Crochet Baby Blanket
Ready to graduate to a bigger project, well this blanket is the perfect way to flex your Tunisian Crochet muscles and have fun playing with colour. The perfect Baby Shower gift that will be treasured for years to come. Instructions in English and German.
Get the free pattern by Nicki Hirsch – Tunisian Crochet Baby Blanket (sadly no longer available)
Purchase a similar pattern here – Tunisian Sunset Blanket by Poppy and Bliss (affiliate link)
I hope you enjoy creating some of these Free Tunisian Crochet Patterns. Start small, and work your way up to the bigger projects and you'll be an expert in no time.
I think I'm going to get started on a Hogwarts Scarf for Emma to go with her Hogwarts Robes that I made for her Harry Potter Birthday Party. She has already requested a Weasley Jumper for Christmas too. I'd better get started!
This post was originally published Aug 2018 and updated July 2022