Make an elegant Terracotta Clay Oil Diffuser charm to fragrance your home, or use as an essential oil car air freshener. A very practical gift, and only requires a few inexpensive craft supplies to make.
As the gift giving season approaches, I've set my mind to making small, but practical gifts for friends and family.
It's really been a challenging year for everyone, so wouldn't it be lovely to give and receive a little handmade love?
Not everyone has the time, resources or skill to make elaborate handmade gifts, and to be honest, not every gifee appreciates the work that goes into a handcrafted gift.
So this year I've put my mind to coming up with several gift ideas that are easy and inexpensive to make, and look like fancy store bought gifts that even the most unappreciative recipient will enjoy. Quite the challenge I know!
To kick it off, I've made these lovely Terracotta Clay Oil Diffusers that can be whipped up in a batch, from just a few supplies.
Made from air drying terracotta clay, and embossed with vintage crochet lace to create unique pattern and texture.
Natural terracotta is super on trend right now, so these handmade oil diffusers wouldn't look out of place in a fancy boutique.
These Homemade Eco friendly air fresheners make ideal gifts
These little charms can be scented with a few drops of essential oil and used to fragrance a room, car or school locker, as the oil evaporates.
You could even add a few drops of pine needle oil and hang it as an ornament from your Christmas tree.
Feel free to personalize the design with your own creative flair. You could even stamp the recipients initials into the clay if you are giving these as gifts.
I think kids would have fun making these as teacher gifts.
Initially I envisioned this project as a natural car air freshener, which could be hung from a rear-view mirror or on a vent with a little hook. But really, these clay oil diffusers have so many uses.
Have I inspired you to make a batch of these lovely eco air fresheners as gifts?
You may also enjoy:
How to make a Terracotta Clay Essential Oil Diffuser
Air dry clay is so easy to work with, and is the perfect material for making these DIY essential oil air freshers.
The porous terracotta soaks up the essential oils, then slowly releases the fragrance over time, scenting your car, or room with a lovely fresh smell.
Any pure essential oil you have at home will work fine with this clay oil diffuser. I've used lavender oil in mine, but lemongrass, eucalyptus or peppermint would all smell lovely.
Use whatever cookie cutters you have available to cut your clay shapes with. If you don't have anything suitable handy, a small jar lid, or even hand formed shapes will work nicely.
Experiment with pressing different textures into your clay to create patterns.
I've used a piece of vintage crochet tablecloth to create my clay print. Other items you could use to emboss designs into the clay include, stamps, leaves or dried flowers, shells or even fingerprints.
For best results, allow air dry clay to dry out thoroughly before adding hanging loops and oils.
You will need: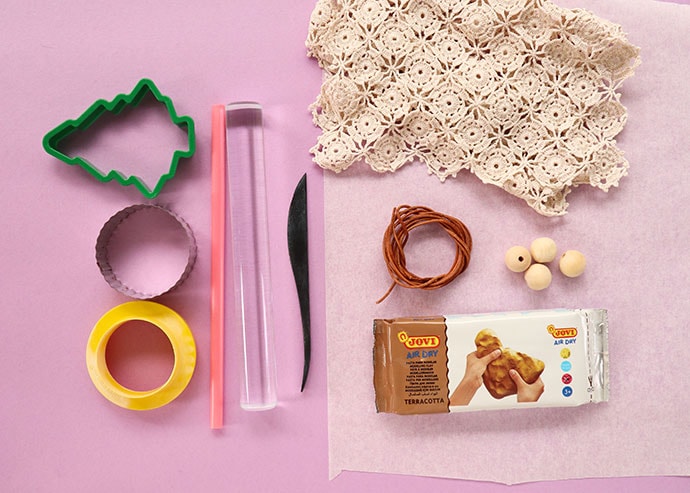 Rolling Pin – I use this clear rolling pin
Crochet doily or textured lace fabric
Drinking straw
Cookie cutter – in any assorted shapes
Wooden beads 20mm – 1 per diffuser
Leather or suede cording – 14″ per diffuser (ribbon or string will also work)
Baking paper as a non-stick surface to work on
Essential oil of you choosing – I used Bosisto's Lavender Oil
How to:
1. Knead clay to soften and get rid of air bubbles. I've used about 180g (6oz)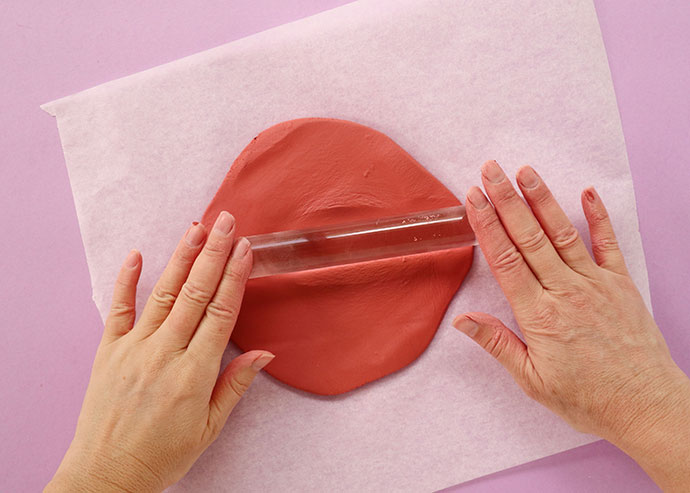 2. Roll out a slab of clay to just under 5mm (1/4″) thickness.
3. Lay lace fabric over clay and gently roll over and press it into the clay to create the pattern. Alternatively you could used tools or other objects to press designs into the clay.
4. Carefully remove the lace fabric to reveal the design that has imprinted in the terracotta clay.
5. Use a cookie cutter to cut out shapes from the patterned clay. You can use round or fancy shaped cookie cutters.
6. Use a drinking straw to cut out a small hole at the top of the clay shape for easy threading later.
7. Leave to dry for 24-48hrs (Drying time will depend on the weather, ours took 2 days to dry fully). You may need to flip the shapes occasionally for even drying.
8. The clay is fully dry when it's all turned light and there are no damp spots. When fully dry clay should be a pretty peach colour.
9. Cut a length of leather/suede cord to about 13″ and thread one end through hole.
10. Thread both ends of cord though wooden bead, and slip the bead down close to clay shape.
11. Knot the cord ends to secure.
12. Add a few drops of your favourite essential oil to the back of the terracotta clay diffuser.
The oil will evaporate over the course of a few days. Once the scent fades, you can re-apply with whatever essential oil you prefer.
Your handmade essential oil diffuser is ready to enjoy at home or as a car air freshner. Or make several and give them as a thoughtful gifts.
LOVE IT? PIN IT!