Kids can make this ceramic hand dish air-dry clay craft project, to give as a gift to a parent or grandparent.
I'm a big fan of Mid-Century ceramics, I especially like the textures and vibrant colours that came out of the Bitossi studio in the 50's and 60's.
I'm yet to acquire an piece for my growing mid century ceramic collection, but I think these Bitossi inspired hand shaped dishes Emma has created for me are much better than any original.
This little dish makes a great momento or gift as it captures a moment in time, the size of your child's hand.
They would make a perfect gift for a parent or grandparent on Mother's Day or Father's Day, especially if they are fond of mid century design.
You may also like:
Let's Make a Ceramic Hand Dish – The perfect gift idea!
School aged children will be able to handle most of the process with only a little adult guidance.
Air dry clay can take some time to fully cure, so please be patient and allow plenty of time to make this air dry clay hand bowl.
Because air dry clay does not go through a firing process, it's best tot to expose it to moisture, even when fully dry, as the clay may become damp.
Proudly display your ceramic craft in an environment that is water free. So best not use this hand dish in bathrooms or kitchens where it may get wet.
You will need:
Rolling Pin
Acrylic paint (colour of choice)
Plastic container for paint mixing
Paint Brush
Protected surface to work on
How to:
1. Knead clay to soften and get rid of air bubbles
2. Roll out a slab of clay to about 5mm (1/4″) thickness
3. Trace around hand with pointy tool or skewer
4. Cut away excess clay
5. Smooth edges (if the clay is getting a little dry, smooth edges with wet fingers)
6. Don't forget to sign the back at this stage – I wish I'd added a date too.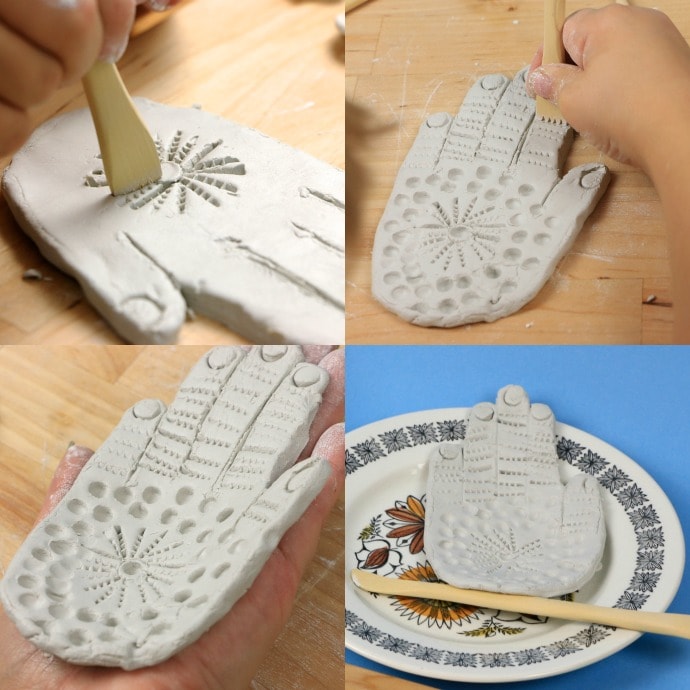 Now it's time to get creative!
7. Use assorted shaped tools to stamp shapes into the clay. I marked out the fingers and nails and Emma designed the rest.
8. Curve the edges of the hand shape up slightly to create a concave dish shape.
9. Leave to dry for at least 24hrs (Drying time will depend on the weather, ours took 2 days to dry fully)
Tip: To maintain shape whilst drying, place on a curved surface, I've used the edge of a plate and wooden tool to make sure the dish doesn't flatten.
The clay is fully dry when it's all turned white and there are no damp grey spots.
Now it's time to paint.
10. Mix one part paint to one part Mod Podge, this will give you a glaze effect.
11. Paint dish, try not to overload paint brush or you will flood the pattern details.
12. Gently wipe off excess paint on surface (at this stage Emma lost interest)
13. Allow to dry and then coat with a layer of Mod Podge to seal and give a shiny finish. Mod Podge will dry clear. Don't forget to paint the back.
All done!
I love how these little dishes turned out and Emma is very pleased with her 'handy' work (pun intended).
They make a beautiful and meaningful addition to my ceramic collection, and now take pride of place on my sideboard.