Scented lavender sachets may remind you of your Nanna's hankie drawer, but just because they've been around forever doesn't mean they have to look old fashioned. Ditch the floral prints and make a pile of crochet edged rainbow hued sachets instead.
I've been a little obsessed with Black & White gingham contrasted with bright colours lately, and thought it would be fun to experiment with various techniques and make some herb filled sachets for my own drawers.
I've used some dried lavender and rosemary which not only smell nice, but have insect repellent properties as well – perfect for keeping those pesky moths out of my woolens.
I sourced the dried rosemary and lavender from my mother's garden, but if you don't have a homegrown supply of your own try ordering online or sourcing from your local dry goods supplier. I'll pop some shopping links under the supply list.
These Herb Scented Drawer Sachets make perfect little gifts and are a great way to use up small fabric scraps and yarn remnants. If you don't have a sewing machine these are small enough to had sew.
You will need: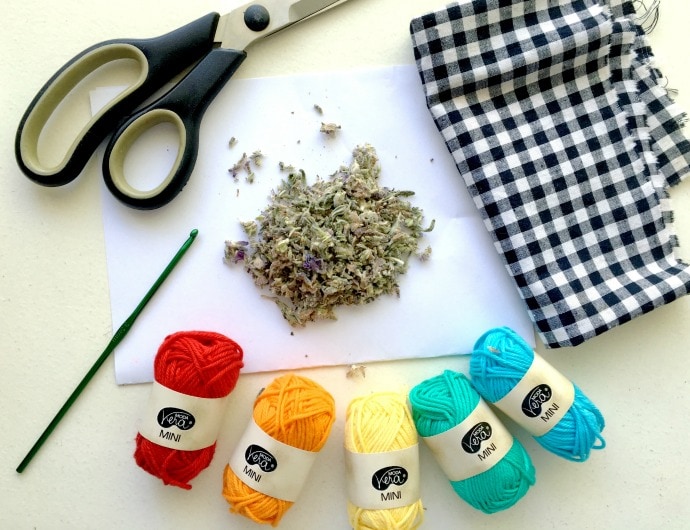 Black & White Gingham (large checks) or fabric of choice
Cotton 4ply yarn in rainbow colours
3.5mm crochet hook
Dried lavender, herbs or flower petals (see shopping links below)
Black embroidery floss or perle cotton
Embroidery needle
Scissors
Sewing machine (optional)
General sewing supplies
Scrap paper for funnel
How to make herb filled Drawer Sachets:
Makes one sachet
Cutting and Sewing
1. Cut 2 10x10cm squares from the gingham (4″x 4″)
2. Lay 2 pieces of fabric on top of each other (make sure right sides are facing if you aren't using reversible fabric like gingham) and hand or machine sew around edge with a 0.5cm (2/8″) seam allowance. Leave a small opening for turning and filling.
3. Clip corners.
4. Turn right side out and press.
5. Fill sachet with your choice of herbs or dried flowers, a rolled up piece of paper makes a great funnel.
6. Stitch opening closed.
You can stop here if you want to keep it simple and omit the crochet edging or are short on time.
7. Blanket stitch around edges with black embroidery floss. I've used checks as a guide for stitch spacing (about 0.5cm) and just deep enough so the stitch catches the edge of the fabric.
8. Note how I've made an extra stitch across the corner. This is to accommodate the crochet stitches later.
If you are new to blanket stitch, here is a little diagram that explains it, otherwise there a zillion videos on Youtube showing you how.
Now with your blanket stitch edge complete, you are ready to add the crochet trim.
Adding Decorative Crochet Edging to your Scented Drawer Sachets
I tried out many decorative crochet edging stitches for this project but they all looked a little too fussy so I settled on a simple single crochet stitch reminiscent of a piped edge.
Choose any colours of yarn you like, this is great for using up scraps and remnants left over from other projects.
Single crochet (sc US) one stitch into every blanket stitch loop. You'll notice I've crocheted over the starting yarn tail to secure and saves time later because no weaving in is required.
On each corner, crochet 3x sc into the one blanket stitch.
Continue to end, slip stitch into first stitch and weave in ends.
Make one drawer sachet in every colour of the rainbow. They will certainly brighten up your drawers and keep your clothes smelling fresh, you can even hook them onto a hanger for use in a wardrobe.
You may also like:
PIN THIS FOR LATER