Did you have a crochet cotton top as a kid? They were all the rage back in the 60's and 70's, the staple of every girl's Summer wardrobe. I'm sure I remember wearing one when I was little, for some reason it brings back memories of the beach.
Now that the weather is warming up, I thought it was the perfect opportunity to make Emma her own vintage style top to enjoy wearing this Summer. I've named it the Playtime Top, because it's easy to wear and even easier to play in.
I've used Lily Sugar'n Cream from American Yarns for this project. An easy to crochet 10ply cotton yarn that comes in a huge range of solid and variegated colourways. This particular colour, Ombre Calico, grabbed me straight away with it's sandy yellow and sky blue – it just screams seaside fun!
Because it fairly chunky, it works up quickly, so this top only took me a couple of evenings to finish.
If you've been a bit reluctant to try crocheting a garment because it seems a little too advanced for your skill level, fear not! This pattern is super easy and doesn't require any complicated shaping. It's made up of two squares, so if you can crochet a blanket, you'll do great with this crochet pattern.
Emma wears about a size 8-10, but I've included instructions for making this top in any size you desire. Of course the bigger the top, the more yarn you'll need, so plan accordingly.
Playtime Top Crochet Pattern
Finished Measurements (girl size 8-10): Length 41cm/16″, chest 76cm/30″
You will need:
Stitches used (UK terms):
Gauge: 13 st x 8 rows (10cm/4″)
Pattern Instructions:
The top is made up of 2 equally sized squares/rectangles which make up the front and back. The squares are then joined and a decorative crochet edge can be added if desired.
Make a sample swatch at least 10cm/4″ square (bigger is better), to determine your gauge, this will help you determine how many stitches you will need to chain on.
To make Front and Back
1. Measure around the chest of child/adult a little loosely (with ease), divide this measurement by 2, this will be (B), the width of each panel. This measurement will determine the number of stitches you will need to make as your foundation chain.
2. Measure from the top of shoulder to your desired length, this will be (A) the length of each panel. This measurement will determine the number of rows you will crochet. Not as crucial as it can be adjusted later.
3. Chain on as many stitches as you need for the foundation chain
Row 1: ch 3 (this counts as the 1st tr in every row), tr into 3rd chain from hook, tr into every chain stitch. Turn.
Row 2: ch 3, tr into every tr stitch in previous row. Turn.
Continue as per row 2 until you have reached your (A) measurement.
For girl's size 8-10 – chain 50 st and 32 rows
You've made the front, now do exactly the same again to make the back.
If you need to join the yarn as you change balls, just tie a small knot and carry on crocheting. Make sure the knot faces which ever side you determine to be the inside (wrong side) of each panel. You won't even notice it once it's finished. I used just over 2 balls of yarn for each panel.
Garment Assembly:
4. With wrong sides of panels facing sew along tops of shoulders and sides as pictured, leaving enough room for head and arms to fit through. I just measured against Emma's back to roughly work out where I needed to sew. (18 rows up side seam, 13 st across each shoulder)
5. For the side seams I used a ladder stitch which helped reduce the bulkiness of the seam, and whip stitch for the shoulder seams matching the stitches from front and back.
If you don't want to add any decorative edging your top is ready to wear. Go an have some fun in the sun.
Shell Stitch Decorative Edging:
I found a pretty crochet edge design in one of my vintage crochet books, it's very easy to make and very decorative.
I've added the Shell Edging to the bottom hem and around the sleeve holes.
Crochet Pattern for Shell Edging:
Single row: (right side) 1dc *miss 2-3 stitches (or your chosen interval), 5tr into next stitch, miss chosen interval, 1dc into next stitch, repeat from *
Around sleeve holes start from under arm area and omit one shell replacing with 4 dc.
Weave in an loose ends to finish.
All done! Doesn't it look pretty?
Emma couldn't wait to wear it. She thought it would be cool to add a little vintage styling for our photo shoot at the beach, hence the cute retro head scarf and sunglasses.
It looks great with denim shorts – the perfect Summer vacation vibe, and as the weather cools, just layer it over a long sleeve top. So practical.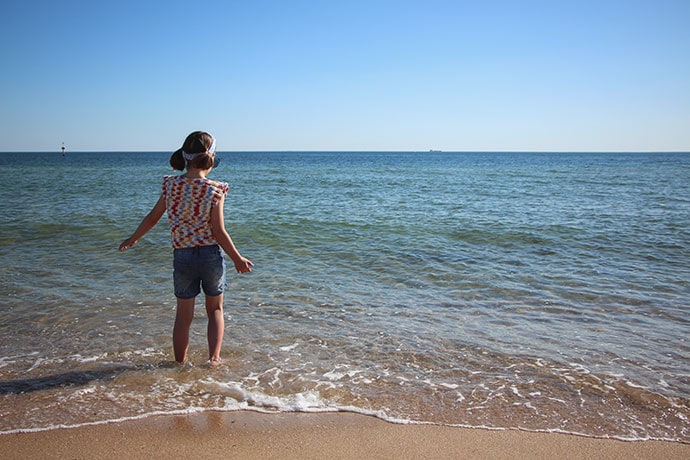 Are you going to make the Playtime Top Crochet Pattern this Summer?
You can purchase Lily Sugar'n Cream yarn from American Yarns