Craft books are a great gift to give at anytime of the year, but especially at Christmas. They can provide inspiration and entertainment for years to come. And who knows? You may even receive a handmade Christmas gift next year inspired by a project from the craft book you've gifted. It's a win-win all round!
I've rounded up a few craft books that caught my eye, and a couple that I already own and really enjoy.
The links click though to The Book Depository which provide free world-wide shipping. I'm an affiliate partner so your purchases help support My Poppet at no extra charge to you, but of course I encourage you to support your local booksellers too.
14 Creative Book Ideas for Crafty Friends
For the Crocheter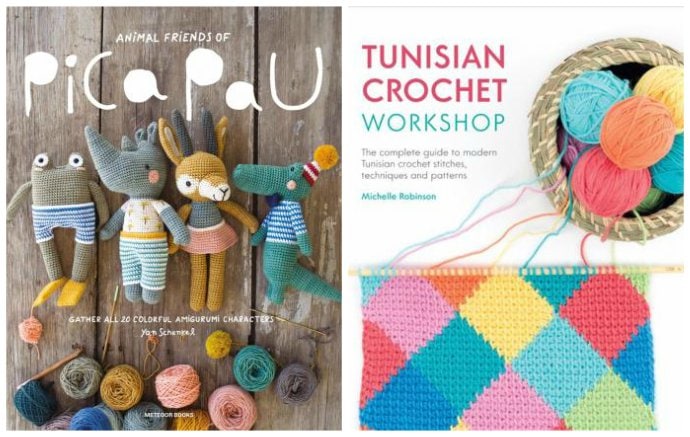 Toy maker, character designer and crochet knitter Yan Schenkel has gathered many colorful amigurumi around her. In this book, she shares her love and knowledge of amigurumi crochet in 20 new designs, and she also gives away the secret ingredients that go into every single project.
This comprehensive guide has something for everyone – from complete beginners to those who have learned the basics but now want to expand their skills. Set out in a workshop format, graduating from the basics through to more advanced techniques with 16 lessons giving clear instructions and step-by-step photos as well as handy hints and tips along the way.
Read my full review here

For the hard to buy for Tween
Make in a Day: Crafts for Kids
My new craft book! These colorful and easy projects for kids can be made in a single day! Suitable for ages 7 to 12, with the help of an adult, the crafts will appeal to boys and girls alike. The beginner-friendly projects are ideal for anyone wishing to whip up something simple but special. Supplies are easy to obtain and readily available at major craft stores.

Sewing School : 21 Sewing Projects Kids Will Love to Make
Featuring 21 inspired projects for young sewers, Sewing School allows kids to create fabric masterpieces with minimal supervision. All projects have been kid-tested, most can be made using simple hand stitches, and all can be embellished with a personal touch, making them a terrific outlet for kids' creativity. The book includes full-sized cut-out patterns in a front pocket and instructions for how grownups can help.
For the Slow Crafter
The Wild Dyer: A guide to natural dyes & the art of patchwork & stitch
Focusing on how to grow or gather your own dyeing materials – from onion and avocado skins to chamomile and comfrey, nettles and acorns – as well as scouring, mordanting and setting up a dye vat, Abigail explains how to create effective dyes. And once you have them, how you can produce beautiful, contemporary textiles that can then be used to create projects that build on your skills. Using simple techniques inspired by traditional practice and reusing and re-inventing materials.
Slow Stitch : Mindful and Contemplative Textile Art
Slow Stitch is a much-needed guide to adopting a less-is-more approach, valuing quality over quantity, and bringing a meaningful and thoughtful approach to textile practice. Claire Wellesley-Smith introduces a range of ways in which you can slow your textile work down.

For the Topography lover
The Great Big Book of Amazing Creative Lettering
With step-by-step instruction and full alphabets for over 40 cool lettering styles, The Great Big Book of Amazing Creative Lettering is the perfect way to master the art of creative lettering! This fantastic binder includes a chapter with an introduction to lettering, as well as in-depth instructions and examples of loads of lettering styles.

Mastering Hand-Lettering
This comprehensive manual covers the spectrum of what creative letterists and calligraphists need to know, and teaches them how to add their own individual touch to letters, cards, signs, chalkboards, reports, signatures, and much more!
For the quirky crafter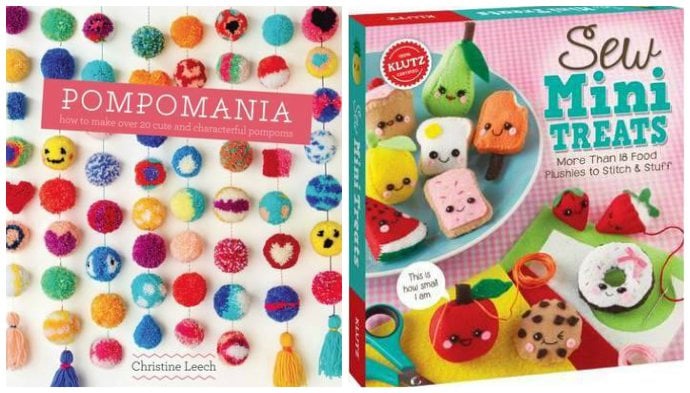 Pompoms are currently super-fashionable, whether adorning a headdress, swinging from a bag handle or dangling from a mobile or keyring. But why have a plain coloured pompom when you could have a tiny panda or a watermelon slice pompom? A fun craft book for crafters of all abilities.
Make your own felted play food with fabulous faces. Includes instructions, patterns and materials for 18 cheerful, itty-bitty food items as well as tips and tricks to customize your own designs. It's an instant recipe for fun! With super-clear instructions and no sewing experience required, Sew Mini Treats provides hours of endless entertainment.
For the Stitchers
Scandinavian and Eastern European motifs perfectly capture the folk art trend and will appeal to stitchers of all ages and abilities. This collection shows you how to use the designs to create beautiful and practical home decor items and accessories. The stitch techniques will be shown using Nancy's unique and comprehensive stitch library so they will be extremely easy to follow whether you are an experienced stitcher or a newbie. There are also plenty of suggestions for creating your own designs if you are feeling inspired.
Zakka Embroidery
Embrace a simpler approach to stitching with bold one- and two-color embroidery motifs Zakka Embroidery presents designs that are an elegant blend of Japanese and Scandinavian style. The motifs and patterns are spare and graphic, yet softened with organic shapes and imagery drawn from nature. The result is embroidery that evokes a personal feel and conjures a sense of nostalgia. With beautiful photographs, clear step-by-step instructions, and detailed diagrams, Zakka Embroidery will be an inspiring guide for those new to embroidery and a delightful experience for those experienced with needle and thread.
For the Refashioners
Make & Mend : A Guide to Recycling Clothes and Fabrics
This book shows how, with a little knowledge and a little creativity, you can make a wide range of fantastic items from those old clothes and fabrics you can't bear to throw away. Whether it's a cushion cover from a coat, a tote bag from a torn dress or a neck tie from a negligee, this book will show you how to make it. A bit of know-how and a few ideas, and you can create gorgeous items with a completely personal stamp.

This all-new collection of iron-on art from Sukie features more than 80 designs perfect for T-shirts, tea towels, and more! Cut out and iron on these cool designs to transform an old outfit or embellish a garment to make it unique.

I'm sure you'll find a craft book here to suit everyone. You may even fancy a few for yourself. Drop some hints and Santa may deliver you a pile of books on Christmas morning.
This post contains Affiliate links