It's a fact that keys are one of the most commonly misplaced items.
Well thanks to my creepy Eyeball Keychain, you won't have to spot your keys from the other side of the room, because these blood-shot eyeballs are sure to spot you first!
It's Halloween Craft Month here on My Poppet MAKES, so I thought I'd kick off this month of spooky crafting with a fun and practical Eyeball Keychain.
Made from wooden beads and a few other inexpensive crafting supplies, these slightly disturbing (but amusing) keychains make the perfect Halloween craft activity.
Trick-or-treaters won't give you the 'evil eye' if you decide to hand out eyeballs instead of candy or plastic toys this year.
This craft project is an easy Halloween craft idea for kids or teens to make with minimal supervision.
Get the whole family involved with this gruesome craft activity. My kiddo thought the eyeballs were hilarious!
If you aren't really into carrying dismembered body parts around in you handbag, just omit the eye design and decorate your wooden beads as you see fit.
This Halloween themed keychain also doubles as a conversation starting bag charm. The perfect addition to any outfit in the lead up to Halloween.
You may also like these Easy Halloween Crafts Kids:
How to make an Eyeball Keychain for Halloween
I've used paint pens to draw on the wooden beads and add the designs. But if you don't have paint pens available, ordinary acrylic paint and coloured markers will do the job just as well. Just remember to make sure the paint is fully dried before adding your eyeball design.
Get the instructions for making this Gingham Jewellery Tray from Perler Beads.
You will need: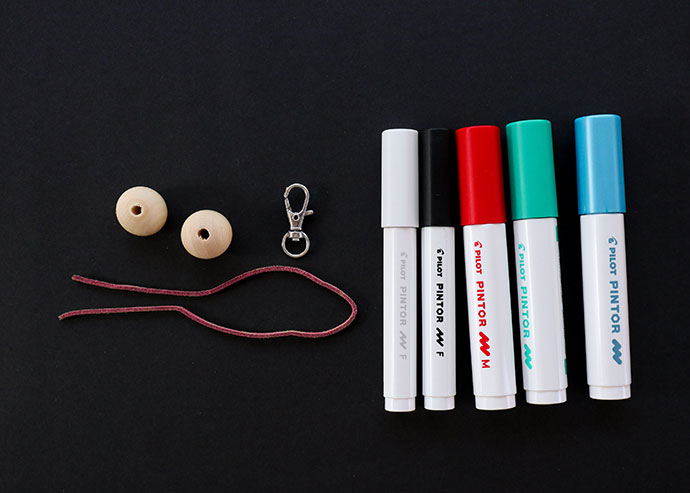 Red leather or suede cord about 30cm (12″)
Keychain clasp or Keychain Ring
Paint pens (or Acrylic Paint) in colours: white, black, red, green and blue
Scissors
Small paintbrush (used to hold beads)
How to:
1. Slide the wooden beads onto a paintbrush handle and paint white, either with a paint pen or white paint. Allow to dry thoroughly.
Handy tip: Using the handle of a thin paintbrush to inserted into the hole of the bead, helps make the bead easy to decorate, ensuring it doesn't roll around while painting.
2. Draw a large circle in green or blue as iris, and a smaller black circle in the center for the pupil.
3. Use a red paint pen or marker to draw wiggly lines around eyeball to look like blood vessels.
4. Repeat on second wooden bead. Add a small highlight on pupil with a small dot of white paint.
5. Thread cord through keychain ring and secure with a knot leaving the tails almost even.
6. Thread one eyeball bead onto the end of each cord.
7. Secure bead with a double knot. Make sure it's big enough that it won't slip into the bead's hole.
Your key chain is ready to use! You'll never lose your keys at the bottom of your bag – just feel around for a pair of eyeballs!
Ever get that strange feeling you are being watched?
LOVE IT? PIN IT!