I've used an ingenious but easy construction technique to assemble this rainbow hued Patchwork Hexagon Table Runner.
After making hundreds of Paper Pieced Hexagons, and sewing them all together, I thought a table runner was a nice project that would to show them off to their full potential and that I could see and enjoy every day.
Hexagon project edges can be tricky to work with, I didn't like the idea of squaring off the sides, as I'd lose the beauty if the zig zag edges. Binding all those corners wasn't an option, so it took me some thought to devise my construction method.
I like to imagine all the steps in my mind, truth be told, I wasn't even sure it would really work until the final stages when it all came together perfectly.
I've share some tips to keep your hexagons organized as well as a few methods of stitching them together.
You could also make coasters and place mats with the same method.
I hope you enjoy this project, it was over a month in the making!
You may also like:
You will need:
Lots of paper pieced hexagons (see How to make paper pieced hexies)
Sticky contact paper (adhesive vinyl)
Needle
Thread
Cotton quilt wadding
Backing fabric
Water solouble marker
Ribbon or woven braid (20cm/7″)
Sewing machine and general sewing supplies
Time 🙂
How to make a Hexagon Table Runner:
I'm going to share with you my secret trick to keeping all my hexies organized and in perfect order.
Stick them on to contact paper!
It's not essential, but because this project was going to be portable, I wanted to make sure my carefully arranged colour scheme didn't get mucked up.
Arrange you hexies, any pattern that appeals to you is good. The more hexies, the bigger the runner. I've used 117, 7 wide and 15ish long
Stick them to your contact paper lightly.
The contact won't stick super strongly to the fabric but may tear your paper so your papers may not be reusable
How to Join Paper Pieced Hexagons for Patchwork
I used two styles of joining stitches. I've shared both techniques. Ideally you would want to match your thread colour, I've used contrasting thread to make it easier to see.
Whip stitch is the most traditional style of joining.
1. With right sides of hexies facing and edges lined up, start by securing a couple of firm stitches (or knot) in the corner.
2. Whip stitch (sort of around like a spiral) all the way. The closer and smaller the stitches the more inconspicuous from the front. Just catch the edges and not the paper inside.
3. Finish with a a couple of stitches in the corner to secure.
Running stitch is a new method I tried out after I saw Mollie from Wild Olive try it here.
1. With right sides of hexies facing and edges lined up, start by securing a couple of firm stitches (or knot) in the corner.
2. Work a small running stitch close to edge, avoid catching paper.
3. Finish with a couple of whip stitches in the corner to secure.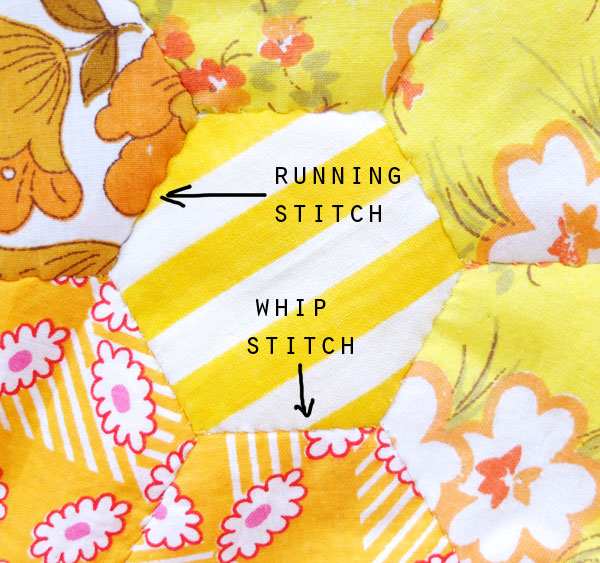 So my verdict:
As you can see from this photo above both stitches give a slightly different finish.
Running stitch works quicker but gives a wavy join, which I didn't love.
Whip stitch takes a little longer as stitches need to be close together, but gives a crisper finish.
I used a combination of both depending on my mood.
Now you will need to join all the hexies together, I didn't have any particular system, but tried to work it so I didn't have to cut my thread with every seam.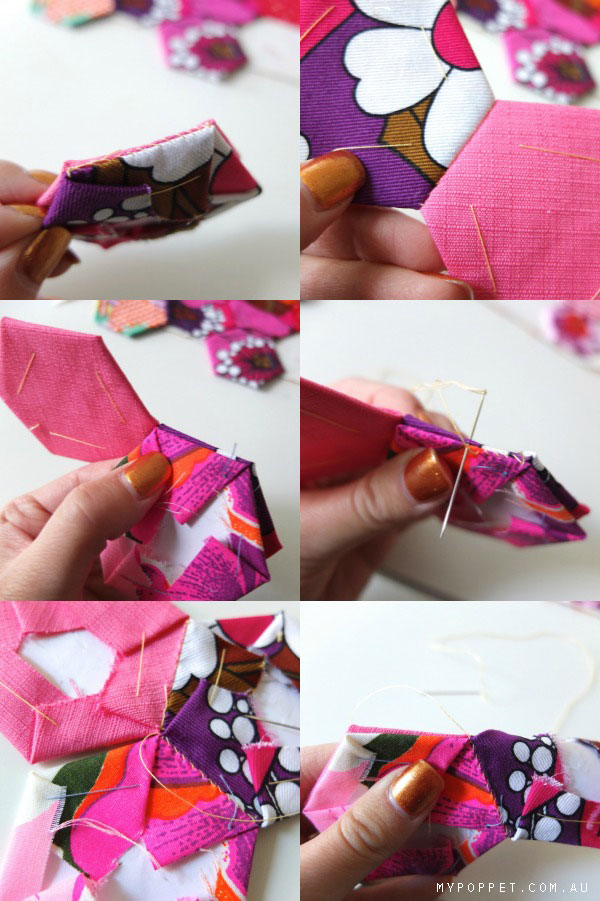 You can see from the picture above, when it's time to join the 3rd hexie, to avoid a gap at the Y join, add a couple of firm stitches where the corners meet.
Next comes the fun but time consuming part. Stitch, stitch stitch. I took this project everywhere. On a plane, to cafes, whilst waiting for Emma to do her swimming and gymnastics. Eventually the top was done!
Removing the Papers
Once you have finished it's time to take the papers out. My favourite part.
1. Find the little knot and pull the thread, the paper should come out easily.
2. Remove all the papers except for the ones around the edges of the table runner.
Assembling the Table Runner
This part looks more complicated than it really is. With my foolproof technique you are guaranteed to get a very neat finish.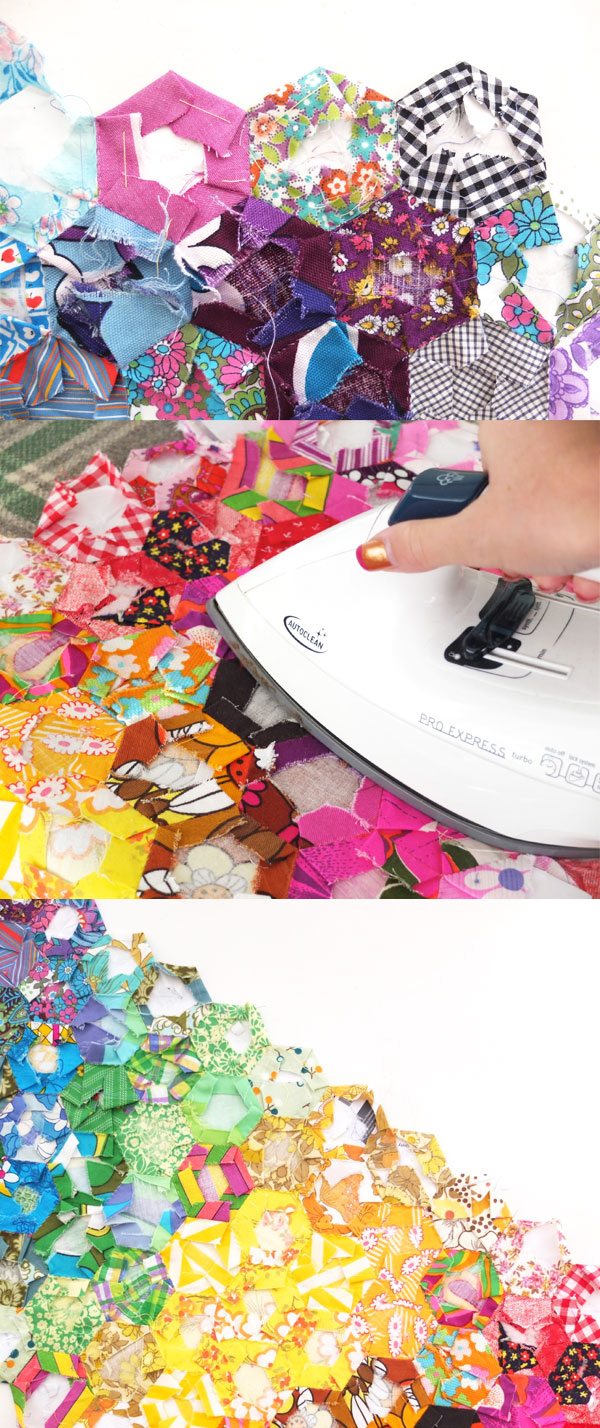 1. Iron the back of the patchwork to flatten all the seams and to make sure the little 'petals' of fabric are sitting nice and flat. Take extra care in the outer edges to get a nice neat and crisp edge.
2. Lay and pin patchwork top over layer of wadding.
3. Carefully mark around edge, as closely as possible with soluble marker.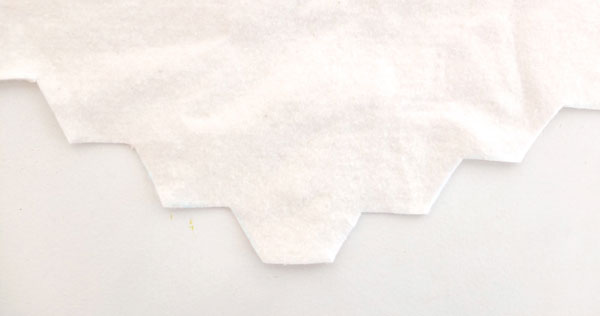 4. Cut wadding along marked line. (You may need to mark which end of wadding matches each end, will help you later).
This next part is a little counter intuitive but bare with me…
5. Remove the papers from the outer hexagons.
6. Iron out the fabric on the edges of the outer hexagons, leaving the fabric joined by seams flat.
I've marked with a dotted line where the original hexagon shape was. Don't mark the fabric, this is just to make the picture clearer.
7. Assemble as follows. Backing fabric facing up, patchwork layer facing down, wadding (with edges lining up to where edges of hexagons were) on top.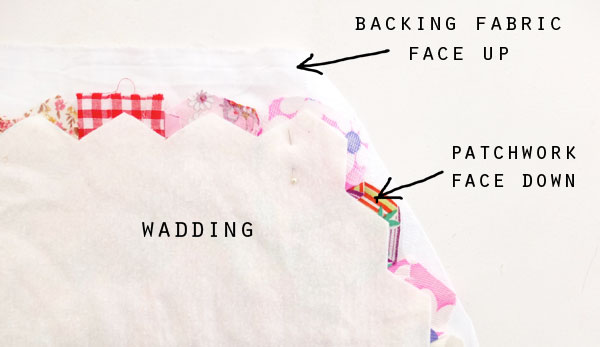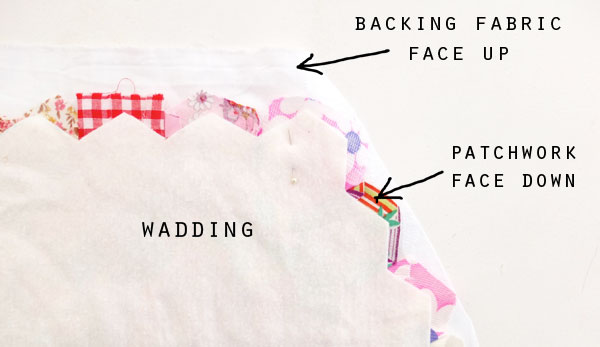 8. Carefully sew around the wadding, following the corners accurately. Sew all the way around till you get back to the point where you started.
9. Sew seam right on the edge or just touching.
10. Keep needle in down position when turning corners to get a sharp point.
11. Trim away excess fabric, clip points and snip internal angles.
Here is my secret trick- shh!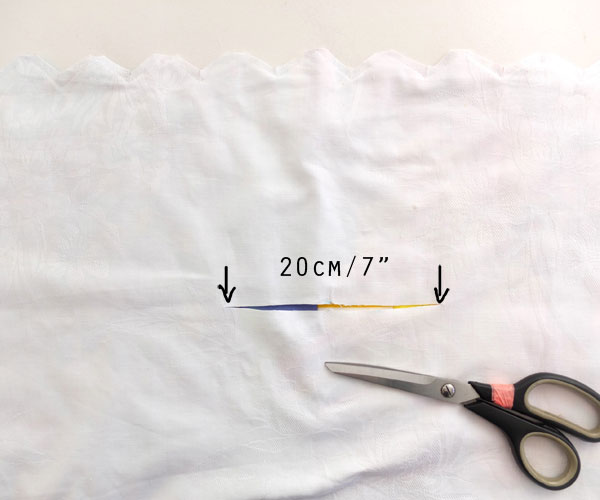 12. Carefully cut a long slit in the backing fabric about 20cm/7″ long. Try to center it as much as possible.
13. Turn inside out, pulling the patchwork top thought the hole.
14. Push points out gently with tip of scissors.
15. Press with iron taking extra care on corners and edges.
16. Close opening by hand stitching a length of ribbon or bias tape over hole.
And that's all there is to it. What do you think?
I quite like it, although initially I was worried that it would look like Rainbow Brite had thrown up on my table! But now I think it's a nice pop of colour, especially in my very dark kitchen area over winter.
I decided not to quilt it, but may add some stitching to it later. We'll see. I'll just enjoy all the colours and patterns for now, and hopefully it will encourage me to keep the table clear of junk.