As you all know, I'm a big fan of using up every little scrap of fabric I have. My 'affliction' can be a bit of a burden sometimes especially when I'm tripping over big bags of fabric scraps on my sewing room floor.
So a few weeks ago I decided to start making paper pieced hexagons using the smaller pieces, with no particular end project in mind, but as a way to start to reduce my overflow and busy my idle hands at the same time.
Making hexagons is quite addictive it turns out, and the fact that it's a portable project had me making them during Emma's swimming classes, and even in bed!
I didn't intend on blogging this patchwork project as there are so many hexie tutorials out there already, but an overwhelming demand from my Instagram followers for me to share a 'How to' means you are keen to see how I do it.
Obviously I won't be reinventing the wheel here, but I pride myself on finding the simplest way to do things, so hopefully you'll see that hexie making wasn't as hard as you always imagined.
I drafted up my own hexie template in photoshop and have converted it to a PDF for you to download and use. Read on for the template and instructions.
You will need:
How to:
1. Gather up all your scraps. I like to keep anything that is around the size of my palm or bigger. If you don't have many scraps, ask your crafty friends, I'm always donating bags to friends for patchwork projects. You could even organize a scrap swap to build up your stash.
2. Print off the template, it works best when you select 'print/scale to fit' on your printer settings. Feel free to use scrap paper for this, it doesn't matter if it already has something printed on it as the paper hexagons will eventually be discarded.
3. Cut the hexagons out on the black line. You can cut through 3-4 pages at a time to be more efficient (or get some helpers to do it for you).
4. When you think you have enough paper hexies to start you off, make yourself a cup of tea and pop in a DVD. Hexie making is great for catching up on missed movies.
5. Thread your needle with a thread that will contrast with the fabric you are using. I've used neon for the picture, but all those thread ends left on sewing bobbins are ideal for this. Tie a big chunky knot in the end.
6. Some people like to pre-cut the fabric into hexagon or squares, I don't bother with this as I trim fabric as I go. Any shape will do as long as you have about 1cm (1/2″) or more around the template.
7. With the template on the wrong side of the fabric, pin your template and fabric together (pin is on the right side of fabric).
8.Trim off excess fabric.
9. Fold first side of fabric over template edge keeping it as close to the paper as possible ensuring a consistent shape, then fold second side over so it overlaps at corner neatly.
10. Insert needle at this point to lock it in place. The knot will be on back and the needle pushes to the front.
11. Next corner you will stitch from front to back, and continue all the way around. Finish by stitching through, (but not knotting the thread) to the front. Trim thread.
12. Now make a whole heap more.
Tip: The ideas is to fasten the hexagon shape with a stitch through each corner, and as you can see, only three big stitches are required. As the paper template and basting thread will eventually be removed, you don't want the stitches to be too small and fiddly, making removal difficult.
Here are all the ones I've made over several weeks, 196 in fact!
They look so pretty, it helps that they are nearly all vintage fabrics. I've been playing around with lay outs and colour combinations.
So what do you think I should make with them all? I don't really need another quilt, but my sister suggested a table runner would be a good way to appreciate them.
I'm also quite keen on the great idea from some of my instagram followers to frame it as an artwork or make a wall hanging.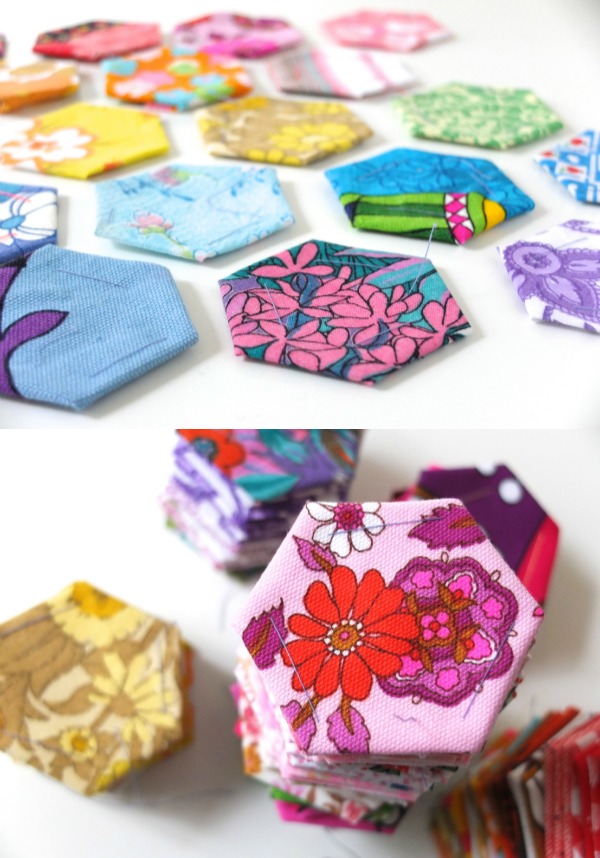 I'd love to hear what project you'd like to see me transform them into.
Edit: I'll be showing you how to sew these together in a couple of weeks so you won't be kept in suspense for too long, just need to decide on my project first!

Edit: Project finished, pop over and check out my tutorial for how to make a Hexagon Table Runner

For more scrap busting projects, check out my e-book Six Baby Gifts to make with Fabric Scraps