It's been a while since I've tackled a patchwork or quilting project. My fabric scraps have been languishing in a box just waiting to be transformed into something of value.
Seeking inspiration I pulled Shizuko Kuroha's Japanese Patchwork Quilting Patterns off my shelf, which was sent to me a while ago for review, and started flipping through the pages.
You can virtually flip through with me by watching the video above.
More than just a craft book with around 29 patchwork and quilting projects, this book is masterclass in the art of traditional patchwork techniques.
Shizuko Kuroha takes the concept of 'slow stitching' to the next level, with meticulous tiny hand stitches that slowly piece together vintage fabric scraps into stunning quilts and practical items.
The author is a world renowned textile artist who discovered traditional Western quilting while living in the United States in the 70's. She has spent over 40 years perfecting her technique which are rooted in traditional Japanese sewing methods, and works primarily with vintage kimono fabrics, especially indigo-dyed cottons.
Do yourself a favour and google 'Shizuko Kuroha Quilts' to see some of her incredible exhibition work.
If you've only ever made patchwork with a sewing machine or with paper piecing, this book will be enlightening!
Personally I've always been most familiar with the English Paper Piecing style of hand stitched patchwork, and it never crossed my mind that you could stitch together complex designs without paper templates.
If you are looking for fast and easy quilting projects, look elsewhere. This style of patchwork and quilting requires time and patience, but the resulting work is guaranteed to be satisfying and beautiful.
Japanese Patchwork Quilting Patterns Book Review
The book is thoughtfully laid out in nine sections that all build on each other.
Starting of with some easy projects like small bags and purses that are ideal for beginners, then moving onto more advanced projects and techniques.
The book is very well laid out in regards to teaching Kuroha's hand patchworking techniques from scratch, with very detailed lessons that build on each other.
Each lesson has photos which describe every step in detail, with very clear written instructions also.
Block patterns are also introduced with increasing levels of complexity, all with supporting projects for their use.
Every block, 19 in total, has instructions for construction, two fabric variations, and photos of both the front and back of the block, which is super helpful for understanding how to correctly build and press.
There is some machine sewing included where it's required for efficiency, and lessons in sashing and quilt binding are also included, as well as how to construct the bag projects.
Of course Shizuko Kuroha really has an eye for colour, and uses the vintage fabrics beautifully to really make each block shine.
There are several sampler style quilts in the book showing how to adapt the featured blocks into unique designs. Each quilt is stunning and a real work of art.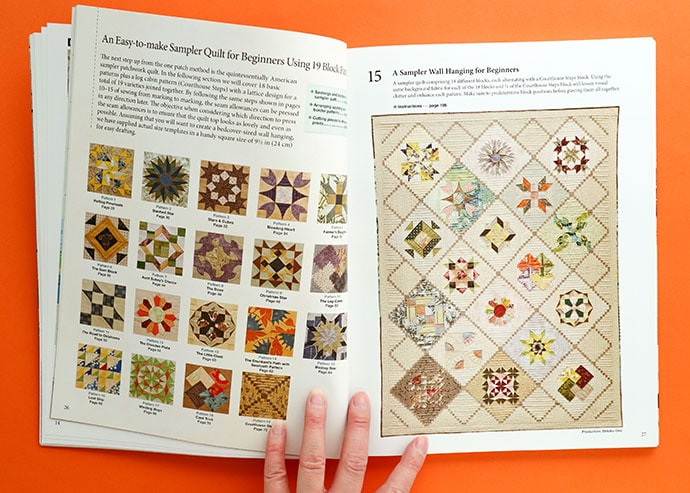 But for those of us that need to start with more achievable goals, I'd recommend some of the smaller projects like the pincushions, needle books, or even a table runner.
Also included are pull out pattern templates for every quilt block and sewing project, as well as instructions for how to draft your own quilt blocks and advice on quilting tools.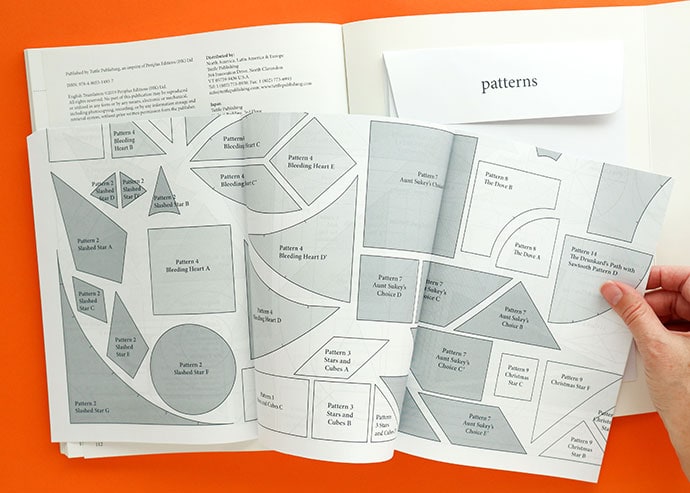 I always like to try making something from every craft book I review, so from this book I made a little scrap fabric pin cushion.
Working with such small fabric scraps was a challenge. Don't look too closely, my stitches are much clumsier than those in project from the book.
But overall I loved the process of hand stitching little fabric pieces to create something so pretty from scraps. I'll post more about the step-by-step process for making this patchwork pincushion soon.
Japanese Patchwork Quilting Patterns – Final Thoughts
If you have any interest in patchwork and quilt making, this book is an excellent reference that has something to offer for even the most experienced quilters.
For those that would like to learn the art of patchwork from scratch, working through each lesson and project step-by-step will give you a solid foundation to make even the most complex of projects.
The book will also teach you techniques to then move on to designing your own unique pieces.
With bookshelf space at a premium this book is a must have, and I'll guarantee you'll reach for it again and again for both inspiration and tuition.
Available from all good bookstores and online booksellers. See links to purchase below:
Here are my 5 reason why you should add this book to your shopping cart:
Beautifully and clearly photographed with timeless designs.
Patterns that progress in complexity helping you learn something new.
Clear and well written instructions.
Perfect projects for using up even the smallest of fabric scraps.
Printed templates for easy pattern drafting.
WHERE TO BUY
Buy from Book Depository with free international shipping
Buy from Amazon
Shizuko Kuroha's Japanese Patchwork Quilting Patterns : Charming Quilts, Bags, Pouches, Table Runners and More
Format Paperback | 112 pages
by Shizuko Kuroha
Publisher – Tuttle Publishing
Language – English
ISBN 9784805314937
You may also enjoy the following Craft Book Reviews:
LOVE IT? PIN IT!
This post contains affiliate links. The featured book was supplied by the publisher for review purposes. All thoughts and opinions are my own.