The practice of mending has had quite a resurgence in the last few years. For those of us that see the value in repairing an item, rather than throwing it away and buying a new replacement, it's heartening to see that mending is being embraced by a broader audience.
Read about why I think mending is so important – Let's Talk about Mending
Visible mending has become a real statement. Patched up clothing is no longer something to be embarrassed about, like our grandparents may have been in the past. Now you can show off your mending with pride, and wear your patches as a badge of honor!
Joyful Mending, a new book by Noriko Misumi, explores the joy of mending the garments we love.
Filled with practical mending techniques, both visible and invisible, Noriko approaches every mending project as an opportunity for creative expression.
Once you know how to mend, any hole or stain becomes a fount of enjoyment. – from Joyful Mending
Translated into English from the original Japanese version, this book has the classic minimalist 'zakka' aesthetic that we've all come to love about Japanese craft books.
The book is divided into 8 main parts:
Part 1 – Mending consultation booth
Includes 'case studies' from the authors mending workshops with easy instructions for repairs featured.
Part 2 – The Art of Joyful Mending
A short essay on the pleasures of mending and darning the objects we love.
Part 3 – Basic Mending Techniques
Includes step-by-step pictorial instructions for how to darn a circle, square and rectangle. And also how to needlefelt a patch.
Part 4 – Invisible Mending vs Statement Mending
Examples with instructions on various ways to repair garments and other textiles both subtly and with creative flair. Includes fun ideas for embroidery, crochet and felted patches.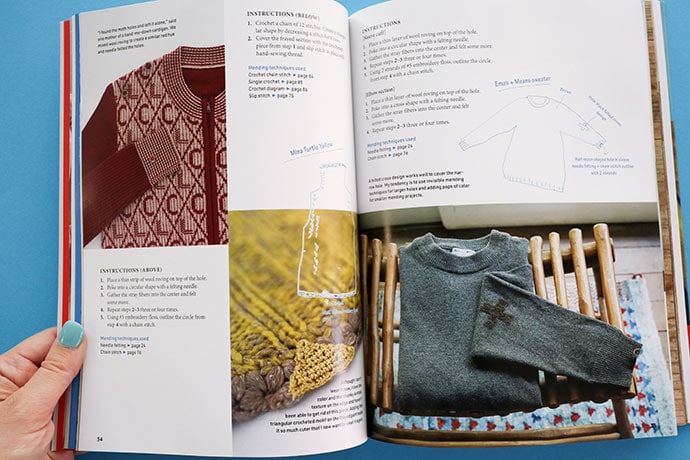 Part 5 – Mending with Patchwork and Rug Hooking
More examples and instructions for creative repairs. This time with patchwork, and a technique I'd never thought to use, rug hooking.
Part 6 – Mending Socks and Gloves
Especially handy for your favourite hand knitted socks that you just can't part with.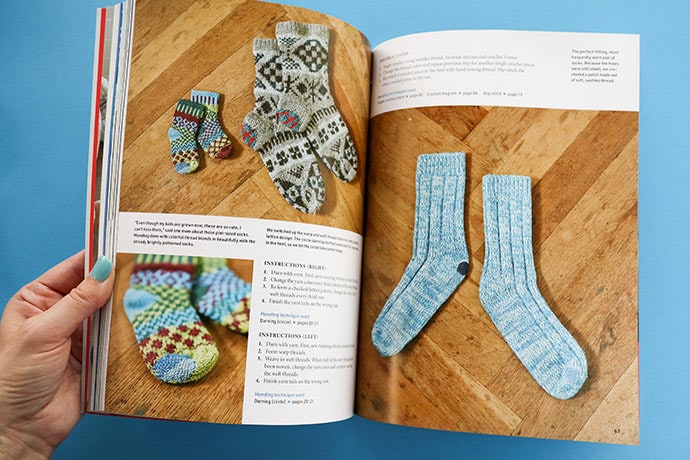 Part 7 – Mending Techniques
An illustrated glossary of embroidery stitches, crochet techniques and pattern charts.
Overall, Joyful Mending is a lovely read. It's full of practical instructions and lots of creative ideas to approach your next mending project with a touch of whimsy.
It even inspired me to visibly patch up the thoroughly worn out elbows of my favourite linen shirt. Scroll down to see how it turned out.
Joyful Mending : Visible Repairs for the Perfectly Imperfect Things We Love!
Paperback | 88 pages
by Noriko Misumi
Publisher – Tuttle Publishing
Language – English
ISBN 9784805315743
Buy from Dymocks (AUS)
Buy from Book Depository with free international shipping
Buy from Amazon (US)
Hand Stitched Elbow Patches inspired by Joyful Mending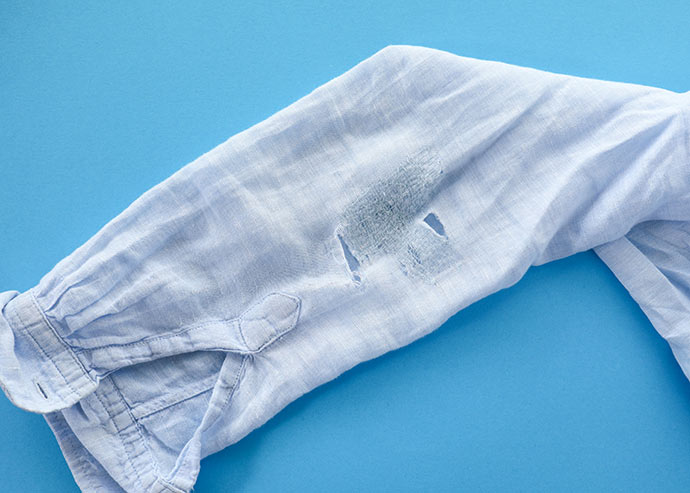 As you can see, I've worn this linen shirt till it was thread bare! I have invisibly darned it in the past, but unfortunately my repairs needed repairing.
Some fabric from some old shirts in my scrap bag were the perfect solution to patch up my much loved shirt. I pieced a few off-cuts together to make a patchwork patch large enough to cover the worn out area.
With some embroidery floss I stitched running stitches to hold the patch in place ans reinforce the fabric. The colourful thread added some texture and visual interest.
After this photo, I was kind of hooked and continued to add more stitching, as well as adding a similar patch to the other sleeve, which was in a similar worn out condition.
I can't wait to wear my favourite shirt again and show off my mending handiwork.
You may also enjoy the following Craft Book Reviews:
LOVE IT? PIN IT!
This post contains affiliate links. The featured book was supplied by the publisher for review purposes. All thoughts and opinions are my own.