There is something super fun about making food themed craft projects. I don't know why, but everyone just seems to love food made from felt, fabric or yarn.
On My Poppet we've made an Egg purse, a Hamburger brooch and Pizza, and some Fairy Bread Sew-On Patches.
Today I'll be reviewing a crochet book by the queen of crocheted food, Twinkie Chan. This book has been in my personal library for years, so long in fact that the book is no longer in print. Thankfully it's still available in digital versions which is great because the 20 projects included are fabulous!
Twinkie Chan's Crocheted Goodies for Fashion Foodies is more of a recipe book than a craft book, with 20 wearable crochet projects all themed around food.
Like all good cookbooks the recipes are broken down into food groups. Chapter categories include Sweet, Savoury, and Fruit & Veggies, and you'll find a list of 'Ingredients' instead of supplies.
I've made a flip-through video so you can see how the book is laid out and what projects are included.
Twinkie Chan's Crocheted Goodies for Fashion Foodies Book Review
There are plenty of projects to love in this crochet book. Most of them are scarves, but there is also a hat, a pair of fingerless mittens, and the only non-wearable project, a cake shaped tissue box cozy.
All of the scarf projects are very quirky with my favourite being the Green Salad Scarf. So fun!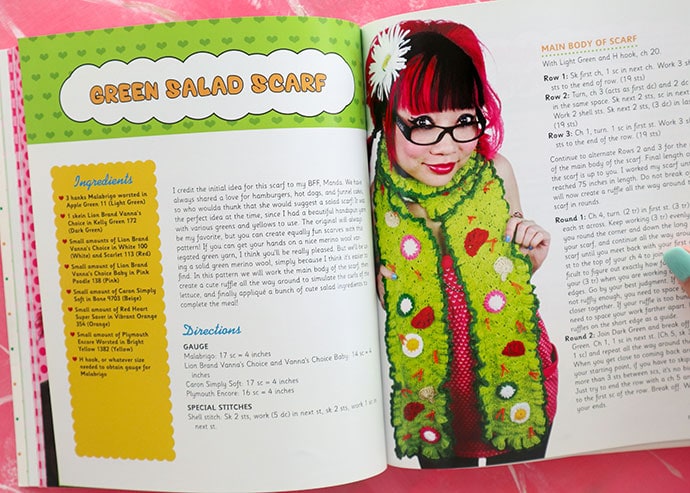 The Carrot and Pizza scarves are also super clever!
Many of the scarves are made from individual motifs which are then sewn together. The individual motifs are very fun and can be adapted to make lots of other projects including sew-on patches, pockets for other garments or smaller objects like coasters.
How fun would 'buttered toast' pockets look on a child's cardigan, or you could sew two popcorn motifs together to make a phone cozy. The project possibilities are endless!
Making a Project from this Crochet Book
As with all my craft book reviews, I've made a project from this book. I had some yarn on hand suitable for a little baby hat so I decided on making the Cupcake Hat with Blue Frosting and a cherry on top.
I used a thinner yarn and smaller hook size than the book recommends for an adult sized hat, so the overall finished size is suitable for a baby/toddler.
The instructions were easy enough to follow, but I did find a stitch count discrepancy which luckily didn't affect the finished project result.
I'm very happy at how the hat turned out and will definitely be making another one if I need a baby gift in a hurry. This hat is heading to St Kilda Mums.
Because this is a baby hat I omitted the pom pom sprinkles, and instead stitched on little bullion knots (like a french knot but longer) which won't fall off and risk being swallowed.
Things to note:
The book is aimed at US audiences so the crochet terms and hook size are in US terminology.
Recommended yarns are all US brands and I think mainly 10 ply.
The yarn weight is not specified, only brand name of yarn is used, so you will need to check on Ravelry for the equivalent yarn alternative.
There is a stitch guide at the front of the book with illustrated crochet stitch instructions, but it helps if you have some basic crochet skills.
Patterns are written in text form with no stitch diagrams (which I prefer, especially for flat shapes).
Stitch Gauge is indicated, but finished project size is not, so it's hard to tell how big the finished project is meant to be without some calculations (or actually making the project).
Overall I really like the creativity and variety of ideas in this crochet book. Even if you aren't into food themed wearables, many of the projects like Strawberry Fingerless Mittens and Candy Button Scarf can be made in neutral colours if you aren't into bold accessories.
Where to Purchase a copy
As mentioned earlier this book is now out of print (originally published in 2010), but you can still find some secondhand copies on Amazon and digital copies are available for download. If you are lucky, your local library may have a copy.
If you can't get a hold of this book, Twinkie Chan has recently published a brand new book Twinkie Chan's Crocheted Abode A La Mode, with 20 food themed crochet projects to make for your home. It looks super fun!
From what I can see in the preview, this new book has included much of the information that was overlooked in the Twinkie Chan's first book including finished project size, metric hook sizes and recommended yarn weight.
If you enjoy making quirky 'kawaii' craft projects, this book is for you. Printed copies are not so easy to get a hold of, but luckily digital copies are still available.
See more of Twinkie Chan's work here www.twinkiechan.com
You may also enjoy the following Craft Book Reviews: