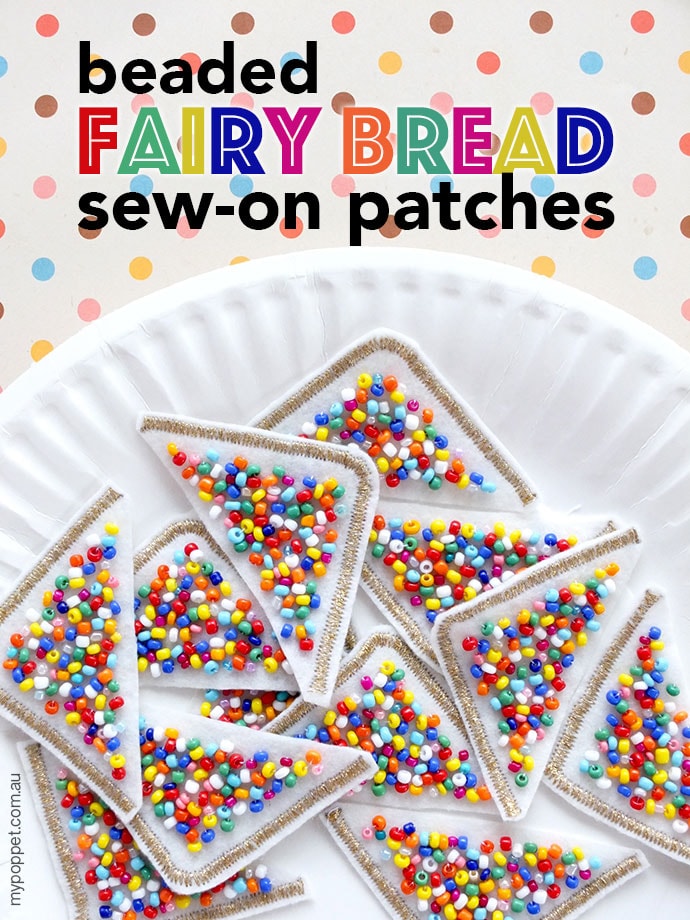 Sew-on patches are so hot right now. Forget the boring old scout patches from back in the day (although I must say, I still think they are pretty cool), patches are getting whimsical, colourful and fun.
I made some fairy bread socks for a project in Frankie Magazine, and thought you may like to make your own fairy bread patches to sew onto tops, jeans, jackets or even your own pair of socks.
Make one patch or one hundred, it's up to you. They aren't very difficult to make but sewing on all those glass beads takes some patience, so take your time and enjoy the process.
You will need:
glass or plastic seed beads in assorted colours
beading needle
off-white felt square
thin strong thread
gold (or beige) sewing machine thread
sewing machine
sewing machine embroidery needle
paper and pencil to make template
scissors
something to sew patches on to (like socks)
fabric glue (optional)
How to:
Make a template of your bread slice, mine had 2″ sides, but you can make it as large as you like. Cut it out.

Trace your template design on to felt sheet with a pencil.

With gold thread, use a satin stitch setting on sewing machine (wide, close together zig zag stitch) to sew on the bread crust design. Test your stitch out on scrap fabric first to adjust tension settings.

If you are making multiple patches do all the machine sewing at this stage.

With the beading needle, sew on seed beads one at a time to simulate sprinkles.

This takes a while so just keep going. Each one of my mini bread slices took about 1 hour to stitch and had over 100 beads.

When all the stitching is done, carefully cut out your bread slice.

Now your patches are ready to attach to your desired garment or object. You can either use fabric glue to attach, or sew them on by hand.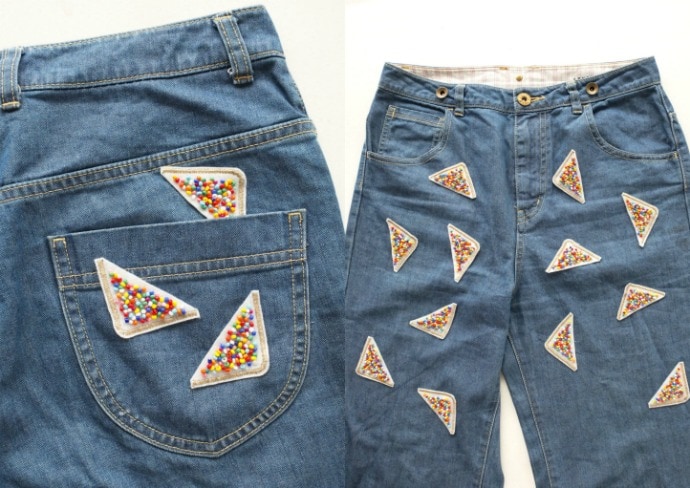 I had a tricky time positioning the patches on the socks, it took some acrobatics. I attached the patches on with glue.

Here's what the final product looked like in the magazine. If you want to see what other makers created for the Frankie Sock Project, head over to yesterday's post.

What will you be adding Fairy Bread Patches to?