I'm super excited to share this fun little coin purse DIY that was inspired by a classic Australian party food – Fairy Bread. If you aren't familiar with fairy bread, it's buttered white sliced bread sprinkled with 100's and 1000's (that's what we Aussies call rainbow sprinkles).
It's a little bit kitschy but I've yet to meet a child that doesn't love Fairy Bread, and of course, as an adult,  it brings back many happy memories. Why all the crafty patriotism? Well it's Australia Day on the 26th of January and I thought it would be a little bit of fun to make a project with an Aussie twist.
Enjoy making this purse, it's easier than you think. If you really want to get super creative you could embroider french knots as sprinkles instead of using fabric markers.
You will need:
20cm beige zip
15x15cm beige drill cotton fabric
15x15cm white cotton fabric
long scrap of light brown fabric (I've used corduroy)
beige sewing thread
Assorted fabric markers/pastels
Sewing machine
Zipper foot
Iron
Scrap fabric (for ironing)
General sewing supplies
How to:
Cutting
From beige drill cut a 15cm x 15cm square and then cut diagonally to make 2 triangles.
From white fabric cut 1 x triangle using a beige triangle as a template
From corduroy cut a long 32cm x 3cm rectangle
Sprinkle time
1. Using a fabric marker or pastel draw little spots randomly over white fabric to look like sprinkles.
2. Follow your product guidelines to fix the design. Most require ironing to make design permanent, use scrap fabric to lay over design and iron.
Assembly
3. Lay sprinkle fabric over one layer of beige fabric, this will be the front panel.
4. Place zip (right sides facing) on long edge of the front panel.
5. Using a zipper foot, sew zip to front panel leaving about a 1/2cm allowance from the edge of zip.
6. Repeat step 5 with back panel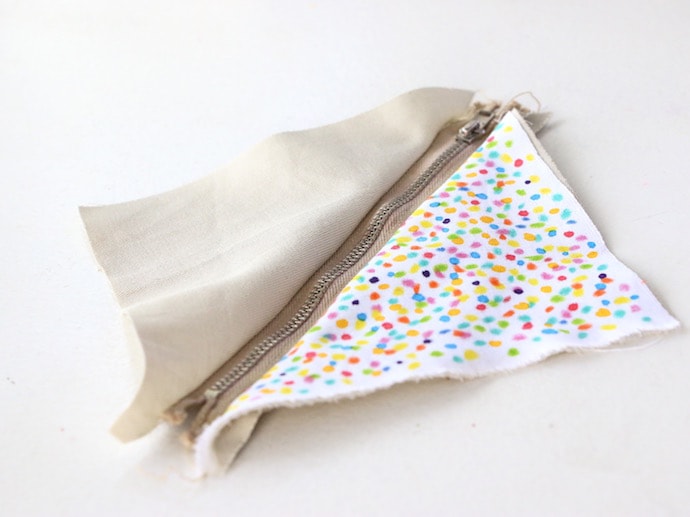 7. Pin long rectangle along edge of back panel and sew with a 1/2cm seam allowance.
8. Take care to allow enough fabric to get around the corner.
9. Repeat with front panel.
10. Sew across ends of zip and rectangle strip to close gaps. Do this on both ends.
11. Turn inside out and hand stitch end of zip if it has a little gap.
All Done!
Enjoy your tasty coin purse.
Here is the back

Perfect for wrangling those small items that always end up at the bottom of your bag, keeping your spare change or even as a little travel sewing kit. This little purse has so many uses, and it's super cute too!
Happy Australia Day!