Today a guest post from a very talented reader, doll maker, and pizza lover! Melissa is whizz with felt and her creations are fun and whimsical. I am in love with this little felt pizza and doesn't it look adorable in this mini lounge room. You could add a pin to the back and wear it as a brooch. Take it away Melissa!
My entire family loves eating pizza. In fact we love almost anything associated with pizza, including the TMNT. Our love of pizza led us to creating our own dream pizza recipes.
In a pinch we've gladly bought cheap frozen pizzas and DIY it with a few extra toppings from the fridge. It should come as no surprise then that I have taken that love of pizza and translated it into my world of craft.
I once tried a pizza slice crochet pattern, and after a handful of unhappy attempts at reading what looked like stereo instructions, I put it aside and decided to wing it on my own and make my own pizza slice pattern using my favourite fabric – felt.
My felt pizza design has since evolved into a smaller product, which I will now show you how to make.
If you fancy making more mini felt fast food, try these patterns:
Let's make a Mini Felt Pizza for a Dollhouse or to wear as a Brooch
You'll only need a few scraps of felt to make this fun mini pizza. If you want a larger pizza for pretend play, just enlarge the pattern and use the same instructions.
To wear as a brooch, stitch a safety pin or brooch finding to the back of the mini pizza.
You will need:
Pizza pattern template – PRINT HERE at 100%
Felt (beige, red and brown)
Thread (beige, brown, yellow and green)
Cardboard
Needle
Scissors (paper and dressmakers)
Fabric marker or dressmakers chalk
Hole puncher
Needle Threading Tip:
Once upon a time I was plagued by thread coming out the needle eye each time I tugged on the thread after creating a stitch. But no more! Now when I thread the needle I allow myself a double length of thread. Then I bring the ends of the thread together and tie a nice, thick double knot. This has become my signature and now it can be yours.
How to make a Mini Felt Pizza:
1. Print template at 100% and cut out the pattern pieces.
2. Draw an outline of pattern pieces onto felt and cardboard. When drawing on the felt use a fabric marker or dressmakers chalk.
3. Cut out the felt and cardboard pieces.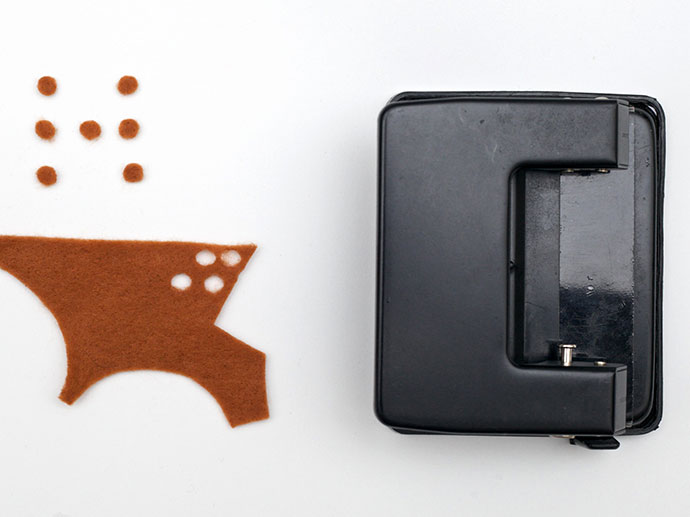 4. To make felt pepperoni pizza toppings for the pizza you can use a hole-puncher to make perfect little circles. I like to pop out an odd seven little circles using brown felt, but you can make as many as you want. Go nuts!
5. Place 'crust' over 'tomato paste' piece. Sew these pieces together along the inner edge of the 'crust' piece. Use thread that is similar to the 'crust' colour. My preferred stitch is to create parallel tracks with a 5mm division [similar to an edge stitch]. If you prefer you can do a running stitch.
6. Position the 'pepperoni' pieces over the 'tomato paste' piece and stitch into place using thread that is similar to the 'pepperoni' colour. Placement of the 'pepperoni' is entirely up to you. Again I use a very simple edge stitch to do this.
7. Now for the cheese… Stitch randomly distributed yellow thread [1-3mm stitches] on the red felt to make it look like grated cheese. For extra thickness feed two lines of thread through the needle. This will make the grated cheese decoration really pop.
8. This felt pizza needs some vegetable: Repeat step 7, this time using green thread to represent capsicum. I like to use a green metallic thread to make the colour really pop.

9. Layer the 'dough base', cardboard and the decorated pizza top cover together.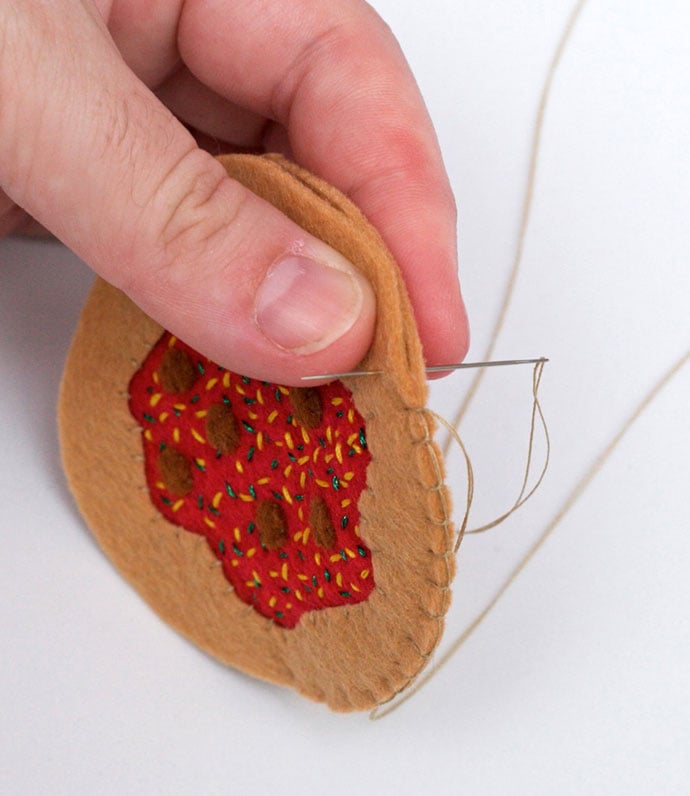 10. Stitch edges of the pizza 'base' and the pizza top together. I prefer a simple blanket stitch. Stitch along the perimeter to close the pizza, and make sure that cardboard core is inside.
11. Now your pizza is ready to be enjoyed by the dolls in your life.
Melissa made her first doll when she was seven, by raiding her mum's craft box. Eleven years later she studied the clothing industry. It wasn't until she had kids that her passion for making dolls rebooted. Now she makes mermaids, fairies, armature dolls, girls, boys and mythical computer game creatures. She experiments with multiple mediums – sewing, painting, cloth, felt and wire, and any new material that comes her way. To see more of Melissa's work, follow these links – BLOG | SHOP | INSTAGRAM