Did you know, that many, many moons ago people kept locks of hair and miniature portraits in brooches, as mementos of their loved ones. A little online reading tells me that this form of jewellery trended from the 18th century to the Victorian era.
A few short moons ago I had this idea floating around in my noggin, of making cute, cartoony little cameo portrait brooches, without the formality of it's Victorian design counterparts. Rather than using metal, hair and paint I decided that this brooch design would be cut and sewn. So let's get started!
You will need:
Felt (five colours of your choice)
Thread (matching the felt, plus black)
Cardboard
Safety pin or brooch pin*
Needle
Scissors (paper, dressmakers and pinking shears)
Dressmakers pins
Fabric marker or dressmakers chalk
Notes:
Safety pin: I have a lifetime supply of safety pins after discovering that these are an economical alternative to brooch back pins. As a result all the badges I make have… Yep! You guess it. – Safety pin backings.
Threading the needle: Decide on your length of thread then double the length. Feed the thread through the needle eye. Bring the ends of the thread together and tie a nice, thick double knot. This method ensures your thread will not accidentally come out of the needle while sewing.
How to:
1/ Print template at 100% and cut out the pattern pieces.
2/ Draw an outline of pattern pieces onto felt and cardboard. When drawing on the felt use a fabric marker or dressmakers chalk. Cut out the felt and cardboard pieces. You can use pinking scissors for the back base piece.

3/ Place head piece over hair piece. Hand-stitch these two pieces together along edge of head piece. Colour match thread to head felt.

4/ Position eye pieces on head and stitch along edge of the eyes.  Colour match thread to head felt.

5/ Using fabric marker draw an outline of the lower lashes [cat eye], then hand-stitch the lower eyelashes in a contrasting thread colour.

6/ Again using the fabric marker draw an outline of the eyebrows and lips then hand-stitch in yet another contrasting thread colour.
7/ Plan your layout of hair/face and shirt top on the upper base piece before you do any sewing.

8/ Stitch hair/face to upper base piece, stitching along out edge of what is now appearing to be a cartoony portrait. Colour match thread.
9/ Stitch the left and right sides of the portrait shirt top piece to the upper base. Keep the neckline and lower hem open. Colour match thread to the shirt top.

10/ Sew the brooch pin/safety pin (or brooch back) to back of back base piece, 2cm down from the top.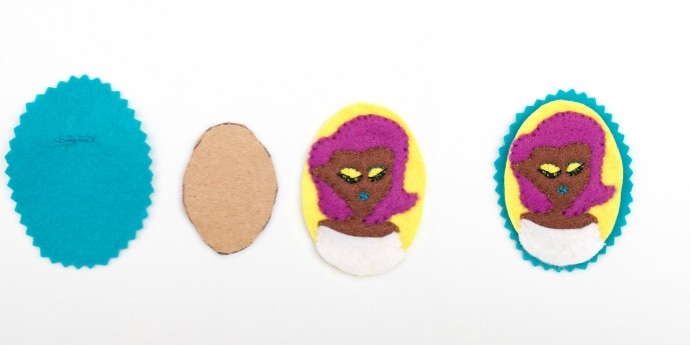 11/ Layer the back base, the cardboard and the now fully detailed upper base.

12/ With a contrasting thread plain stitch along the edge of the upper base ensuring the cardboard is sitting central between the felt layers. If it helps you can pin the pieces together to keep everything central and straight while stitching the brooch closed.

13/ Oh look! You've finished. Now it's time to find someone to pin this brooch on to.
After thought: this brooch could make a cute wall hanging for a dollhouse. You can do other neat things with this brooch design – add ribbons, tiny bows, change the colours, cut out a completely different hairstyle. It's totally and completely up to you. Maybe even add it to the center of a Rosette Brooch like this one. Now let's see what you can do…
Melissa made her first doll when she was seven, when she raided her mum's craft trunk [gold treasure]. Eleven years later she studied the clothing industry. It wasn't until she had kids that her passion for making dolls rebooted. Now she makes mythical creatures, turtles that dream of being so much more, armature dolls, girls, boys and anything that takes her fancy. Melissa is an experimenter, combining multiple mediums – sewing, painting, cloth, felt and wire, and any new material that comes her way… and she looks forward to giving 3D printing a go.
To see more of Melissa's work, follow these links – BLOG | SHOP | INSTAGRAM