A little while ago I few to Sydney to film a crafty Facebook Live video with Spotlight and Woman's Day as part of Craft Month. It was my presenting debut, and although I was initially a little apprehensive, it turned out great!
The thirty minute segment was all about Pom Poms, how to make them, and how to use them.
It specifically covered the following:
3 Ways to make Pom Poms (1:53)
How to make a Pom Pom Bag Charm and Key Ring (15:15)
Incorporating Pom Poms into your home decor (22:40)
You can watch the full video on facebook or just below. The video and audio quality isn't fantastic – the downsides of fb live, but you can see everything clearly enough.
So today I wanted to share in one of the projects featured in the video segment, How to make a Pompom Bag Charm. I've added a few nice clear photos and written instructions, as well as included where to find the extra tips and information in the video.
I love a good pom pom, and these bag charms are a colourful way to add some personality to a boring bag, clutch or basket. You can also clip them onto your keys and use them as a key chain, I guarantee you'll never lose your keys at the bottom of your bag again!
You will need:
pom pom maker
cotton yarn
self-striping yarn
lobster clip
crochet hook
wooden beads
embroidery floss
scissors
yarn needle (not pictured)
How to make a Pom Pom Bag Charm with Tassle
1/ First you need to make your pompoms, I've used a little pom pom making gadget and made 2 large ones and 2 smaller ones. You can watch the instructions here where I show you the trick to making multi-coloured pom poms with self-striping yarn and how to trim them – WATCH HERE start at (1:50)
For the following stages you can refer to the video from (15:15) – WATCH HERE
2/ Holding 2 yarns together (black and white) crochet a 20cm cord with a basic chain stitch, leave a 20cm yarn tail at the beginning and end of cord.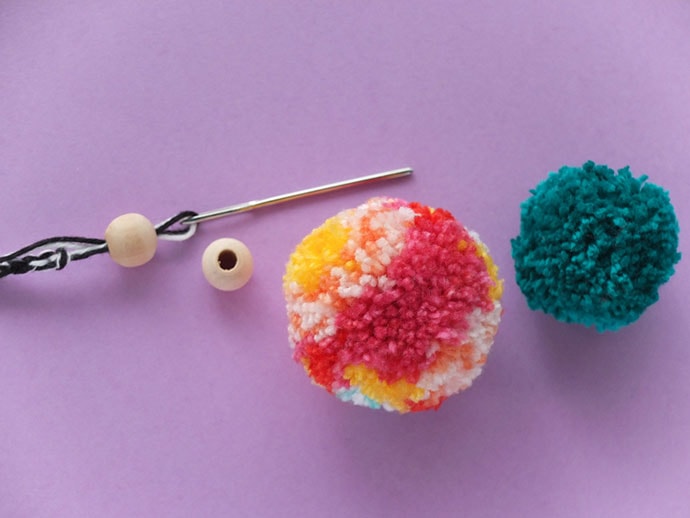 3/ Onto each yarn tail thread on a few wooden beads and 2 pom poms using a yarn/tapestry needle.
4/ Make a tassel and secure it to each end. Refer to video (20:00) or instructions here – How to make a yarn tassel
5/ Secure the cord to the key chain like this:
6/ Clip the bag charm onto your favourite bag and you're set to go!
These would make a great gift for a friend who has everything! Personalise it any colour you like.
Now go forth and POM POM !
All the supplies for this project are available at Spotlight