If you only have eyes for fries, I've got a cute little craft project that you'll love! Stitch up a French Fries brooch from felt scraps and add a bit of Fry-YAY to your day.
I've yet to meet anyone who doesn't love French Fries. It's one of my vices!
This French Fries Brooch looks super cool on a denim jacket or pinned on a bag.
Pins, Badges, Brooches or Flair – What ever you want to call it, this little serve of felt fries is a super cool way to add some personality to any outfit.
Why not supersize your fries to a combo meal and add a felt Burger Brooch to your pin collection. Get the instructions to make a Hamburger Brooch here.
How to Stitch a Mini French Fries Brooch
This French Fries Brooch is a fun project to make as a gift for a friend, or just for yourself. You'll only need a few scraps of felt and some basic sewing supplies to make this cute pin.
Why not stitch on your initials to personalize your mini food creation.
You will need:
Felt fabric: red, yellow
Cardboard
Safety pin
Thread: red, yellow
Needle
Scissors: paper and fabric
Hemostat or tweezers
Craft Glue (optional)
Note:
For this project I have used a plain stitch and a blanket stitch.
How to:
1. Print the template at 100% and cut out the pattern pieces.
2. Trace the pattern pieces onto felt fabric and cardboard.
3. Cut out all the pieces from both felt fabric and cardboard.
4. Fold the fries piece in half as per the pattern reference marker. Cut 5 mm rows into the fold, making sure to stop cutting 1 cm from the edge.
5. Sew a pin to the back of the fries box piece as per the pattern reference marker.
6. Sew the cover onto the fries box, as per the pattern reference marker. Use a plain stitch along the edge.
7. Hand stitch your initials into the middle of the cover piece in contrasting thread.
8. Fold the fries box and sew the two sides closed. Use a blanket stitch.
9. Slide the cardboard piece into the fries box. This cardboard supports the frame of the fries box.
10. With the fries piece folded, roll it sideways. Stitch through the bottom of this piece to keep the roll closed.
11. Squeeze the fries into the fries box. You can add a small dab of glue to secure (optional).
All done! Now you have wearable pop food art.
Now that you've made a cool french fries brooch, it's time to complete the meal and make a burger pin.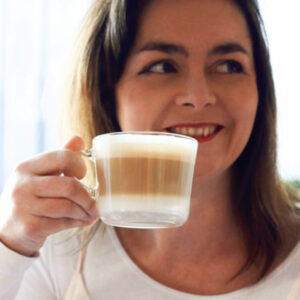 Melissa is a hyper creative artist, and content creator.
To see more of Melissa's work, follow these links –