Upcycling old clothes and refashioning unwanted garments is something I've been doing for years. Nothing gives me more satisfaction than turning an ill-fitting item of clothing into something cute and wearable.
You can check out some of my past upcycled clothing refashion projects here.
I'm always searching for clever and easy ways to refashion common wardrobe staples, so when I was offered to review Stylish Remakes, I jumped at the chance to check it out.
Translated into English from the original Japanese version, this book has a cool vintage street style aesthetic, with the minimalist styling that we've all come to love about Japanese craft books.
I've actually had this book sitting in my craft room for several years with the intention of writing a review.
After a recent tidy up (which unearthed lots of treasures, including this book), I decided it was time to share it with you.
Because getting to the book store to flip through this delightful title is not really an option these days, I thought I'd treat you to a flip-through video.
Take a look at the video featured at the top of this post, if you haven't already.
Stylish Remakes – Clothing Refashion Book Review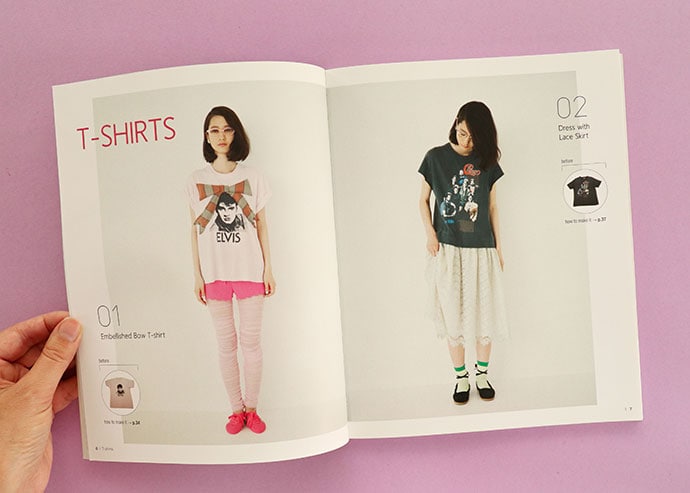 Focusing its attention around 6 common garment styles that most of us have are sure to have, T-shirts, Flannel Shirts, Striped tops, Sweat Shirts, Trench Coats and Bandana Scarves. This book contains some really cute refashioning ideas.
There are 25 projects in total ranging from, simple applique motifs onto a t-shirt, to a very clever way to patchwork 8 bandanas together to make a summer dress.
My favourite sections are the flannel shirt refashion ideas, which take fairly masculine men's shirts and turn them into dresses, cute tops and a skirt.
Of course you could use the same techniques on men's business shirts too.
Some of the styles featured tend to trend a bit 'young'. But even if the outfits featured aren't quite your 'look', there are a lot of great techniques included that have been used to cut and re-sew garments in interesting ways.
I really liked how they changed the shapes of sleeves on sweatshirts and baggy T-shirts to make the styling more feminine and fashion forward.
Adding collars and appliqueing motifs from silky vintage scarves was another theme that popped up in several of the upcycled clothing projects.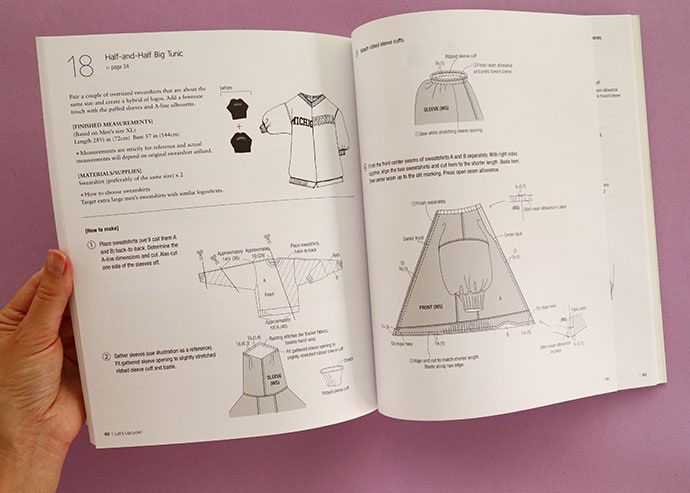 The back half of the book contains fairly detailed illustrated instructions for how to cut and reassemble garments.
Both metric and imperial measurements are included, although you'd only use them as a guide, as the exact measurement would depend on the original base garment and your personal body measurements.
Tips on sewing with stretch fabrics are also included, as well as suggestions for how to choose the most suitable base garment for each project.
I like that they've featured easily thriftable items to refashion, and used both men's and women's garments to upcycle, making these sewing projects very budget friendly.
Or even free if you have a few unwanted items in your family's wardrobe already!
Stylish Remakes – Final Thoughts
A well illustrated book full of great upcycled clothing ideas.
It's perfectly suited to new sewists to help build up sewing skills, as well as experienced sewists who need some inspiration or would love a quick and easy project to make.
I'd recommend it as an introduction to clothing and t-shirt refashion ideas, especially as it's a great jumping off point to look at your existing unwanted or thrifted garments in brand new ways.
I've made Emma a cute refashioned t-shirt inspired by the first project in the book 'Embellished Bow T-Shirt' from one of my old long sleeve tops that was in a donate pile.
She how I refashioned an old top into this cute t-shirt with bow applique.
If you are looking to reduce your reliance on fast fashion, add some interesting new outfits to your wardrobe or just have fun sewing on a budget, Stylish Remakes is for you.
WHERE TO BUY
Buy from Book Depository with free international shipping
Buy from Amazon (US)
Stylish Remakes : Upcycle Your Old T's, Sweats and Flannels into Trendy Street Fashion Pieces
Format Paperback | 96 pages
by Violette Room (Various designers) Translation by Sanae Ishida
Publisher – Tuttle Publishing
Language – English
ISBN 9780804849869
You may also enjoy the following Craft Book Reviews:
LOVE IT? PIN IT!
This post contains affiliate links. The featured book was supplied by the publisher for review purposes. All thoughts and opinions are my own.