Give an old long sleeve top a brand new chic style with this easy t-shirt refashion. With only a few simple changes, modifying a t-shirt to create this cute wearable look is a great way to upcycle old clothes.
With Emma growing like a weed, it's been hard to keep her in clothes that fits of late. And even though she's still a kid, she has sized out of kid's and teen sizes, so we have to shop in the ladies clothing section!
As you can imagine, ladies clothing isn't always suited to an 11 year old, so I've been doing some creative sewing, and upcycling some of my old tops to make into t-shirts for her.
Inspired by a project in my most recent craft book review – Stylish Remakes, which features 25 clothing refashion ideas. I dug out an old long sleeve top from my donate pile, to make this chic Embellished Bow T-shirt.
I haven't downsized this garment at all because it generally fit fairly well. You can use this same technique to update any long sleeve t-shirt and convert it into a short sleeve top.
Even though the sizing was ok, the fit looked awful and truly unflattering, as you can see in this BEFORE photo.
3 easy changes to update an unflattering top
It didn't take much to update this ill-fitting top and make it into a super cute t-shirt. With only 3 simple changes, that only required basic sewing skills, the style of this old top was totally transformed.
Add a cute applique – I've added a cute polka dot bow applique, with a template from Stylish Remakes. But you can add whatever design you desire, by either sewing on a fabric applique, or even using an iron-on heat vinyl transfer design.
Shorten Sleeves – Cutting the sleeves off and creating a cute cuffed hem really makes all the difference in this t-shirt refashion.
Shorten Length – I've shortened the top to give it a cropped look, and finished the hem with a lettuce edge hem technique.
How to upcycle an old top into a cute bow t-shirt
These refashioning techniques can be used to make any long sleeve t-shirt or even a men's sized t-shirt into a more feminine top.
When choosing a garment to refashion for this project, make sure the neckline isn't too wide or stretched out, and the fabric still has some wear left in it.
You will need:
Unwanted long sleeve t-shirt – your size or slightly larger
Fabric scraps ( for applique) – non-stretch fabric is best
Paper and pencil
Pins
Iron
General sewing supplies
How to:
To make applique
1. Create your bow design by either drawing a bow shape freehand, or as I've done, tracing it from the template in Stylish Remakes. Rather than drawing the bow as one piece, try drawing each section separately so you can play with the placement later.
Note: The template in the book needed enlargement by 200% so I cut out the bow pattern and enlarged it in my printer to make a larger bow.
2. Pin the pattern onto the fabric and cut out the pieces from fabric.
3. Pin the bow pieces onto the front of the top. Layer the pieces so the bow looks realistic. Each piece will be sewn on separately, bottom layers first.
4. Using a narrow zig-zag stitch, sew the edges of the applique on in this order – tails of bow, loops of bow, center of bow.
Note: Take care to make sure that the back of the top is well out of the way so you don't accidentally sew parts of the t-shirt together. Try not to stretch the t-shirt fabric whilst sewing or you'll get puckering.
To shorten sleeves
5. Try on the garment and with tailors chalk mark where you want the finished hem and sleeve length to be.
6. Fold top in half making sure sleeves and shoulders match, then cut the sleeves of about 1.5″ longer than desired finished length.
7. Fold raw edge of sleeve over twice and press into place. Pin to secure.
8. Hand sew with a couple of stitches stitches every 2-3″ apart around the cuff edge to secure. Break off the thread between stitched sections to keep the cuff stretchy.
To finish t-shirt with lettuce edge hem
Lettuce edge hems are super trendy right now and are one of the easiest ways to finish an edge on stretch fabric for a t-shirt refashion. You don't even need a serger (overlocker), a regular sewing machine with zig-zag stitch can make a lettuce edge hem.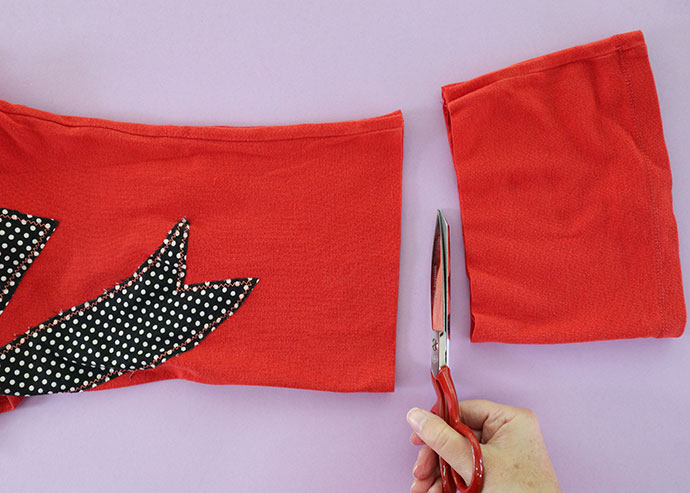 9. Fold top in half and cut to desired length – no seam allowance required.
10. Set sewing machine to small zig-zag stitch. As you sew over the edge of the fabric, pull the fabric gently to stretch it. It's a good idea to test on a fabric off-cut first to make sure your settings are correct. The edge should remain ruffled.
All done! What a transformation.
This t-shirt refashion didn't take me much time at all, and I think it turned out pretty cute!
I especially liked the lettuce edge hem, which was much easier to do than a regular top-stitched hem. It's such a 90's look that is coming back into style. Emma really liked it.
Now it's your turn to dig out your old boring tops and t-shirts to transform into something worth wearing again.
Here are some more ideas for easy clothing refashion projects: