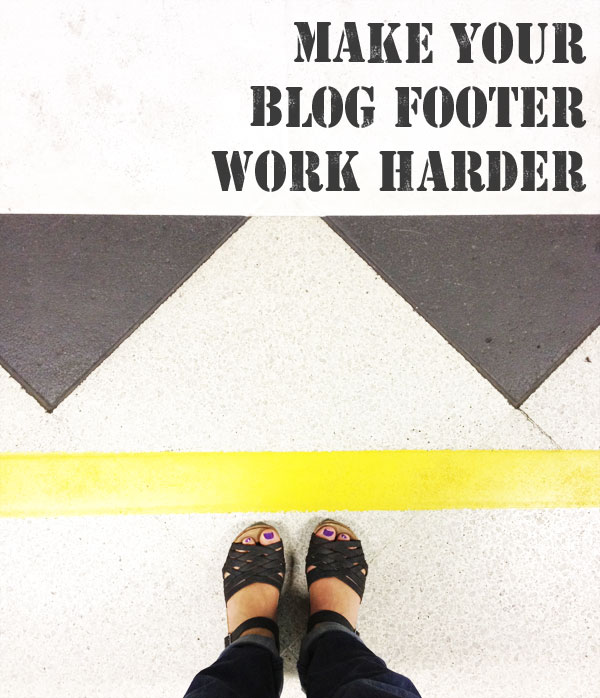 I recently spoke on a video webinar hosted by Kidspot Voices of 2013 on the topic of blog design – 10 Simple Ways to Make Your Blog Look 10 Times Better. One of the hints that really generated a lot of interest was 'Use your footer'.
It generated questions on twitter like: When you say use footer…use it for what?
Yes, it's true, we often take the footer of our blogs for granted, often it may have some copyright information or a link to your blog theme, but that's it, a big wasted opportunity in my eyes.
Your blog footer shows up on every page of your blog, it may not get as many eyeballs on it as the section above the fold, but the readers that do get down to the bottom of your blog posts are likely to be more engaged and in a mood to explore more of your content. Make it easy for them by adding some navigation options to your blog footer.
Most blog designs/themes allow you to divide your footer into 3-4 sections which is ideal for multitasking the space. It also frees up your sidebar from clutter and gives your blog a more streamlined look
Here are just 25 suggestions for things you can include in your blog's footer. Choose just a few depending on what suits you.
Links to recent blog posts
Links to popular blog posts
Links to favourite blog posts
Contact information
Contact form
Short Bio
Navigation menus
Page links
Archives
Categories
Tag Cloud
Social media buttons
Facebook like box/widget
Recent tweets
Instagram feed
RSS feed
Newsletter subscription signup form
Blog roll
Copyright or Creative Commons information
Link to Disclosure or T&C page
Attribution for website elements
As seen in Media mentions/images
Featured product/s you sell
Affiliate product links
Ads
I hope you've found some useful suggestions here. Now it's time have a look at your footer and make it work harder for your blog.
Watch the Digital Masterclass Video
You may also like – Make an Animated HTML Button