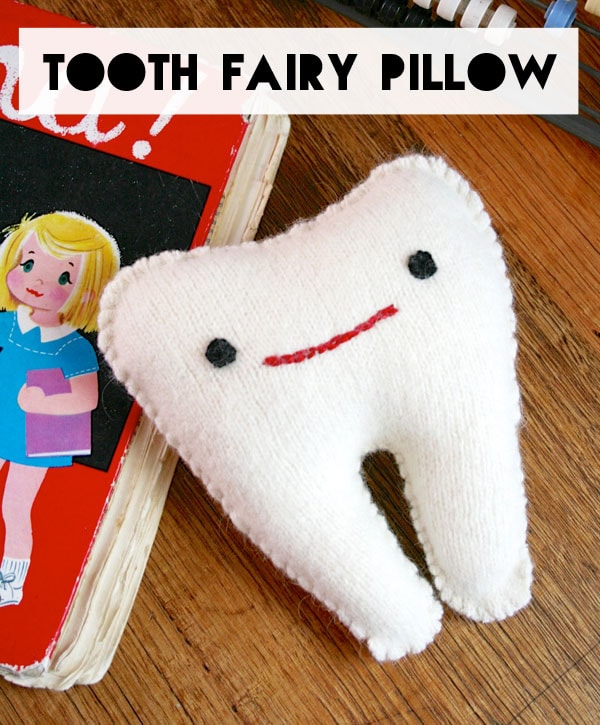 Does the 'Tooth Fairy' struggle to find those tiny little teeth tucked securely under you child's pillow? This cute tooth softie is here to save the day.
Designed with a little pocket in the back for the tooth and of course, money! Quite easy to make only requiring some basic hand stitching. I think older kids would enjoy making this little guy.
This softie was the first PDF pattern I ever designed and was previously for sale, but because I'm awesome, I've shared the instructions and you can now download the template for free!
Emma keeps this guy next to her bed in hopes of tricking the tooth fairy into leaving a little treat.
You will need: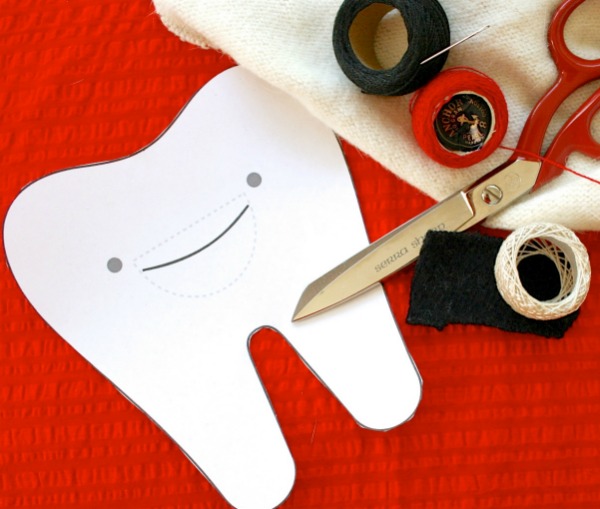 Tracing paper and pencil
Scissors and pins
Toothy coloured felt for body. Both, wool felt or the synthetic stuff is fine for this project. I've used home made felt (read‐ wool jumper put into a too hot washing machine)
Black felt, just a scrap for eyes
Polyfill or wool fleece for stuffing
Embroidery floss‐ black, red, and a light one to match body colour felt
Embroidery needle
Tailors chalk or marker (optional)
How to make a Tooth Pillow:
Step 1
Print out template at 100%
Trace pocket (dashed line) cut and pin to felt.
Cut out pattern outline and pin to felt.
Step 2
Cut 2 body pieces and cut 1 pocket out of light coloured felt. Cut 2 small black circles for eyes, use pattern as a size guide
Step 3
Lay out and if you like pin your pieces into position using the template as a guide. Now you can lightly mark where the mouth is to be stitched with a soft pencil or tailors pen. (I've shown the pocket in blue here so you can see it)
Step 4a
Back ‐ Sew the pocket on to the back using a whip stitch. That's the one that goes over the edges.
Step 4b
Front ‐ Using black thread whipstitch the eyes into position. For the mouth use a double thickness of red thread and do 2 rows of running stich very close to each other to make a thick line for the mouth. Make sure you cover any guide marks you may have made.
Step 5
Align the back and front together, right sides facing out. Whipstitch all around the edges leaving a 4cm (2") gap on the side for easy stuffing.
Step 6
Stuff the body of the tooth starting with the roots. Make sure you stuff enough to hold its shape, but not too much to deform it.
Finish stitching to close the opening.
So that's it! You're done. I'm sure you'll have fun making this cute little guy.