Why stitch up a boring old pincushion when you can make one that looks good enough to eat!
Keep your pins and needles tidy, or your kids entertained, with these quirky felt lamington softies that can be used as either pincushions, or for pretend play.
I've never met anyone who doesn't like a Lamington.
If you aren't familiar with this delicious Australian cake, let me enlighten you.
Made from light and fluffy vanilla sponge cake dipped in chocolate icing and then rolled in desiccated coconut, Lamingtons are an Aussie afternoon tea staple. Although I've been known to enjoy a few at breakfast time as well.
Traditionally they come sandwiched with raspberry jam, and if you are somewhere very fancy, fresh cream too!
I decided to make these squishy felt Lamingtons as my Australian contribution to this years Sew a Softie month.
I've joined in with 30 bloggers from all over the world to create a softie for the Sew a Softie tutorial hop.
The aim of the Sew a Softie Project is to encourage non-sewing adults and children to give hand sewing a go. You can read about the Sew a Softie movement here.
Organised by Trixie of www.sewasoftie.com the annual Sew a Softie blog hop has been running for 4 years now. Follow the #sewasoftie hashtag on Instagram for all the daily tutorials and patterns.
Here are my past Sew a Softie Challenge Projects:
Looking for more DIY Pincushion ideas?
Let's make a Plushie Lamington as Pretend Play Felt Food or to use as a Pincushion
These delicious looking lamington softies not only look good enough to eat, but they are super practical for keeping all your sewing pins tidy.
Alternatively, make several of them for a fancy pretend food afternoon tea. Make sure they are pin free of course!
Use them as a pin cushion or as a toy, the choice is yours.
I've made my lamingtons the traditional very dark chocolate with coconut variety, hence the black felt. But you can choose to make them any colour you wish. I hear pink strawberry lamingtons are very popular.
The desiccated coconut stitching takes some time and patience, but the random stitching is an easy way for kids to practice basic embroidery stitches. Because the stitching is random, it doesn't have to be perfect to look good.
If you prefer, the jam and cream trim can be glued on instead of being sewn on.
Here are some more pretend play felt food crafts you can make:
You will need: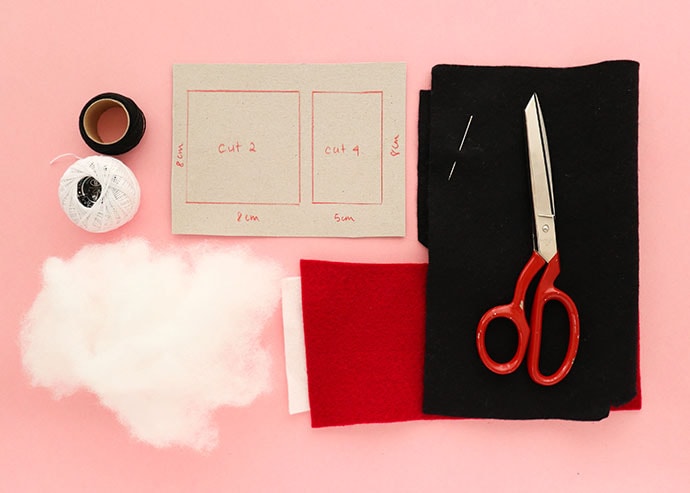 Felt – Black (or very dark brown), red and white
Embroidery thread -black, white
Embroidery needle
Thin cardboard (empty cereal box is ideal)
Pencil
Ruler
Scissors – paper, fabric, pinking shears
Polyester filling (or felt and fabric scraps)
Fabric Glue (optional)

How to make a Plain Lamington:
1. On a piece of cardboard draw out the pattern template for the Lamington Pincushion. With a ruler measure and draw:
Square 8cm x 8cm (3¼" x 3¼")
Rectangle 8cm x 5cm (3¼" x 2″)
Cut out the cardboard template with paper scissors.
2. From the black (or dark brown felt) cut 2 x square pieces and 4 x rectangle pieces.
3. With white embroidery thread, make random stitches on felt squares and rectangles to mimic coconut sprinkles. Try to cover the pieces evenly with the stitching. You can leave the bottom square blank if you are short on time.
4. Lay pieces out like the photo above. The long sides of the rectangles will be sewn onto the the square, and the short sides of the adjacent rectangles will be sewn to each other to make a box shape.
5. With black embroidery thread, sew the lamington pieces together with your preferred stitch. I've used a simple whip stitch, but a blanket stitch or even a neat running stitch will be suitable for this project. You can also use a sewing machine for the seams if you prefer.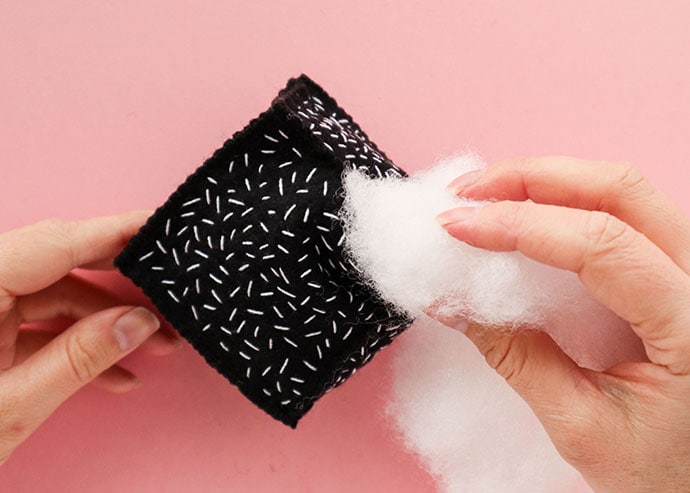 6. Leave an opening of about 4cm (2″) and insert your preferred stuffing. I've used polyester toy filling, but fabric, felt or yarn scraps would also be suitable for pincushion stuffing. Pack your stuffing in moderately firmly, enough to hold the shape of the lamington, but not so much that the sides bulge out.
7. Stitch the opening closed.
That's your plain lamingtons done! If you prefer your lamingtons with jam and cream, read on!
How to make a Jam & Cream Lamington:
Repeat steps 1-7 as per Plain Lamington instructions.
8. From red and white felt, cut a narrow strip of felt with pinking shears. Alternatively you could also use red and white ric rac trim.
9. Wrap the red and white felt strips around the felt lamington. Pin in place to secure.
10. Stitch in place using small stitches and matching thread. You could also glue the strips of felt trim on to make it easier.
Now your Lamington Pincushion is ready. Keep it handy to store your pins safely when making all you softie sewing projects.
OR
Make several plushie lamingtons for a fun pretend play afternoon tea with felt food.
Inspired by a felt food craft project by Paper & Pin which is no longer available online.