Ever felt like you need a little helper to clean up your craft room? Well I've got a simple monster doll sewing project that will not only teach your kids to sew, but gobble up all those scraps that were headed to the bin.
It's Sew a Softie month and I've joined in with 30 blogger from all over the world to create a softie for the Sew a Softie tutorial hop.
The aim of the Sew a Softie Project is to encourage non-sewing adults and children to give hand sewing a go. You can read about the Sew a Softie movement here. Organised by Trixie of www.colouredbuttons.com the annual Sew a Softie blog hop has been running for 3 years now. Follow the #sewasoftie hashtag on Instagram for all the daily tutorials and patterns.
How to make a Zero-Waste Gobble Monster Doll
Today I'll show you how to make a little monster doll that loves gobbling up all sorts of scraps. He has a huge appetite and doesn't mind eating yarn and fabric scraps that were destined for the bin!
I've named him the Zero-Waste Gobble Monster because you'll literally have no waste left over after you finish him – he'll even gobble up the scraps left over from his own production.
It wasn't hard to find little pieces of yarn and fabric to feed this hungry fellow. I seem to have scraps of everything laying in every corner of my craft room.
As a crafter I always try to be conscious of the waste I produce when making my projects, and this my little Gobble Monster doll is a great way to start a conversation about mindful consumption with kids.
You don't even need to use new felt to make this softie, any textile that doesn't fray too much will work great. Old felted jumpers make great fabric for softie making.
You will need:
Assorted felt pieces
Scissors
Fabric Glue
Sewing needle
Strong sewing thread
Pins
Pen
For stuffing – Yarn, felt and fabric scraps
How to:
1. Print the pattern template at 100% and cut out the pattern pieces.
2. Cut one piece of felt from each pattern piece, and 2x pieces of felt for the body pattern piece.
3. Cut the mouth slit on the body pattern piece.
4. Lay the pattern over one of the felt body pieces and transfer the mouth placement with a pen.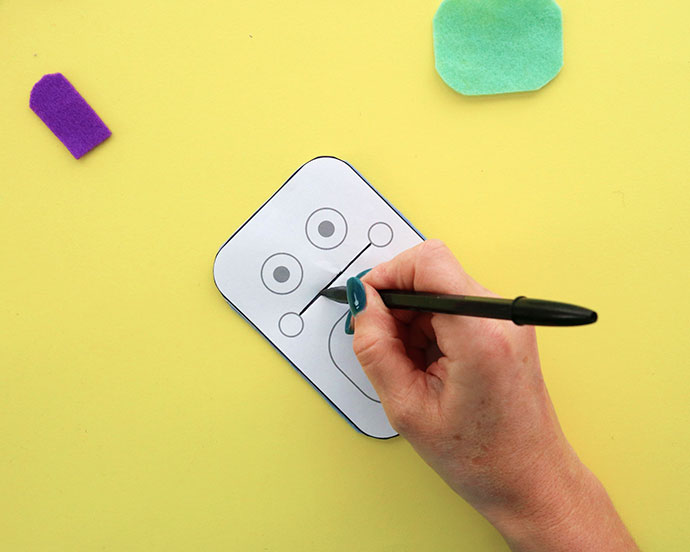 5. Carefully cut the mouth slit in the felt piece.
6. Glue on all the face features using the pattern template as a guide. You can opt to stitch on the belly if desired.
7. Sandwich the arm, leg and hair pieces between the front and back body pieces and pin in place.
8. Stitch all the way around the body with your choice of stitch. I've used a simple whip stitch. Make sure you catch the back piece as you sew.
9. Now it's time to feed your Gobble Monster lots of yummy scraps. You can use whatever you have lying around, including the pieces left over from cutting out this softie. Little scraps of yarn and felt are good, as are small scraps of fabric.
He doesn't have to eat his scrappy dinner all at once. He can lay around your craft space catching all the little scraps that were destined for the bin.
10. Once your Gobble Monster is nice and full it's time to finish him off by sewing his mouth closed. You don't want him to regurgitate his dinner now do we?
All done! Your plump little Gobble Monster doll is ready for a play.
If you'd like to make more simple soft toys try these Pocket Pals mini softies from my previous Sew a Softie challenge.