These Knitted Slippers are a great pattern to try if you are a beginner knitter and want to build your knitting confidence. They are also a great way to use up half balls of leftover yarn.
It's slipper season! The temperature has dipped all of a sudden in Melbourne and our toes are feeling chilly. Emma's feet are so big now that she has grown out of kid's sized slippers, I can't find any to fit her (I've looked everywhere), so I thought it was time to dive into my yarn stash and knit her a pair.
When I was growing up my mum would always make my sister and me little knitted booties from remnant yarn. Often it was yarn from unraveled jumpers that we'd gown out of held double to make the slippers chunky and robust, the doubled up yarn also gave them a speckled effect which I love.
Mum never used a pattern, she would just knit and test the size on our feet as she was going.
While poking around on the internet I found a pattern on Ravelry that looked almost exactly like the slippers she once knit for us (with some slight variations), I took it as a sign that it was time to start knitting and continue the tradition.
If you are new to knitting, this pattern is a good challenge to take you beyond just garter stitch, it has a few little stitch techniques thrown in that sound complicated but really aren't. I haven't followed it exactly, just used it as a guide and then adjusted the lengths to make slippers that fit both Emma and me snugly.
You can find the basic slipper pattern here on ravelry, then I'll show you how to assemble it.
Don't Knit? You may prefer this crochet slipper pattern instead – Harlequin Crochet Slippers
Want to learn to knit or get beyond the basics? Take an online class on Creative Bug – Get a free trial here
How to make Knitted Slippers
The slippers are knit with 2 yarns held together to make a thick and durable fabric.
Use any combination of yarn you have on hand. As a general guide two 8ply (DK) yarns, or one worsted and one sport yarn held together should be suitable.
Make your pom poms with any colourful yarn scraps you have handy. Here's how to make scrap yarn pom poms.
Note: If you are making these slippers for babies and toddlers, I'd recommend leaving the pom poms off as the small pieces of yarn that sometimes shed out of the pom pom can become a choking hazard. Especially for babies that love putting everything in their mouths.
You will need:
8ply yarn 2 balls – either acrylic or wool is fine – This yarn would be perfect doubled up with a plain yarn
yarn needle
pom pom maker of choice
yarn to make 2 pom poms (I had some pom poms left over from another project)
scissors
How to:
Knitting & Sizing
1. Follow the Parkspin Slipper pattern as a guide to the basic pattern. For both pairs I used the child size pattern and cast on 27st. You may need to adjust for your tension.
2. As a guide to size, follow this diagram below. The length of the heel section will also be the size of the opening on top, knit as many rows as you need. The ribbed toe section will be sewn together to make the shoe.
My pair: (adult – size 40/28cm) heel 15cm/17 ridges and toe 13cm/20st – the opening turned out a bit large, I'll show you how I fixed that later.
I wanted Emma's pair to be snug so I reduced the heel length: (child – size 33/24cm) heel 10cm/12 ridges and toe 15cm/25st.
They will stretch a bit once you wear them so don't make them too big as they loosen up over time.
3. No casting off required. Making sure you leave a long tail, thread the yarn tail through the live stitches with a yarn needle.
Assembly
The basic assembly is easy, there are only 2 seams to sew, all you need to do is match up the letters. One seam along the front A, and the back heel B.
4. Gather the toe by pulling the yarn that you've threaded through the live stitches.
5. Make sure it's really tight or you'll end up with a hole at the front of your slippers. Reinforce the gather by threading through the yarn just one more time before you start sewing.
6. Now sew up the front of the slipper, seam A. I've just used a whip stitch. Finish when you get to the garter stitch (heel) section, and secure with a few extra stitches.
7. The original pattern didn't really explain how the heel was joined and what to do with the extra section in the middle so I've improvised and gathered that area to make the heel round.
8. The back of the heel should look like this.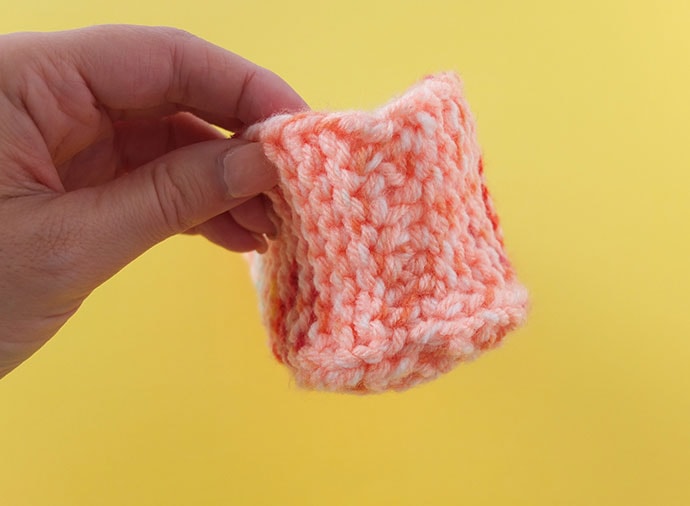 9. Weave in your yarn tails, make 2 pom poms using your preferred method and sew them on.
Now you are ready to face winter with cosy feet!
Just one more thing. Because I made the top of the slipper opening on my pair kind of wide and they stretched out a bit with wear, they sort of got a bit floppy.
My easy fix was adding a ribbed band to the top opening. It involved picking up stitches along the tops and knitting a 1×1 rib in the round. It's a bit more advanced than just knitting flat, but it's a good fix if you need to adjust later on.
Excuse the soles, they are a little grimy because I've been wearing them constantly since I made them.
Oh and in case you were wondering about the yarn I used for our knitted slippers:
4 seasons Marvel magic Stripe 8 ply (acrylic)
Spot Saver Value Ball USA style (acrylic) colour orange
Moda Vera Monkey (acrylic) colour Yellow – for pom poms
Did you have slippers knitted for you as a kid?