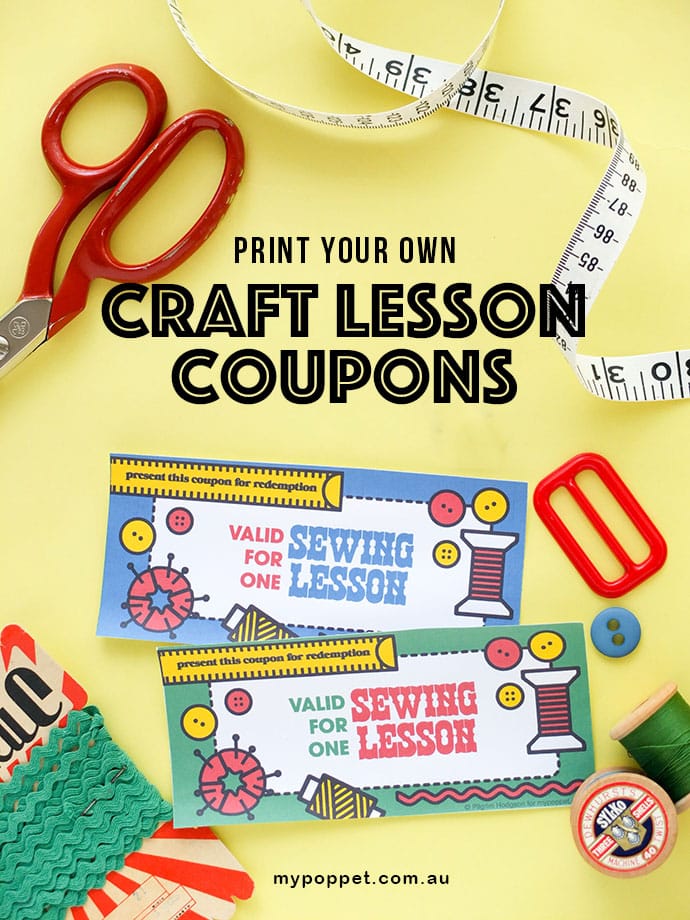 Have a friend that would love to learn to craft, sew, knit or crochet? If you have the skills to teach them, why not give them a craft lesson or two as a gift!
I had the fun idea to create some printable vintage style coupons for craft lessons that would make the perfect gift certificates. I'm not very handy on the graphic design side of things so I asked my friend Pilgrim, illustrator extraordinaire, to whip up something special. How fantastic are these vouchers? Pilgrim did an amazing job.
You can print out as many as you like, I've added the links to the PDF pages at the end of the post. There are coupons for sewing, knitting and crochet lessons, as well as some for craft (in case you have something else to offer).
Add them to a creative gift like a craft kit, or slip a few in a card for a birthday or Christmas present. How cute would they look made up into a coupon book?
It's the perfect excuse to schedule some quality craft time with your friends and get making together. If you don't already have a craft circle, this may be just the thing to kick start a regular crafty gathering.
Thank you Pilgrim for taking time out to create these special craft lesson coupons for us.
Here are the links to the printable coupon pages –
SEWING COUPONS – 6 Vouchers per page
KNITTING COUPONS – 6 Vouchers per page
CRAFT COUPONS – 6 Vouchers per page
ASSORTED COUPONS – 4 vouchers, 1 each – crochet, knitting, craft, sewing
What do you think of the idea of giving a craft lesson as a gift?
These printables are for personal use only. Please feel free to share it, but please link to this blog post not the direct links, thanks. Please do not redistribute the PDF file.