Easter is around the corner. To celebrate the joys that come with chocolate, such as the Easter egg hunt, I have created a print and colour Easter Basket for collecting all those tiny eggs that the big bunny has left in your garden.
If you love colouring pages, then this is an activity for you.
Kids of all ages will love decorating their colour-in printable basket. It's so easy to put together that older kids can assemble it themselves with minimal grown-up help.
Looking for more Easter Colouring Pages? Try this Easter Egg Colouring Page.
Make a Print & Colour Easter Basket

You will need:
A4 card (must be able to pass through your printer)
Colouring pens/pencils or paints
Scissors
Stapler
Decorative tape
Hole punch
60cm ribbon, string or cord
How to:
1/ Print template at 100%.
2/ Now comes the truly fun part. You get to colour in the template artwork. You can use pencils, pens or even paints. Go wild! Make this template burst with colour.
3/ Using scissors cut along the outside solid line on the template.
4/ Fold the template along the dotted line, and staple the sides of the folded template closed.
5/ Cover the stapled sides of the template with decorative tape.
6/ Hole punch the top corners of the now almost complete bag, and feed the ribbon through the holes. Tie a knot in both ends of the ribbon.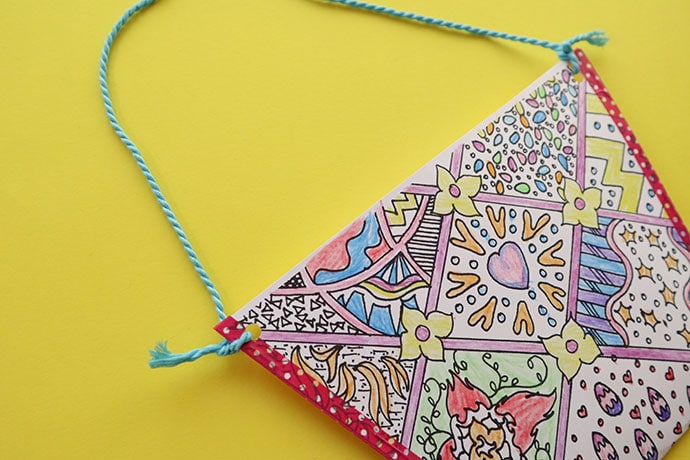 7/ Now with your Easter tote in hand you're ready to head into the garden, and discover what the Easter bunny has dropped (hopefully something chocolatey).