I'm a big fan of my local library, Emma and I visit about once a week to stock up on movies, books and magazines. Of course I hover around the craft section and immediately take home anything that catches my eye. Last week I was delighted to find Abigail Glassenberg's new book Stuffed Animals – From Concept to Construction*. Abby and I are twitter friends, and I'd been meaning to get hold of a copy to take a look. I was so impressed that I wanted to share my thoughts with you.
Abby's blog, While She Naps, was one of the first blogs I ever read (and still continue to read), full of fantastic information and in-depth insights about making, craft blogging and handmade business. Every post is a gem, Abby really knows her stuff and is always so generous with her knowledge and time.
This book is no different. Stuffed Animals isn't just a pattern book, it's like a lesson guide that explains every concept as you work through the patterns in the book, teaching you the skills to design, draft and make your own soft toys.
The book is divided into two sections. Part 1 explains:
All the tools and materials you will need, not only listing them but actually explaining how each thing is important and how to get the best results with each tool or material.
Stages of the design process.
Techniques for actually making your creations and how to get the best results.
I learned so much from part 1, and there was quite a lot of information that I can apply to all my sewing, not just toys
Part 2 contains 16 projects organised from easiest to most complex and lessons that explain the theory and technique behind each design, as well as giving you options for alternate ways to finish the toy. There are 52 lessons in total, each building on the last.
All the patterns are included in the back of the book and can be easily traced, but I particularly liked the option to print them out from an online link provided. I chose that option because I'm a little lazy, and I didn't want to damage the library book.
I've been thinking about starting my Softies for Mirabel contributions (more info below) and the elephant jumped out at me straight away. It's the third pattern in the book and involves an underbody gusset. I've never made a 3D standing softie before so was interested in how the pattern would come together.
You can watch Abby talk about her Elephant pattern design in this video.

Elephant Featurette from Abby Glassenberg on Vimeo.
I took a slightly different approach and decided to hand stitch my elephant, as I was looking for a couch project to keep my hands busy while I watched some TV. I find hand stitching quite meditative and needed to clear my head.
Always looking at ways to use up my scrap stash, I chose some felted wool blanket scraps that were left over from other projects.
Because the material was quite bulky, turning some of the parts was not an option so I chose to have exposed contrast stitching and make a real feature of it. I was really inspired by the idea of hand stitched blanket edges, so I blanket stitched around the ears as a little nod to the history of the textile.
I also omitted adding tusks, mouth and toes as I liked the simplicity of shapes and how the plaid pattern of the blanket mix and matched.
And that's the beauty of the patterns in this book. You can really make them your own because it gives you the tools to understand how you can successfully modify the pattern to your own style. There are several lessons on eyes alone, and how to use them to change the animals expression. I had fun experimenting with eye shapes and chose to add an eyelid for a little extra character.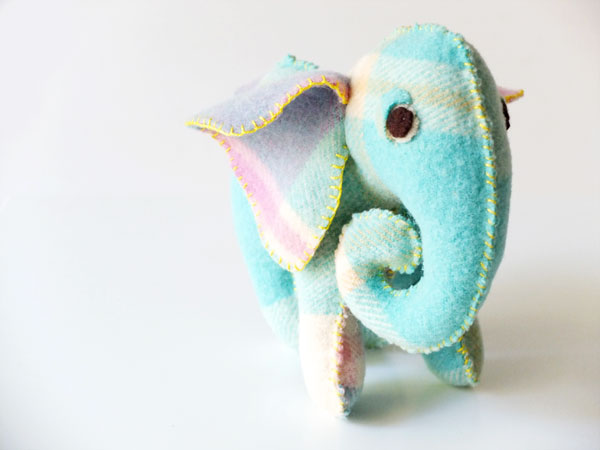 How cute is his butt? I've also added a little secret heart on his belly as a surprise for his recipient.
So this guy is heading off to Pip's Softies for Mirabel project, to be matched up with the perfect child. I'm going to try and make a few toys this year, and have my eye on the Bunnies in this book too.
So to sum up:
Libraries are awesome and a great way to give craft books a test run to decide if they are worth the investment.
I'll be buying my own copy of Stuffed Animals, and keeping it on hand as a reference, I'm going to get years of use out of this one. It is worth the investment and you have any interest in sewing sofies I'd highly recommend it.
Why not make a Softie for Mirabel, not only is it a great cause, but it's an opportunity it to develop your softie making skills.
You can purchase Stuffed Animals with free international shipping from the Book Depository – Stuffed Animals: From Concept to Construction (*this is an affiliate link)
or from all good book stores.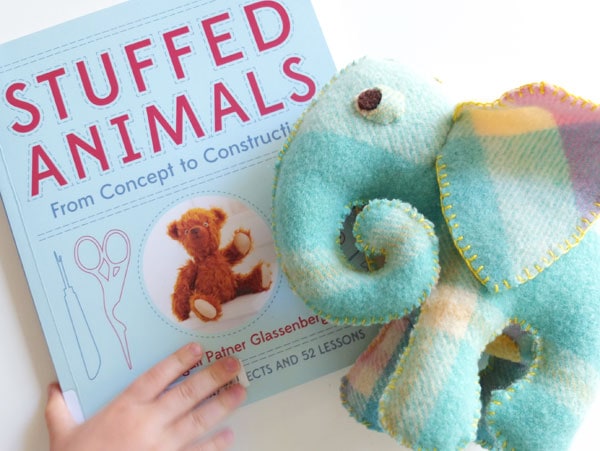 This was an unpaid review and as always all opinions are my own. I am an affiliate of Book Depository* and all affiliate links are marked with and asterisk*.
Happy Sewing!