This easy Jacket Refashion is a clever way to update an old 80s style blouse into a fashionable baseball jacket. If you are clearing out your wardrobe, try your hand at refashioning old clothes into new garments rather than throwing them away.
I'm pretty excited to finally start tackling my clothing refashion pile and sharing some of my projects with you. I actually do a fair bit of refashioning but because taking photos of myself wearing the items can be a bit tricky, I rarely blog them.
Well I intend on changing that, so this week I dragged out the tripod and studio lights, and not only shot this jacket, but a whole lookbook of how I styled a daggy 80s 3-piece suit set into lots of really wearable outfits.
Wear My Wardrobe – An 80s 3 Pc Set Lives Again
I'll be sharing lots of vintage clothes styled for today's modern gal over on My Poppet LIVING – hopefully it will inspire people to look at vintage in a whole new way. More about that soon.
You may also enjoy these clothing refashion projects:
Upcycle an old blouse and cardigan with this Jacket Refashion Project

So here is what I had to work with, a pretty typical 80's puffy sleeved, shoulder padded 'blouson'. I loved the fabric, totally my colours, but the style was woeful.
It came as part of a 3 piece set that I picked up at the op-shop for $12, which I bought mainly for the tank top and skirt.
Instead of just donating the jacket back, which I would not blame anyone for doing, I set myself a challenge to refashion it into something cool.
The body of the blouson/jacket fit pretty well, I just had to get rid of what really dated this top, the sleeves and shoulder pads.
Inspired by the classic baseball jacket, the contrasting sleeves bring it right up to date and make this top super wearable.
I actually only had about 30min to make this as I was in the middle of a photos shoot and my photographer (Emma) was getting pretty antsy. Nothing like working under pressure.
The cardigan I used for the sleeves was donated to me for felting purposes, but because its very nice merino it doesn't felt.
I keep a tub of garments that are unflattering, but made from quality materials especially for this kind clothing refashion projects.
What I used:
80s puffy blouson with button front and elastic waist
Unwanted merino wool cardigan for sleeves
Scissors
Seam Ripper – Unpicker
Sewing machine and thread
General sewing supplies
How to:
1. Use the unpicking tool to remove the shoulder pads.
2. Carefully cut off the sleeves of both the jacket and the cardigan. Don't worry if the hole sizes don't match up, I'll show you how to fix that.
3. With the jacket inside out, pin in the sleeve (right sides facing) and mark where the excess fabric starts.
4. Sew down the side of jacket to narrow.
5. This is the tricky bit so go slow. Sew in the sleeve, straight stitch is fine.
6. Finish any raw edges with zig zag stitch to prevent fraying.
Optional – If you are feeling brave, re-attach elastic cuffs to knitted sleeve.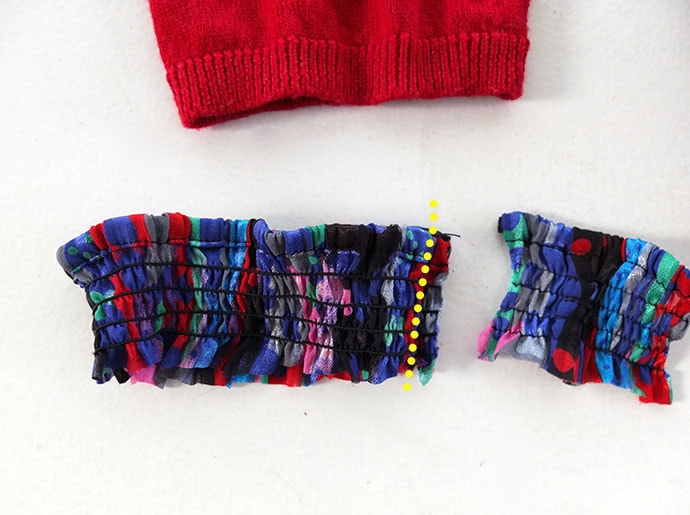 7. Cut off the cuff sew to size and cut off excess.
8. To attach cuff, with right sides facing, line up raw edges and sew around.
All Done! What do you think? I like the little cuff detail, it's a bit fiddly but worth it I think.
So what did I do with the rest of the 3 piece set? Pop over to My Poppet LIVING and check out Wear My Wardrobe – An 80s 3 Pc Set Lives Again