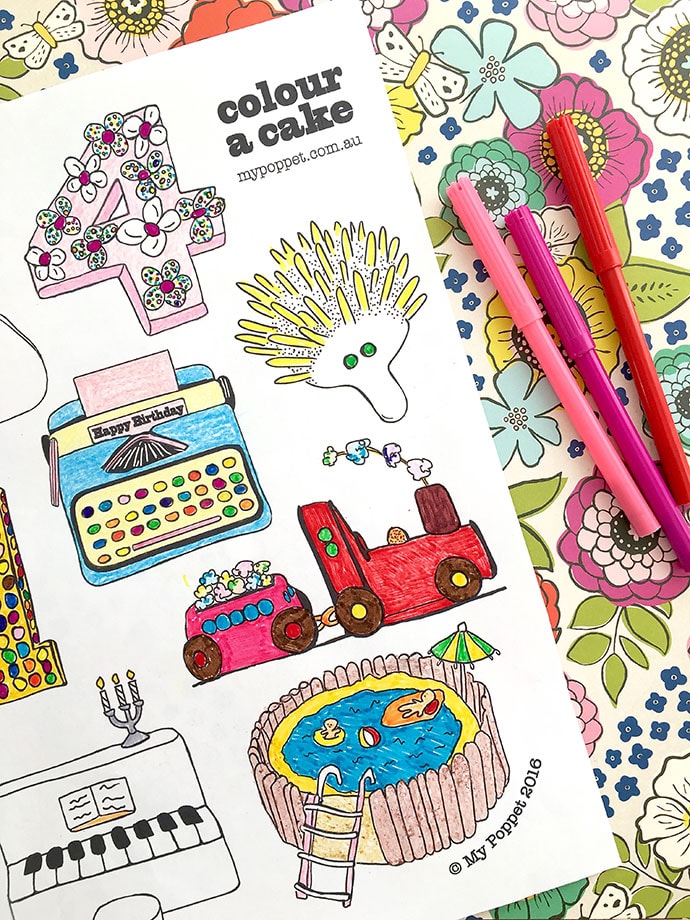 It's Emma's birthday week, and just like every other year for several weeks before her birthday she has been poring over the pages of everyone's favourite cake book, The Australian Women's Weekly Children's Birthday Cake Book. Hands up if you had a swimming pool cake or a dolly varden.

If you were a kid in Australia in the 80's you'll fondly remember either having a cake from this book, or going to a party where one of these cakes was the star.
As kids remember having a farm cake, and my sister had a sweet shop cake. Emma had the number 4 for her Flower Garden Birthday Party, and I've also made the dump truck cake for the Mr as a little birthday joke (but he secretly loved it!)
Deciding which cake is such a hard and important decision for a soon to be 7 year old. There has been much discussion but a final choice has yet to be made.
All this cake talk, plus the fact that I have a NEW PRINTER (I'll tell you all about it soon), has inspired me to create a fun printable colouring page with some of my favourite Birthday Cake designs.
All the classics are on there – some numbers, swimming pool, train, piano, koala, hedgehog/echidna, and my favourite, the typewriter.
Download your own A4 printable copy here – BIRTHDAY CAKE COLOURING PAGE
Colour it any way you like. It makes a great birthday party craft too.
If you 'colour a cake' share it on instagram for everyone to enjoy with the hashtag #colouracake
Now I want to know, which cake did you have as a kid?
Feel free to print as many copies of my cake colouring page as you need, but I've created it for personal use only, so please do not sell or redistribute this file. If you would like to share this tutorial/printable, please link back to this tute page and not the download page. Thanks for understanding
Want more free colouring pages? Sign up to THE LUCKY DRAW PROJECT for a new page in your inbox every fortnight.